The Landless Band Project
September 2017- December 2018

The Landless Band is an exciting new project that aims to create space for Indigenous voices and expression. The Mi'kmaq of NL will have time and space within our programming at Eastern Edge to reinforce their history and current experience in Newfoundland and Labrador through personal stories. The project aims to launch Indigenous-led conversations on self-identity, self-rediscovery and celebration of Indigenous culture in Newfoundland and Labrador. It will bring together Indigenous voices from the theatre, film, literature and visual art communities.  The project will involve a discussion series featuring Indigenous artists, exhibitions, a workshopped production of The Landless Band, a play by poet and playwright, Shannon Webb Campbell, and a print publication.
Discussion series: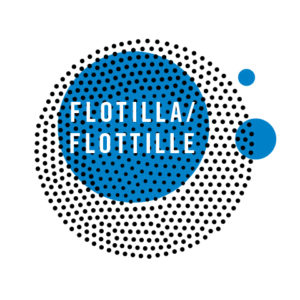 FLOTILLA/FLOTTILLE was the first transnational gathering focusing on nomadic and temporary elements of contemporary artist-run culture in Atlantic Canada. From September 21st to 24th 2017, participants from around the world worked alongside regional artists and practitioners to re-imagine artist-run culture in a series of public exhibitions, events and discussions in and around Charlottetown, PE.
Eastern Edge officially launched The Landless Band in Charlottetown PEI by presenting a panel discussion and performance titled "Contemporary Indigenous Art Practice in Atlantic Canada" to give a platform to Indigenous voices on a national level.
Contemporary Indigenous Art Practice in Atlantic Canada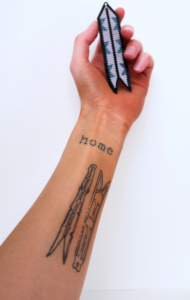 As Indigenous and Indigenous-settler artists working together in Atlantic Canada, we have connections to our ancestral territories, but aren't necessarily fixed to one place, as we draw from the lands, waters, and Traditional knowledge systems of Turtle Island.
Working in this particular era, what does it mean to be a contemporary Indigenous artist, and how does Atlantic Canada inform our multi-disciplinary practices?
Focusing on new modes of creative expression by NL, NB and NS-based Indigenous multi-disciplinary artists, musicians, poets, and performance artists, this panel aimed to create an inclusive entry point into the process of revisiting, telling and re-telling of personal and collective histories while navigating the art world.
p'taquwa / our people up the river. photograph of reclaiming beothuk pendent, 2016, Artist Meagan Musseau
Panel Moderator- Shannon Webb Campbell (Quebec/Newfoundland, Mi'kmaq)
Panelists: Meagan Musseau (Western Newfoundland, Mi'kmaq), Joanna Barker (Newfoundland, Mi'kmaq), Lindsay Dobbin (Nova Scotia/New Brunswick, Mohawk)
"Panelists Meagan Musseau and Joanna Barker performed an offering to the land that stuck with us as well. This offering was in the form of a very emotional dance by Musseau, paired with a song beautifully sung by Barker. Afterward, the artists discussed, along with Lindsay Dobbin and Shannon Webb-Campbell what it means to them to be a contemporary indigenous artist and how Atlantic Canada informs their multidisciplinary practices." Vincent Brazil- The East

---

Indigeneity and the legacy of cultural erasure within NL: Landless Band Panel Discussion #2
SATURDAY, October 28, 3- 5pm
Join exhibiting artist Logan MacDonald, Camille Georgeson-Usher and  Megan Coles for a panel discussionmoderated by curator Jason Penney.
The panel discussion will focus on Indigeneity and the legacy of cultural erasure within the province. What steps are required for this province to heal? What role does art play in speaking to the evolving identity of Newfoundland and Labrador?
Work-shopped Performance of the Landless Band Play-April 2018
Playwright: Shannon  Webb Campbell
EXHIBITIONS
Curated by Jason Penney
October 27 – December 08 2017
PEJIPUK | the winter is coming: MEAGAN MUSSEAU

Date: February 2nd – March 17th, 2018
More Exhibitions and dates TBA.
FILM SCREENINGS
Miss Chief: Justice of The Piece – Kent Monkman
On loop in the gallery Oct 27th – Nov 3rd
Naked Island Detention – Elle-Maija Tailfeathers and David Seitz
On loop in the gallery Nov 4th – 10th
This River – Erika MacPherson and Katherena Vermette
On loop in the gallery Nov 11th to 17th
It's Not Your Fault – Raven Davis
On loop in the gallery, Nov 18th – Nov 24
Terre-Neuve – Logan MacDonald
On loop in the gallery, Nov 25th – Dec 8th
2 Spirit Dreamcatcher Dot Com – Thirza Cuthand
2 Spirit Introductory Special – Thirza Cuthand
Her Sugar Is? – Dana Claxton
The Group of Seven Inches – Kent MonkmanMore films and dates TBA.
These films have been provided either by V-tape or by AABIZIINGWASHI (WIDEAWAKE): NFB INDIGENOUS CINEMA ON TOUR
Find out about the participating artists below;
JOANNA BARKER is an Innu-Mi'kmaw singer, songwriter and musician from Grand Falls-Windsor, NL and a member of Qalipu Mi'kmaq First Nation. Her album, February, was nominated for two Music NL awards and shortlisted for the Atlantis Music Prize. Currently living in St John's, Joanna is the Programming Director at Girls Rock NL and the Co-Director of St. John's Women in Music (SWIM). For the past three years, Joanna has been working as a Research Assistant with Dr. Jocelyn Thorpe (University of Manitoba) on an oral history project of Newfoundland Mi'kmaw perspectives on the past.
LINDSAY DOBBIN is a mixed Indigenous (Mohawk) / Settler (Acadian / Irish) artist, musician, curator and educator who lives and works on the Bay of Fundy, Canada. Born in and belonging to the Kennebecasis River Valley in New Brunswick, Dobbin has lived throughout the Maritimes as well as the Yukon Territory. As a person of mixed Indigenous ancestry, Dobbin seeks to embody what it means to respect Indigenous understandings and engage in self-reflective processes of decolonization and reconciliation.
Dobbin's place-responsive practice includes media art, performance, sculpture, installation, social practices and writing, and is invested in and influenced by Indigenous epistemologies and cultural practices, such as drumming. Through placing listening, collaboration and improvisation at the centre of the creative process, Dobbin's practice explores the connection between the environment and the body, and engages in a sensorial intimacy with the living land.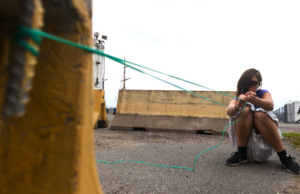 MEAGAN MUSSEAU is a Mi'kmaw visual artist from the community of Curling located in the Bay
of Islands, Ktaqamkuk (Western Newfoundland). Meagan's process is comprised of research, community involvement, and actions between herself, land, and story objects. Producing these objects using the labor intensive processes of beadwork, basket weaving, embroidery, and hand sewing seal skin and moose hide, she works to honor the historical and contemporary roles of Indigenous women as cultural producers, story-keepers, and healers. Responding to a site's existing infrastructure, Meagan's land-based installations seek to acknowledge Indigenous territory through performative action among infrastructure used to enforce boundaries and designate space.
Meagan has a BFA in Visual Art from Grenfell Memorial University of Newfoundland and Labrador and she is a member of the Indigenous Artist Collective on Lekwungen territory––Victoria, BC. Meagan received a 2016 Aboriginal Arts Development Award from the First Peoples' Cultural Council and a 2017 Inter-Arts research and creation grant from the Canada Council for the Arts.
www.meaganmusseau.com
SHANNON WEBB-CAMPBELL is a mixed Indigenous (Mi'kmaq)-settler poet, writer and critic. She is the author of Still No Word (Breakwater, 2015) and Who Took My Sister? (BookThug, 2018). She was Canadian Women In Literary Arts critic-in-residence 2014, and is a board member. She holds a MFA in Creative Writing from University of British Columbia, a BA from Dalhousie University, and currently is working towards a MA in English Literature at Memorial University of Newfoundland and Labrador. Her play The Landless Band opens at LSPU Hall in St. John's, Newfoundland Spring 2018. She is a member of Qalipu Mi'kmaq First Nation, and currently lives in Montreal.
LOGAN MACDONALD is a queer visual artist and curator from Newfoundland, Canada. He identifies as a settler with European/Mi'kmaq ancestry. He is part of a unique, yet growing community of settler-identified, newly federally-acknowledged Mi'kmaq's from Newfoundland who are looking at ways to revive their Mi'kmaq culture. MacDonald holds a MFA from York University (2010) and a BFA from Concordia University (2006). His artwork has exhibited in galleries worldwide and has been featured in publications that include C Magazine, LTTR, and Documenta 12. Over 2017-18 his work toured extensively throughout Canada, with a body of work that explores Indigenous identity in Canada. He has been awarded Canada Council and Ontario Arts Council Grants for this exhibiting body of work.
More Artists TBA
Opportunities to participate in the Landless Band Project
Open call for artists- deadline October 30th.We have exhibition openings, HOLD FAST presenting artist and residency opportunities for 2018. We welcome, encourage and will offer assistance to any indigenous artist who would like to apply.Please note that there will be additional opportunities posted for Actors, writers and artists in the near future.
The Landless Band Project- Steering Committee
Joanna Barker, Jerry Evans, Meagan  Musseau, Alex Noel,  Amelia Reimer, Shannon Webb-Campbell

This is one of the 200 exceptional projects funded through the Canada Council for the Arts' New Chapter program. With this $35M investment, the Council supports the creation and sharing of the arts in communities across Canada.
Ce projet est l'un des 200 projets exceptionnels soutenus par le programme Nouveau chapitre du Conseil des arts du Canada. Avec cet investissement 35 M$, le Conseil des arts appuie la création et le partage des arts au cœur de nos vies et dans l'ensemble du Canada.
Eastern Edge would like to further acknowledge the generous support provided by, Flotilla and The Averbach Foundation.