We would like to first begin with an acknowledgement to the First Peoples; Mi'kmaq, Beothuk, Innu, and Inuit, of these lands, Ktaqmkuk, Nitassinan, Nunatsiavut, and NunatuKavut, that we live, work, and create upon. HOLD FAST recognizes and supports the rights of Indigenous communities in their efforts towards an Indigenous sovereignty and reclamation of stolen voices across Turtle Island. We see, hear, and admire your powerful work. Thank you for allowing us the privilege to work alongside you.
HOLD FAST is a four day celebration of contemporary art practice in St. John's, Newfoundland and Labrador, an evolution of the previous 24 Hour Art Marathon. HOLD FAST is St. John's only festival dedicated to contemporary art and is the longest running festival in the province. HOLD FAST delivers accessible, meaningful and critically-relevant contemporary art programming across an array of media including: installation, performance, screenings, artist talks, dance, community events and artist-led workshops for people of all ages. 
HOLD FAST 2021 festival crew:
Joe Fowler, HOLD FAST Festival Coordinator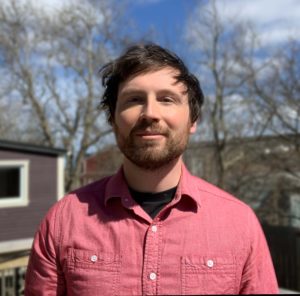 Joe Fowler is a visual artist from Corner Brook, Newfoundland. His art deals with themes of resourcefulness and adaptability through ad-hoc objects and interactive installations. He creates projects that expand on the rich Newfoundland tradition of creating things – tools, furniture, shelter, vehicles – from whatever is lying around. He holds a BFA from Memorial University and an MFA from the University of British Columbia. He has a strong passion for artist-run centres, woodworking, sound performance, and community initiatives.
Ife Alaba, HOLD FAST Communications and Outreach Coordinator
Ife Alaba is a singer-songwriter born in Nigeria, raised in South Africa and currently based in St John's. She has a strong musical background spanning from being in Choirs, Orchestras, undergoing opera training and undertaking the trombone. She uses life experiences as a muse for her heart-wrenching hooks and creative but subtle melodies while keeping her music relatable and catchy. She is a powerful vocalist whose music style has been influenced by a mixture of pop, afro, and classical music. Ife is also one of the stars of CBC NL's web series, stuffed, a food show following Ife and her friends as they compare dishes at local restaurants. She is a producer and host of another CBC web series called Being Black in NL. Ife is currently studying for Bachelor of Arts degree in Psychology and a Minor in Communication Studies at The Memorial University of Newfoundland.