12 HAM
Presenting 🍖12HAM 2022🍖
HOLD FAST Festival requests the pleasure of your company at 12 HAM (12-Hour Art Marathon)! The Art Marathon is a time-honoured tradition for over 20 years. Bring your art, bring your friends, and join us at @easternedgegallery (72 Harbour Drive) from 11am-11pm on Saturday, August 6.
No registration required – $5 at the door gets you free coffee (while it lasts) and access to exclusive 12 HAM pop-ups (Tattoos! Haircuts! Acupuncture! Zines, Screenprinting & More).
12 HAM Pop-Ups will include…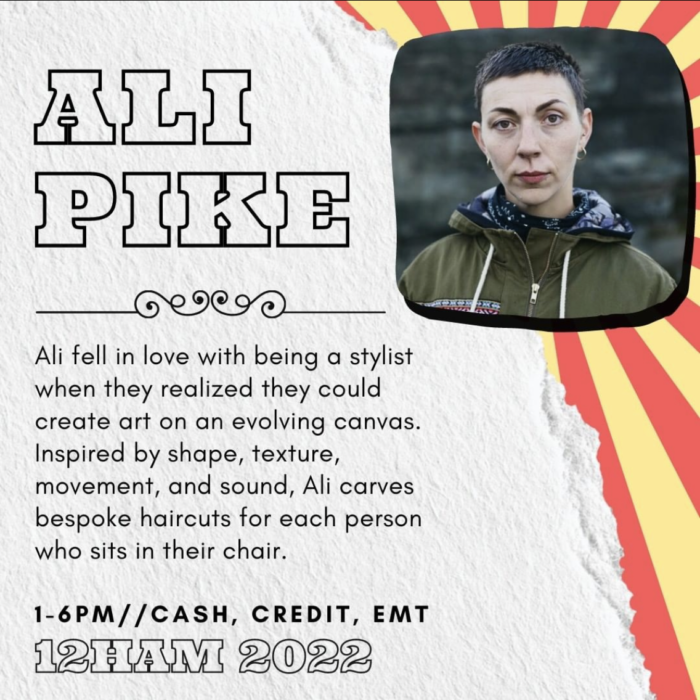 🔥ALI PIKE🔥
Ali fell in love with being a stylist when they realized they could create art on an evolving canvas. Inspired by shape, texture, movement, and sound, Ali carves bespoke haircuts for each person who sits in their chair. Ali empowers folks to explore their identity through hair and supports them to follow their intuition when caring for their hair and scalp. No matter where Ali has roamed, St. John's has always had their heart! The diversity, identity and style this small city has is what makes it the perfect place to call their practice home. Ali will be with us from around 1-6PM and can take payment by cash, credit, or emt. Learn more about their fabulous work at alipike.com 💇🖤
🔥EMYN HAYDEN🔥
Emyn Hayden is an emerging hairstylist who has been styling hair since graduating last year. He found his love for curls and natural hair textures after apprenticing at The Seahorse and is currently practicing out of The Signature Salon. Always creating art in some way since a young age, hairstyling became a new creative extension that he is excited to share with his community.
Emyn will be with us from around 1-6PM and can take payment by cash or emt. Learn more about his fabulous work at @haire.stylesnl 💇🖤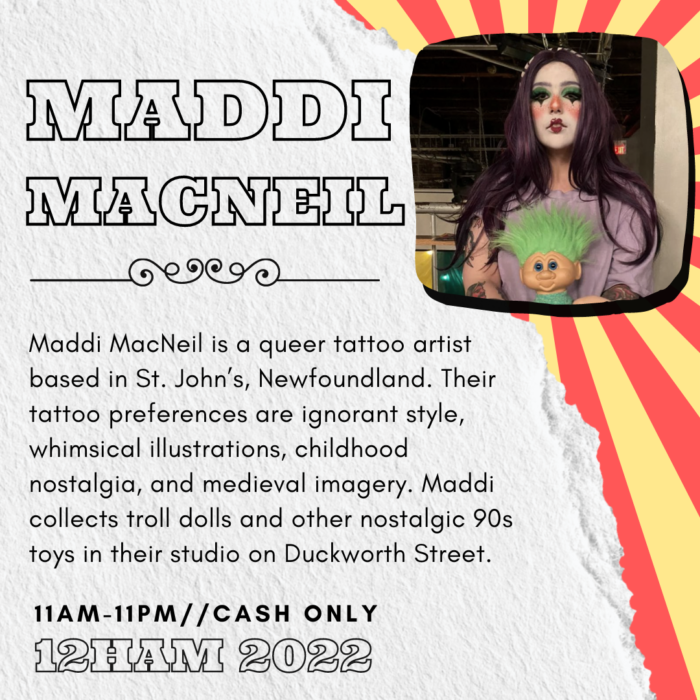 🔥MADDI MACNEIL🔥
Maddi MacNeil (@maddipoking) is a queer tattoo artist based in St. John's, Newfoundland. Their tattoo preferences are ignorant style, whimsical illustrations, childhood nostalgia, and medieval imagery. Maddi collects troll dolls and other nostalgic 90s toys in their studio on Duckworth Street.
Maddi will be with us from 11AM-11PM with reasonable human breaks for food and coffee. Sign-up is first come, first serve. Cash only please! 🖤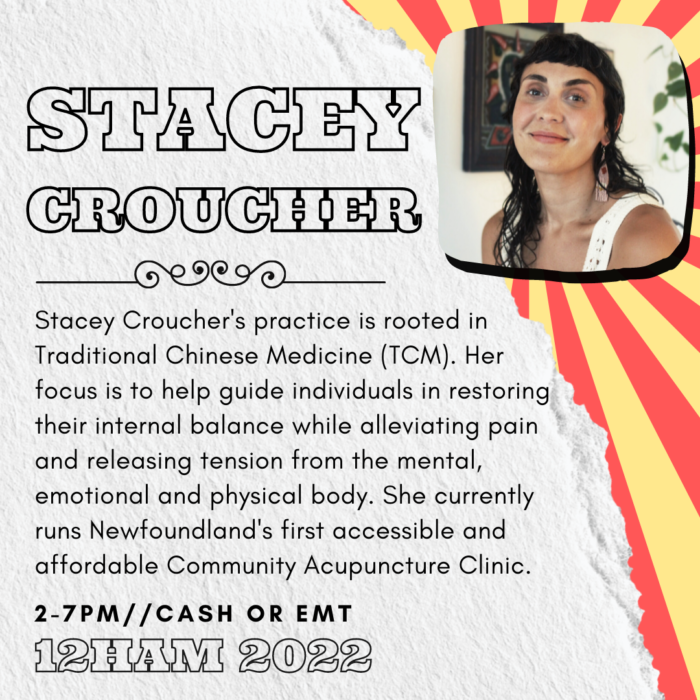 🔥STACEY CROUCHER🔥
Stacey Croucher's practice is rooted in Traditional Chinese Medicine (TCM). Her focus is to help guide individuals in restoring their internal balance while alleviating pain and releasing tension from the mental, emotional and physical body. She currently runs Newfoundland's first accessible and affordable Community Acupuncture Clinic, which operates on a sliding scale. The clinic runs every Wednesday at AMAL wellness on Elizabeth Ave.
Stacey will be with us from 2-7PM, and can take payment by cash or emt. Learn more about her individual and Community-based acupuncture work at @acuwithstacey
🔥ST. MICHAEL'S PRINTSHOP + QUEER CRAFT CLUB🔥
Bring your own shirt, tote, or fabric to print on. We'll be printing from 12-3PM and we've got a custom 12HAM design for the occasion 👀👕🍖
St. Michael's Printshop (@st_michaels_printshop) is an artist-run print studio. Since 1974, SMP has worked to offer accessible printmaking to artists and community members. Come to an open studio, workshop, or artist talk to learn more!
Queer Craft Club NL (@queercraftclub.nl) is a community-led group of queer makers facilitating free skill and resource sharing, and building connections between 2SLGBTQIA+ artists.
🔥SOLAR TONGUE🔥
Solar Tongue is an audio collaboration between multidisciplinary artist Ksenia Korniewska and guitarist Neddal Ayad. Korniewska and Ayad play intrusive ambient/doom/drone and use sound as a means to explore dislocation, isolation, frustration, and liminal states. Initially a long-distance experiment, with Korniewska and Ayad sharing files between Ukraine, New Zealand, and Canada, the duo have moved toward a more visceral, improvised approach via guitar and effect pedal abuse.
🔥ELIJAH JANKA & DANIEL MARTEL🔥
Elijah & Daniel are queer zinesters from the Pacific Northwest. Now based in St. John's, they can often be found running zine swaps and workshops online and at St. Michael's Printshop. Come make some zines!
Elijah & Daniel will demo zinemaking at 11:30am, and zine resources will be available all day. Learn more about their zines & upcoming events at @elijahjanka and @heydanielmartel ✍✂
🔥DARK NL🔥
DarkNL Community Darkroom is a not-for-profit organization committed to growing and fostering the analog photography community in Newfoundland and Labrador. Have your portrait taken on a large format analog camera and see it developed on-site in a portable darkroom!
DarkNL will be with us from 2-6PM. Learn more about their work and how you can get involved at @darknlcommunitydarkroom 📷 🎞
🔥LAVENDER BLONDE🔥
Lavender Blonde is a Gender Bender System Offender, house queen and Co-Founder of Kaleidoscope Drag Lounge. Catch this iconic mustachioed queen at 12HAM, where she'll be closing out the night with a surprise performance.
Follow Lavender at @queenlavenderblonde and be sure to check out the packed lineup of queer programming at @kaleidoscopedrag 💃🌈
---
12HAM Event Photos
---
Big thanks to our sponsors for this event: Quidi Vidi Brewery, The Parlour, St. Michael's Printshop, Jumping Bean, and Kaleidoscope Drag Lounge.