Eastern Edge, established in 1984, is Newfoundland and Labrador's first artist-run centre for visual arts.
Eastern Edge is committed to exhibiting contemporary Canadian and international art, as well as encouraging dedicated and rigorous activity locally. In providing an alternative venue where artists have greater control over how their work is represented, Eastern Edge facilitates critical dialogue concerning issues in contemporary art and society, actively encouraging emerging and established artists whose work speaks to feminist, multicultural, queer, and other diverse perspectives. Eastern Edge aims to provide a supportive space to develop skills, share information and resources, foster community and create a meaningful context for artistic activity.
We respectfully acknowledge that the land we are occupying is the unceded and ancestral homelands of the Beothuk and that Ktaqmkuk, known as the island of Newfoundland, is home to the Mi'kmaq peoples. We would also like to recognize the Inuit of Nunatsiavut and NunatuKavut, and the Innu of Nitassinan as the original peoples of Labrador. This acknowledgement is a commitment we practice in action, striving for respectful relationships with all peoples across Turtle Island.
---
Meet the Team:
Ashley Hemmings
Executive Director
Ashley Hemmings is a visual artist and arts administrator based in St. John's, Newfoundland. They completed their BFA in Visual Art at Memorial University of Newfoundland in 2018, and an MFA in Visual Art at the University of Windsor in 2021. Their practice asks questions about the relationships between humans and the natural world, and draws attention to the exponentially bizarre ways that land and public space are regulated but not protected. Using play and humor as methodology, Ashley's practice combines locally rooted craft processes with other media such as video, installation, digital drawing, bioart, and collecting. Ashley has worked at a number of art galleries and artist-run-centres including Eastern Edge, The Grenfell Art Gallery, The Rooms Provincial Art Gallery, and INCUBATOR Art Lab.
Contact: directoreasternedge@gmail.com

Amanda Penney
Operations Manager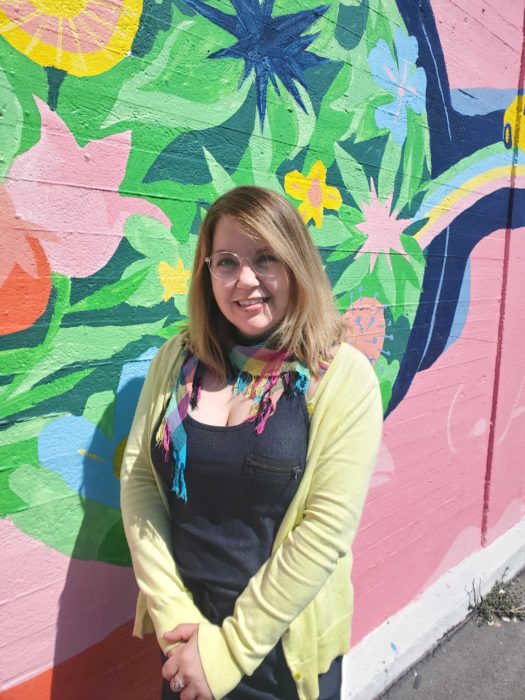 Amanda Joan Penney is a mother, visual artist and arts administrator. Bookbinding, printmaking and photography has been the most prominent and technically developed areas of her art practice, however she has recently revisited sculpture using clay. Born on the Northern Peninsula in a community called St. Anthony, Amanda has grown up all over the country with the deepest roots in Calgary, Alberta and Churchill Falls, Labrador.  Amanda is currently managing a family of four along with Eastern Edge artist-run centre. She has exhibited work and travelled internationally, nationally and locally. In recent years she has illustrated a children's book, worked at the NL Craft Council gallery, and worked as a volunteer in community outreach creating safe creativity workshops for adults and children with the intention of empowerment through creation. The connection between art and community and the healing power of both is what inspires her work.  Amanda is a big fan of street art and public art spaces and is driven to experience and create art every chance she gets.
Contact: easternedgeoffice@gmail.com

Laura Sbrizzi
Programming Coordinator
Laura Sbrizzi is an artist and arts administrator from Ontario who relocated to St. John's, Newfoundland and Labrador in 2021. She received her BFA from York University, where her studies centered on printmaking, painting, and poetry. She is a collector of mediums, materials, words, sensations–things that present opportunities to share creative agency with external (in)determinants. Currently working in etching, textiles, and poetic prose, Laura is in pursuit of sensorial pleasures that soothe anxious energies, in favour of practicing slow living and nurturing queerplatonic intimacies. As an experienced administrator in the arts and culture sector, she believes strongly in building community through shared resources, knowledge, and space.
Contact: easternedgegallery@gmail.com
Elijah Martel
HOLD FAST and Communications Coordinator
Elijah Martel is a multidisciplinary artist, zinester, and storyteller. Originally from Seattle, they grew up performing at regional and international storytelling festivals. Their work, informed by by an interest in narrative and Jewish folklore, explores world-building, memory, queerness, and relationships to land through a lens of diaspora and cultural exchange.
Elijah holds a BA in Latin American Studies and Film from Bowdoin College. As a 2013 Fulbright grantee, they spent a year teaching in Argentina, and went on to work in Mexico, Turkey, and Mongolia. They attended North Seattle College as a nontraditional student, graduating with an AFA and League for Innovation award in printmaking. Elijah also serves on the board at St. Michael's Printshop.
Past Team Members
---
Shireen Merchant
Gallery Assistant

Shireen Merchant is a visual artist originally from Pakistan and now residing in St. John's. Shireen's artistic playground includes working with fiber and textiles, as well as embracing the boundless possibilities of digital drawing and painting .She uses themes of self-identity, South Asian culture, and feminism, into her artwork, crafting pieces that resonate deeply with her audience. A strong advocate for diversity and inclusion, she believes in art's power to bridge gaps and celebrate differences.Currently, she proudly serves as an International representative at CFSNL, where she continues to champion the values she holds dear. In 2023 she graduated with a Bachelor of Fine Arts degree in Visual Arts from Grenfell Campus, Memorial University of Newfoundland.
Mal Parrott
HOLD FAST Assistant

Mal Parrott is a performer, artist, choreographer, and arts administrator originally from Conception Bay South, now living in St. John's, Newfoundland. Since graduating from Memorial University of Newfoundland in 2019 with a Bachelor of Business Administration, they seek out any and all ways to bring their administrative skills to arts and performance spaces. They moonlight as a drag performer/host and St. John's beloved genderbending goblin, Madame Daddy – the resident father figure of the city's most iconic drag collective, the Phlegm Fatales. They are a big fan of horror movies, cooking, being loudly and unapologetically queer, and the sea.
Rachel Gilbert
Residency and Digital Project Coordinator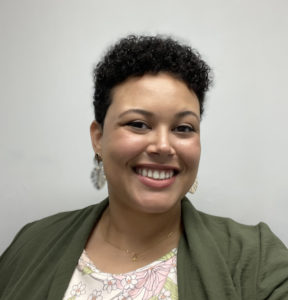 Rachel Gilbert is a Canadian American of mixed-race descent living and working in St. John's, Newfoundland & Labrador. She works with painting, drawing, and printmaking to explore her identity and home(s). Since receiving a BFA in Visual Arts 2020 and a Graduate Certificate in Museum and Gallery Studies in 2021, Rachel has worked with The Rooms Provincial Art Gallery, St. Michael's Printshop, and Eastern Edge Gallery, focusing on community programming and outreach. Serving on several boards and committees, Rachel is interested in working to increase diversity, associability, and inclusion in the arts.
Contact: easternedgestudio@gmail.com
Philippa Jones
Executive Director
Philippa Jones is an artist who calls St. John's NL, home after immigrating over a decade ago. Jones is a mother, visual artist and Executive Director of Eastern Edge Gallery. Central to Jones' work is the exploration of constructed realities, our relationship to mortality and time, active myth making, wonder and the inquisitive mind. Jones completed a BFA and an MFA at Falmouth University (UK). Jones' diverse art practice includes: sculpture, drawing, painting, stop motion animation, art games and interactive installations. 2012 Jones was the recipient of the Excellence in Visual Arts Emerging Artist award, and in 2019 won the Milestone Award. Jones was longlisted for the Sobey Art Award in 2019 and in 2020 was shortlisted for ArtsNL Artist of the Year.
Ksenia Korniewska
General Assistant

Ksenia Korniewska is a self-taught multidisciplinary artist from Kyiv, Ukraine, who arrived in St. John's in May 2022 and immediately fell in love with the ocean. Drawing inspiration from 14th century Sienese iconography, 17th century anatomical illustrations, natural phenomena and metaphysical poetry, she creates alien hieratic paintings, spectral photography and liminal video art.
Maddie Reid
Gallery Assistant

Maddie Reid is a self taught visual artist based in St. John's, Newfoundland, with experience in program coordination and tourism within the local craft community. Her interest in fine art dates back as long as she can remember, with lots of exposure to the local craft scene from a young age, thanks to her mother. Still trying to find her style and identity as an artist, Maddie continues to explore many mediums, most commonly drawing, collage, zine making and painting, and more recently rug hooking and knitting/crocheting. Taking inspiration from her passion for film, music, modern japanese painters, and a constant need to keep her hands moving, Maddie uses art as an outlet to explore and express her journey into adulthood. She hopes to soon attend post-secondary focusing on honing her skills in fine art. When she isn't creating, she enjoys playing the bass, thrifting, and feeding the neighborhood cats.
Ife

Alaba
Ife Alaba is a singer-songwriter born in Nigeria, raised in South Africa and currently based in St John's. She has a strong musical background spanning from being in Choirs, Orchestras, undergoing opera training and undertaking the trombone. She uses life experiences as a muse for her heart-wrenching hooks and creative but subtle melodies while keeping her music relatable and catchy. She is a powerful vocalist whose music style has been influenced by a mixture of pop, afro, and classical music. Ife is also one of the stars of CBC NL's web series, stuffed, a food show following Ife and her friends as they compare dishes at local restaurants. She is a producer and host of another CBC web series called Being Black in NL. Ife is currently studying for Bachelor of Arts degree in Psychology and a Minor in Communication Studies at The Memorial University of Newfoundland.
Charlotte May Hobden
Charlotte May Hobden is a multi-disciplinary artist based in St. John's NL, working mainly in painting, print media, and ceramics. Inspired by the mysterious properties of light, she plays with light and the fluidity of colour through material performances. Charlotte received her BFA in 2020 from Memorial University, Grenfell Campus. During her time at Grenfell, she received several awards for her artistic achievements and her contributions to student life. Currently, Charlotte sits on the Board of Directors of Riddle Fence Magazine and the Board of Directors for Visual Artists of Newfoundland and Labrador (VANL).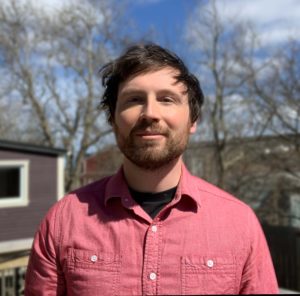 Joe Fowler
Joe Fowler is a visual artist from Corner Brook, Newfoundland. His art deals with themes of resourcefulness and adaptability through ad-hoc objects and interactive installations. He creates projects that expand on the rich Newfoundland tradition of creating things – tools, furniture, shelter, vehicles – from whatever is lying around. He holds a BFA from Memorial University and an MFA from the University of British Columbia. He has a strong passion for artist-run centres, woodworking, sound performance, and community initiatives.
Daniel Rumbolt
Daniel Rumbolt is an artist and arts administrator living in St. John's, Newfoundland and Labrador. He received his BFA from Memorial University of Newfoundland, is the Assistant Director of Eastern Edge Gallery, the Secretary on the National Board of Directors for Canadian Artists' Representation/Le Front des artistes canadiens (CARFAC), and the Chair of Visual Artists of Newfoundland and Labrador (VANL). His multidisciplinary art practice is informed by his experiences as a queer artist raised in rural communities throughout the Great Northern Peninsula of the island, and through earnest contemplation of memory and mourning. Through his advocacy work, he aims to discover and establish tangible connections between rural and urban creators, fostering interconnectivity on a provincial, national, and international scale.
Anna Murphy
Anna
Murphy
 is an artist from St. John's, NL who primarily works with watercolours and acrylics. After spending a semester in England and receiving her International BBA from Memorial University of Newfoundland in 2019, 
Anna
 spent seven months in Germany where she worked in the headquarters of a global fashion brand.