Eastern Edge is proud to present RetroFlex a year long curatorial project developed by Kailey Bryan, Jason Penney, and Jason Wells. This comprehensive year long program focuses on themes pertinent to emergent queer perspectives and history contextualized alongside Eastern Edge's own legacy as a queer space.
Viewing artistic practice as a necessary and incisive tool in creating queer history and challenging authoritative ideas surrounding archival practices divorced from community engagement they have developed a robust program of exhibitions, video screenings, artist talks, performance interventions, and commissioned texts.
Acknowledging issues within our communities surrounding access to queer praxis, Eastern Edge and the curatorial team have partnered with St. John's Storytelling Festival and Memorial University of Newfoundland and Labrador. We would like to graciously thank Canada Council for the Arts, City of St. John's and Arts NL for funding this project.
---

Research and Creation Residency: Joshua Vettivelu
Research: March 15 – April 19
Exhibition: April 26 – May 24
Joshua Vettivelu will be undertaking a research and creation residency, using the tensile strength of wet sand to explore the ways in which bodies are received from water.
The project will specifically look into the 155 Tamil migrants that fled the start of the civil war in Sri Lanka to arrive in St. John's in 1985 contrasted with the reception of the MV Sunsea, which brought 492 Tamils to British Columbia, fleeing the height of the Tamil genocide. The Canadian reception of these two boats differed immensely and will be used as the parameters to look into the ways myths about resource scarcity have been used to enforce political borders as a limit of empathy.
The gallery installation will be comprised of boat forms made out of sand that will fall apart unless tended to. These forms will be informed by interviews with Newfoundlanders involved in the rescue and local expert advice from local boat builders.
---
Surface Tension (or What Holds an 'Us' Together): Joshua Vettivelu
Research/ Residency in EE Studios: March 15 – April 19
Exhibition in Main Gallery: April 26 – May 24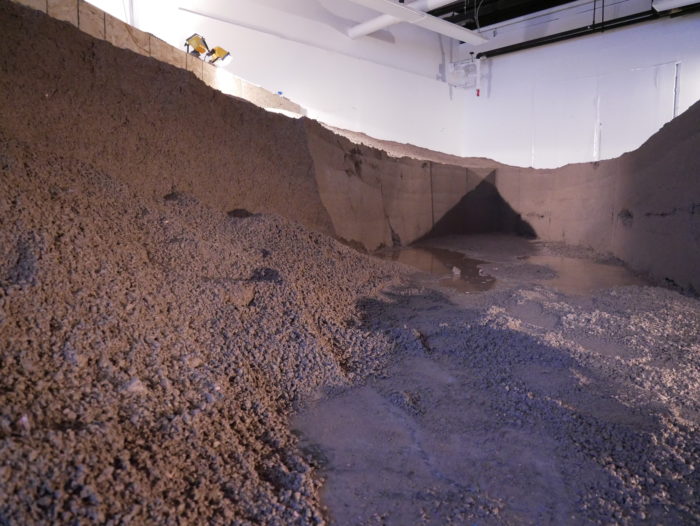 Joshua Vettivelu's Surface Tension (or What Holds an 'Us' Together) is the culmination of a 5 week research and creation residency facilitated through Eastern Edge Gallery and guest-curator Kailey Bryan. Surface Tension poetically explores how myths of resource scarcity have been used to enforce national borders as the limit of empathy. This residency and exhibition is the inaugural launch of the Eastern Edge Residency Studios.
—
In 1986 one hundred and fifty-two Tamil refugees were discovered adrift in lifeboats off St. Shott's on the Avalon Peninsula and rescued by local fisherman Gus Dalton. Fleeing the beginnings of Sri Lanka's bloody genocide of the Tamil people. They were issued Minister's Permits and welcomed to relocate and seek employment while their refugee claims were processed.
In 2009 and 2010 respectively, cargo ships the MV Ocean Lady and MV Sun Sea were intercepted off the coast of British Columbia and their four hundred and ninety-two Tamil refugees were placed in detention, some for over a year. The federal government responded to their landing with aggressive legislation – some argued unconstitutional – that gave them increased power to detain migrants indefinitely and deny them a wide variety of rights. The landing of the MV Sunsea had a lasting impact on Canadian migration policy and how Canadian's conceived of themselves.
The marked difference in public reception and federal policy bookended by these two refugee landings is the subject of Joshua Vettivelu's research-based residency. Vettivelu's research examines how national narratives around Tamils shifted into public anxieties about alleged terrorists and non-citizens accessing public resources.
In Eastern Edge's Residency Space, Vettivelu's large-scale sculpture uses the physics of surface tension (how sand holds itself together), to create a metaphor of how citizenship (or the creation of an "us") becomes foundational to who we are able to extend humanity to.
In Eastern Edge's Main Space Gallery, Vettivelu will exhibit a large scale video projection, ruminating on how the horizon becomes a site of longing, imagined pleasure and miscommunication.
Joshua Vettivelu is an artist, programmer, and educator working within sculpture, video, installation and performance. Their works explore how larger frameworks of power manifest within intimate relationships. Recently their practice has been looking at how desire and language build the world. Currently, Vettivelu is an instructor in the faculty of Art and Faculty of Continuing Education at OCADU and is the previous Director of Programming of Whippersnapper Gallery.
---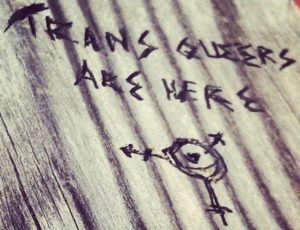 Mapping Queer Histories: Story Circle with Daze Jefferies
June 22nd, 2019, 12:00–2:00 PM
Eastern Edge Gallery
72 Harbour Drive
Wheelchair accessible space
Calling 2SLGBTQIA+ of all ages! Come share your stories with us.
It's commonplace in Newfoundland and Labrador to spin a yarn around the kitchen table. It's how people learn so much of their family history, local mythology, folklore, and skills. Sometimes this scene is less familiar to queer and trans folks. Our families don't always accept us; sometimes the versions of ourselves that are embraced at home aren't the same ones that flourish in our communities, around queer friends and allies.
For this event, we welcome queer, two spirit, trans, and gender-creative folk across generations to come and share their tales of growing up queer in NL. Did you leave home to find yourself, only to come back again? Did you bravely share your identity with friends and family? What about that queer punk show you went to that time? That protest, or picnic? Facilitated by celebrated local artist, poet, and trans historian Daze Jefferies, you will have the opportunity to have your story recorded (if you like) for contribution to an ongoing archive of queer tales that will be housed in the David Tuck Memorial Library, and included in a beautiful soundscape as part of the upcoming exhibition A Hole So Big It Became The Sky. Don't want to be recorded? That's ok! Come share anyway!
We encourage you to bring objects, memorabilia, and ephemera that remind you of that time when…
Photos, posters, flyers, Pride tees, zines, pamphlets, crafts, album art, buttons, poetry and postcards are all great! There will be maps and a collection of archival materials to help inspire, orient, and situate your stories.
This is a free event; coffee, tea, and snacks will be provided.
—-
Special thanks to PFLAG and ACNL for partnering with us on this project!
---
Mapping Queer Histories: Zine Making Workshop with Valarie Webber
June 22nd, 2019, 3:00-5:00 PM
Eastern Edge Gallery
72 Harbour Drive
Wheelchair accessible space
Zines, the medium of the people! Zines have long served important political, creative, and community functions: as a DIY alternative to mainstream publishing, as a platform to amplify marginalized voices, and as an irreverent form of rapid-fire-fuck-you to cultural production. For this workshop, local queer zine-ster Valerie Webber provides materials, tools, tips and tricks for zine conception, production, and distribution. From the simplest to the most robust formats, this crash course in zines will give you the tools to tell your story exactly the way you want to. Seeking trans, two spirit, queer, and gender creative tales from all ages. Seasoned zine-makers and newbies welcome.
We encourage you to bring flyers, posters, cards, drawings, poetry, and anything else paper-based that you might want to include or use as inspiration. A scanner will be present if you want to contribute your drawings or other ephemera to the compilation of a community zine cataloguing some of our local queer histories.
There will be a Queer Zine Fair at Eastern Edge on Sunday, July 21 from 1 – 4 pm! We'd love to see you there with your finished zines! More info to come.
This is a free event; paper, scissors, markers and drawing utensils, tape, and glue will be provided.
—-
Special thanks to PFLAG and ACNL for partnering with us on this project!
---

Drawing Queer Stories
A free workshop series with Coco Guzman
MONDAY, JULY 1, 6 – 9 PM: "Failing" Drawing Beautifully: strategies for freeing queer drawing
TUESDAY, JULY 2, 6 – 9 PM: Drawing Queer Archives: from objects and pictures
WEDNESDAY, JULY 3, 6 – 9 PM: Drawing Queer Memories: from your mind, ears and heart
SATURDAY, JULY 6, 1 – 4 PM: Interventions/Interruptions
Workshop participants are invited back to the gallery to intervene in and interact with the mural/installation
Eastern Edge Gallery
Free; pre-registration is appreciated!
e-mail retroflexart@gmail.com to reserve a spot
Sometimes the things we want to say are not always easy. It is hard to put them into words. Sometimes they appear as colours, drawings, abstract poems, music. Sometimes we don't know how to express them at all. Coco Guzman's series of free drawing workshops are designed to help give form to those experiences to make a huge, collaborative exhibition that reflects the ongoing queer histories of St. John's. Coco is a queer and genderqueer artist raised in Spain and currently living in Toronto. They have a long history as a grassroots, community artist, and have led multiple workshops for trans, queer, and gender non-conforming folks to express complex experiences.
Coco's workshops are a follow-up to our Queer Story Circle and Zine-making workshops on June 22nd. Local artist, poet, and trans historian Daze Jefferies will provide audio recordings and archival materials to help inspire your contributions and tales of queer life in Newfoundland and Labrador. Coco invites you to revisit stories, memories, and experiences and will guide you through making drawings, murals, or other objects for inclusion in the exhibition "A Hole So Big It Became the Sky". Working in collaboration with Coco and Daze, the exhibition will include recordings, murals, objects, drawings that paint a picture of our complex, collective queer histories. As stories and images are created and collected, it mimics the aesthetics of washroom tags and comments and pays tribute to understated forms of inscription and queer spaces.
"It is important to me that this piece serves as a witness; an archival exploration of queer life and imaginaries in NL." -Coco Guzman
---
A Hole So Big It Became the Sky – Coco Guzman and Daze Jefferies
Opening Reception: Saturday, July 6, 7 – 9 pm
DATES: July 6th – August 3rd, 2019
What happens when our experiences are Too Big to talk about? When they resist the symbolic register of language? How do we transmit them, how do we hold them? The horrific, and the transcendent. Holes are scattered behind us, as we weave unevenly our collective history.
This exhibition addresses the Too Big through image and performance, and an immersive plunge into voices from the past.
Coco Guzman's painting and drawing practice deftly articulates personal and collective trauma, lacing the mundane and the disturbing together into complex, visually compelling scenes. Daze Jefferies is a poet, musician, and folklorist whose visual and audio practice tracks the voices of trans and queer Newfoundlanders and Labradorians through decades of trauma and transcendence.
For A Hole So Big It Became The Sky, Jefferies and Guzman will work with a group of queer-identified St. John's residents to represent the defiant gaps in collective memory. In an immersive mural that spans the gallery walls, they will map the pain and ecstasy of our community. This surreal landscape is submerged in a sea of whispers. Scraps of paper pulled from local archives drift on the waves.
In A Hole So Big It Became The Sky, the hole is both an overwhelming void and an object of desire. Here we revisit queer histories, as succulent and immediate as they are contradictory, intangible, unknowable; we bear witness to the intimacies and whispers that can only emanate from curled tongues.
---
Curator Bios
Jason Penney's work uses video and sculptural forms that utilize abstraction and symbolism, often socially engineering absurdity to create temporary shared experiences.
Kailey Bryan is a queer, non-binary artist working in performance, video, and installation, merging craft and new media into seductive but confrontational visual poetry.
Jason Wells is a Drag Queen and who uses printmaking and performance to talk about the documentation of queer histories, the malleability of identity, and hierarchies within art.