2022-2023 Board of Directors
Eastern Edge's Board of Directors can be contacted here: easternedgeboard@gmail.com
Larry Weyand
Larry Weyand is a rug hooker whose work defies the established properties of traditional floor decor, domesticity and gender. Fueled by the complex history of processed foods, emotional trauma, autoethnography, queerness, and domestic spaces, Larry investigates how hard-to-swallow narratives can occupy space within the soft, fluffy dis/comfort of textile-based craft.
 Larry's textile work has been presented across Canada, most recently at The Rooms Provincial Art Gallery (St. John's, NL, 2019-2020), Neutral Ground Artist Run Center (Saskatoon, SK, 2020-2021), the Art Gallery of Burlington (Burlington, ON, 2021), and Struts & Faucet Artist Run Center (Sackville, NB, 2019). Larry has recently been the recipient of a substantial Canada Council for the Arts Grant as well as the City of St. John's Artist Grant to develop a pivotal body of work about bathrooms, to unpack their experience as a gender-neutral person. Having completed their MFA at Concordia University in Fibres & Material Practices, Larry is now a Visiting Assistant Professor in Textile Arts at Memorial University's Grenfell campus in Newfoundland & Labrador.
---
Jennifer Young
Jennifer Young is a full-time visual artist based in St John's, NL. Much of her art explores the intersection of the natural world and our human story and how they intermingle and impact each other.  Working from her beautiful backyard studio, her art practice focuses primarily on creating in encaustic and oil.
---
Michelle LaCour
Michelle LaCour is a freelance audio engineer based in St. John's. After completing a Bachelor of Music in piano and musicology at Memorial University, she went on to earn a Masters of Music in sound recording from McGill University in Montreal, where she worked extensively as a live sound engineer, recording engineer, director, and research assistant. Since returning home in 2017, she has found herself working in a variety of positions, including as a festival manager and administrator; as a location recordist and post-production mixer for film and television; as a live sound engineer at various venues in the province; as a recording, mixing, and mastering engineer for local bands; and as a sound designer for theatre.
---

Nasim Makaremi Nia
Nasim Makaremi Nia is an artist from Iran, currently living in Newfoundland and Labrador. She graduated with an MSc in solid-state Physics and is currently an MFA candidate at Grenfell Campus, Memorial University. She works in painting, drawing, printmaking, and textiles, and her Physics background takes an active role in her art
practice. She has shown works in several group exhibitions including The Rooms Provincial Art Gallery (NL), Eastern Edge Gallery (NL), and Inverness County Center for the Arts (NS). Her art is focused on subjects such as humanity, the lives, and the emotions of women, and she uses animals and products like tampons and sanitary pads as symbols to deal with sexuality to magnify gender discrimination and censorship. Nasim received the emerging artist award in 2022 during the Excellence in Visual Arts Awards – VANL-CARFAC.
---
Drew Pardy
Drew Pardy is an artist and arts administrator based in St. John's, NL. She received her BFA in 2019 from Grenfell Campus Memorial University. Working through friendship as method practices, locally inspired crafting, and installation, Drew explores play and pleasure as a way of taking care. She uses this "radical silliness" and care as a vessel for change— weaving themes of mental health, feminism, and queerness throughout her work.
---

Shan Pomeroy
"Shan Leigh Pomeroy (she/they) is a multidisciplinary artist and designer currently based out of St. John's, Newfoundland. She graduated from Concordia University in Montreal, Quebec with a BFA in Studio Art and Art History and just recently acquired a diploma in Graphic Design from CNA.
Shan is primarily an illustrator but also works in a variety of media, including painting, design, stop-motion animation, music, photography, and textiles. Their artistic output deals heavily with body politics, identity, folklore, and the human relationship to sickness, health, and space. Since 2007, Shan has won several awards and grants, as well as contributed written and visual projects to exhibitions, screenings, markets, and publications across Canada, Italy, Hong Kong, Greece, Czechia, and Portugal."
---
Anhelina Shevchenko
Anhelina Shevchenko is a newcomer from Ukraine. She is studying at MUN in MBA in Social Enterprise and Entrepreneurship program. She is passionate about art and its impact on society via the cause of emotions. Out of studying, she works part-time as a Business Specialist. In her free time, she enjoys going for a walk, reading books, visiting cultural events connected to Ukraine as well as the local community, and visiting museums and galleries to expand her knowledge of the art in St. John's region.
---
Rhyder Evans
Rhyder is a St. John's born, self-taught amateur/hobbyist illustrator. He has produced prints and cards for local markets and fares. He lives in St. John's NL with his wife, son and two cats. Since 2019, he has worked primarily in ink. At the beginning of the COVID 19 pandemic, Rhyder attempted to complete a drawing a day.   His subject matter is quite diverse from local architecture to robots and monsters. In his professional life Rhyder has over 13 years of experience in variety of roles in the public service specializing in coordination, policy development and governance.
---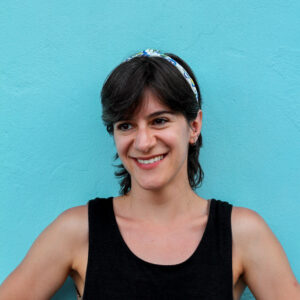 Nicole Haldoupis
Nicole Haldoupis is a writer, editor, rug hooker, illustrator, and innkeeper from Toronto who now lives in St. John's, Newfoundland and Labrador. Her rugs have been featured in the Wake Up Inspired exhibition at Eastern Edge and at the Queer Craft Club's pop-up exhibition, All Our Friends' Rugs, at Rocket Bakery during the 2023 Hold Fast Festival, among other places.
Her first book, Tiny Ruins (Radiant Press, 2020), was shortlisted for four 2021 Saskatchewan Book Awards and the 2022 Association of Italian-Canadian Writers (AICW) Bressani Literary Prize, and is currently being adapted into a feature-length film by Rogue Rock Pictures. Her poem "Bend" won the 2023 Gregory J. Power Poetry Award.
---
---
Eastern Edge Artist-Run Centre is built upon a foundation of all its past board members, a list of names who span more than 30 years.
Lily Taylor • Chrissy Dicks • Jonny Lush • Ethan Murphy • Emily Finch • Jenne Nolan • Nicole Boggan • Shelby Millwater • Graham Cox • Devin Shears • Matthew Hollett • Emily Pittman • Joel Finnis • Gobhina Nagarajah • Diana Chisholm • Mia Penney • Liam Penney • Jason Wells • John Weber • April White • Gloria Hickey • Kailey Bryan • Jesse Wardell • Louis Atkinson • Andrew Harvey • Graham Kennedy • Mireille Eagan • Todd O'Brien • Virginia Mitford • Kyle Bustin • Dona Bulgin • Susan Eddy • Anne Fagan • Candace Fulford • Sarah Hillock • Sarah Laing • Jillian Murphy • Craig Francis Power • Leisha Sagan • Michael Waterman • Jennifer McVeigh • Tia McLennan • Charissa Reeves • David Kaarsemaker • Kay Burns • Ingrid Mary Percy • Cyril Butler • John McDonald • Zea Cline • Darren Whalen • Rachel Harding • Anne Fagan • Robbie Thomas • Norah Pendergast • Sarah Hillock • Maris Murphy • Sarah Joy Stoker • Marilyn Koop • Sharon Puddester • Rhonda Buckley • Mandy Jones • Chandra Chopra • Michael Venart • Audrey Hurd • Amanda Larner • Patti Broughton • Roberta Thomas • John Haney • Christina Steele • Corey Gorman • Peter Wilkins • Michelle Bush • Kym Greeley • Karen Channing • Jennifer Dyer • Andria Hickey • Monique Tobin • Kate Wolforth • Susie Taylor • June Walker-Wilson • Pheilm Martin • Mike Flaherty • Elayne Noble • Laura Sheppard • Judy Taylor • Debbie Collingwood • Greg Bennett • Will Gill • Kelly Bruton • Gabrielle Kemp • Beth Stewart • Glen Bartlett • Janet Peter • Joan Fitzgerald • Ilse Hughes • Jeff Boone • Joan Blackmore – Thistle • Jack Eastwood • Jennifer Pohl • Helen Gregory • Joan Thistle • Grant Boland • Francis Lyons • Tara Bryan • Joanna Strong • Di Dabinett • Bonnie Leyton • Ned Pratt • Jim Ellison • Beth Oberholtzer • Debra Kuzyk • Jeanette Laaning • Mona Rossiter • John Trahey • Roberta Buchanan • Christine Koch • Aileen Gamberg • Katherine Pittman • Jennifer Clouter • Jay Barry • Kathleen Knowling • Janice Udell • Don Wherry • Heather Moore • Mannie Buchheit • Doug Townsend • Steve Payne • Gerald Pisarzowski • Caroline Stone • Peter Walker • Susan Wood • Julia Pickard • Marlene Creates