Larry Weyand
Larry Weyand is a rug hooker whose work defies the established properties of traditional floor decor, domesticity and gender. Fueled by the complex history of processed foods, emotional trauma, autoethnography, queerness, and domestic spaces, Larry investigates how hard-to-swallow narratives can occupy space within the soft, fluffy dis/comfort of textile-based craft.
 Larry's textile work has been presented across Canada, most recently at The Rooms Provincial Art Gallery (St. John's, NL, 2019-2020), Neutral Ground Artist Run Center (Saskatoon, SK, 2020-2021), the Art Gallery of Burlington (Burlington, ON, 2021), and Struts & Faucet Artist Run Center (Sackville, NB, 2019). Larry has recently been the recipient of a substantial Canada Council for the Arts Grant as well as the City of St. John's Artist Grant to develop a pivotal body of work about bathrooms, to unpack their experience as a gender-neutral person. Having completed their MFA at Concordia University in Fibres & Material Practices, Larry is now a Visiting Assistant Professor in Textile Arts at Memorial University's Grenfell campus in Newfoundland & Labrador.
---
Lily Taylor
Lily Taylor (she/her) is a designer and multidisciplinary artist, originally from Ontario, who is currently living and working in St. John's NL.She received her Bachelor of Design in 2018 from OCAD University in Toronto, majoring in illustration and minoring in printmaking. She is currently working full time as a multi-media production artist in the marketing world, while also maintaining a studio practice. Lily maintains close ties within the St. John's community working and volunteering for local arts communities and events. 
---
Jennifer Young
Jennifer Young is a full-time visual artist based in St John's, NL. Much of her art explores the intersection of the natural world and our human story and how they intermingle and impact each other.  Working from her beautiful backyard studio, her art practice focuses primarily on creating in encaustic and oil.
---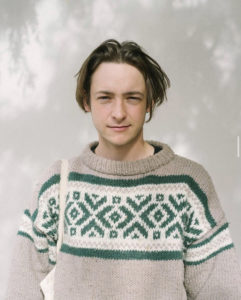 Ethan Murphy
Ethan Murphy is a visual artist from St. John's, Newfoundland. He holds a Bachelor of Fine Arts in Photography Studies from X University and is one of the three directors of DarkNL Community Darkroom. His work links identity and place by reflecting on the psychological
impact of Newfoundland's rural environment. Murphy's work is concerned with a fluctuating perspective acquired from leaving and returning to the island that enables him to renegotiate his connection to its remote areas. He reconciles his relationship with identity, loss, memory, and family while examining the Newfoundland landscape post cod moratorium. Murphy has exhibited internationally, at the National Gallery of Canada and was awarded the New Generation Photography award in 2019.
---

Chrissy Dicks
Chrissy Dicks is the Executive Director at Lawnya Vawnya and has been instrumental in building the festival and organization since 2012. She currently sits on the Board of Directors for Riddle Fence Arts Magazine and is the Festival Coordinator for First Light's Spirit Song Festival. Over the past decade she's worked extensively within the arts & culture sector including roles at the NL Folk Festival, the Festival of New Dance and the Christina Parker Art Gallery. Chrissy has a B.A from Memorial University and completed post graduate studies at NSCAD University in 2012. She is from Corner Brook, Ktaqmkuk (NL) and currently lives in St. John's with her golden Rosie.
---
Michelle LaCour
Michelle LaCour is a freelance audio engineer based in St. John's. After completing a Bachelor of Music in piano and musicology at Memorial University, she went on to earn a Masters of Music in sound recording from McGill University in Montreal, where she worked extensively as a live sound engineer, recording engineer, director, and research assistant. Since returning home in 2017, she has found herself working in a variety of positions, including as a festival manager and administrator; as a location recordist and post-production mixer for film and television; as a live sound engineer at various venues in the province; as a recording, mixing, and mastering engineer for local bands; and as a sound designer for theatre.
---

Jonny Lush
Jonny Lush considers himself a product of the vibrant intersection between the local art and music scenes. In 2015 he completed his B.A in English and French between Carleton University and Memorial University and received his B.Ed from Memorial University in 2016. After graduating he spent 3 years living in Pangnirtung Nunavut working as a teacher and organizing art workshops and opportunities. Currently working in St. John's as a high-school teacher during the day, Johnny is interested in analog photography and spending time in the darkroom.
---