Each for Equal
Each for Equal  | March 6- 28, 2020
Highlighting 8 emerging artists from Newfoundland & Labrador, in affiliation with international Women's day.
Presented by the rOGUE Gallery
This is an intergenerational show that will celebrate and create space for women artists of any age – what we have to say, what we have to show, and what we want others to know about us.
Featured Artists:
Alex Antle
I started practicing beadwork in 2017 as a way to build a connection to my culture. My work has been included in the exhibition, mitsujuk | kussikuashu | kpitni'sewet | they sew, which was the first dedicated Indigenous art exhibition at the Craft Council of Newfoundland and Labrador. This exhibition will also be featured at the Tina Dolter Gallery in Corner Brook in October 2020.
With the piece I am including in the Each for Equal exhibition, I hope to express the importance of diversity in the voice towards equality. This will focus on the priority to have Indigenous voices included in the gender equality movement.
My art piece focuses on the unique challenges that Indigenous women face including the ongoing national genocide against Indigenous women. This will be presented as a piece that both remembers our stolen sisters and celebrates our resilience. I hope that this piece will ignite a sense of urgency in reconciliation and gender equality.
Ashlyn Fieldhouse
The painting, Dysphoria, is a representation of identity independent of the often gender normative tropes in portraiture. This piece also discuses the influences of mental health on sense of self.
This work is a self-portrait which demonstrates a sense of psychological turmoil. The choice of subject is influenced by historical portrait paintings from the Renaissance, which often depicted reclining female figures with landscape backdrops. However, I aim to avoid traditional female beauty standards, instead seeking greater autonomy in the way that female artists represent themselves in their art. Landscape and drapery are tools which I use to allude to the anxiety and melancholy associated with body dysphoria and social pressures to look a certain way. Identity will be depicted separate from stereotypical ideals of beauty, which is the message I hope to communicate as a part of the show, Each for Equal.
Jean Wills
I consider myself an older emerging artist. Obstacles and digressions on the path delay the fullness of an early career, but, I am forced to accept, they provide life lessons which can enrich the work. I have continued to practice at every opportunity throughout many relocations and life with children. My art school education ended in 1994, but until recently art has not been my professional focus. My work needs to develop. My list of juried shows is thin compared to my contemporaries. However, I have never stopped learning, and I am now ready to move into a full-time practice. I draw on any and all sources for inspiration. When drawing my submission I was looking at still life drawings by Richard Diebenkorn. I have been planning to begin a series of compositions with many objects arranged together, and his drawings have stuck with me since I saw them in books and in slide shows at NSCAD over 25 years ago. I remember being shown his work as one among many, mostly male, role models, and being encouraged to follow his freedom of mark making and solid composition. This memorable influence brings me into the present using my own subject matter and drawing style. In my drawing I practice technique with each object having a place formally but also carrying meaning individually.
In the late 20th century classes I attended and the books I read, women artists were tangential to art historical canon, while in reality women were active during this period. I see myself as part of today's more diverse world of art, practicing the tradition of painting and drawing. My aim, now that I have the time to devote to my practice, is to be taken seriously as a professional artist.
Jennifer Young
This project comes from a very personal story. After 25 years as a management consultant where I helped others to change and improve their world, I can now say I have completely changed my own world moving my passion for art from pastime to profession. 
For me bringing the ideas of women artists, International Women's Day and emerging artist together for a show that opens on International Women's Day on the March 8th weekend at the rOUGE Gallery completes a special and meaningful circle.
Over my career I have fought to advance the position and professionalism of the women I have had the pleasure to work with and the women that have worked for me. I have had the privilege of being mentored by some incredible women and have been honoured with their support and many teachings. As I move into my new career, I find I am able to merge the knowledge, teachings and determination of the women from my past and am able to focus my path and voice moving forward with their continued inspiration. Additionally, I feel I still have something I can share and use to assist others less experienced in the world of business and entrepreneurism; I feel I still have something to offer.
My piece "Warrior for my Son and my Daughter" is a reflection of the strength and determination my daughter–in-law shows every day as a warrior for her family, her work and her wider community. We often think of pregnant women as weak and needing protection. They are rarely portrayed in public art and almost never as fighters or warriors. Here she is carrying a daughter and protecting a son. A Warrior to protect them, to fight for them, to ensure they have the best future possible – that they each are equal.
Kristen Regular
Ultimately, I hope to have a representation of fat women within the community. Fat women are wildly underrepresented, and when they are, it's often negative interpretations that are rooted in fatphobia. With my work, I try to represent not only fat women, but particularly fat women with chronic conditions. It's difficult enough getting help with chronic pain, but the challenge is amplified when you are a fat person with chronic pain as the treatment plan is generally comprised of "lose weight". Apart from the medical fatphobia, the challenges expand in a social setting as well. As a fat person with chronic pain, I'm not necessarily always abled bodied and instead of being offered a seat on the bus, I'm called a "lazy fat bitch" despite the fact my fatness and chronic pain are entirely unrelated. I hope to open the conversation about this issue within my work, in a very straightforward matter so that the fatphobia that is present is clear.
Familiarization with my own body and mind has been the most significant aspect of the way I work. Focusing on both my physical appearance and my own identity, I use these pieces of myself to build a relationship with my own ideas and to build works that allow me to explore the self and to see how far the self can travel within a work. Through embroidery and sewing I am able to build a relationship between myself and my work to create a bond to learn more about myself and the things around me that occupy the spaces I revel in. By doing so, I am able to learn about the intricacies that circulate in my own self.
Lisa Downey
My artwork combines history and current day via textile art. Photographs, stories and artifacts come together to be reinterpreted using traditional embroidery techniques, applique, and digital technology. I also use clothing of an era as an important component of my work to visualize a time and immerse the viewer in the story.
The Each for Equal piece will explore the intergenerational ties between our suffragette sisters at the beginning of the 20th century and our current day feminist activists. We stand on their shoulders. 
Women's right to vote in Newfoundland and Labrador was enacted in April 1925, but the fight started decades earlier. Many marches were held, and petitions presented to the NL government over the span of 50 years. Women met via church charitable groups, and societies to pioneer voting rights for women in order to have a voice in the governance of their society. Many of the activities and struggles that women had back then still exist today. To celebrate the hard work of our ancestors and to celebrate our current collective activism, I will create a piece that incorporates our suffragette history and todays efforts through combining images, writings, clothing artefacts and embroidery.
Having studied textiles and fashion design in my youth, I had hopes of a career in the art industry, but life had other plans. Thirty years later, working as an administrator at the Craft Council of Newfoundland and Labrador, I was encouraged by family and colleagues to submit a piece into a group juried show at the Craft Council Gallery. It was my first piece of artwork since 1997. For the next several years, I entered pieces in Craft Council gallery shows, exploring types of media – trying to find my niche. Once again, encouraged by colleagues and family, I held my first solo show at the Craft Council Gallery in the fall of 2019.
Molly Margaret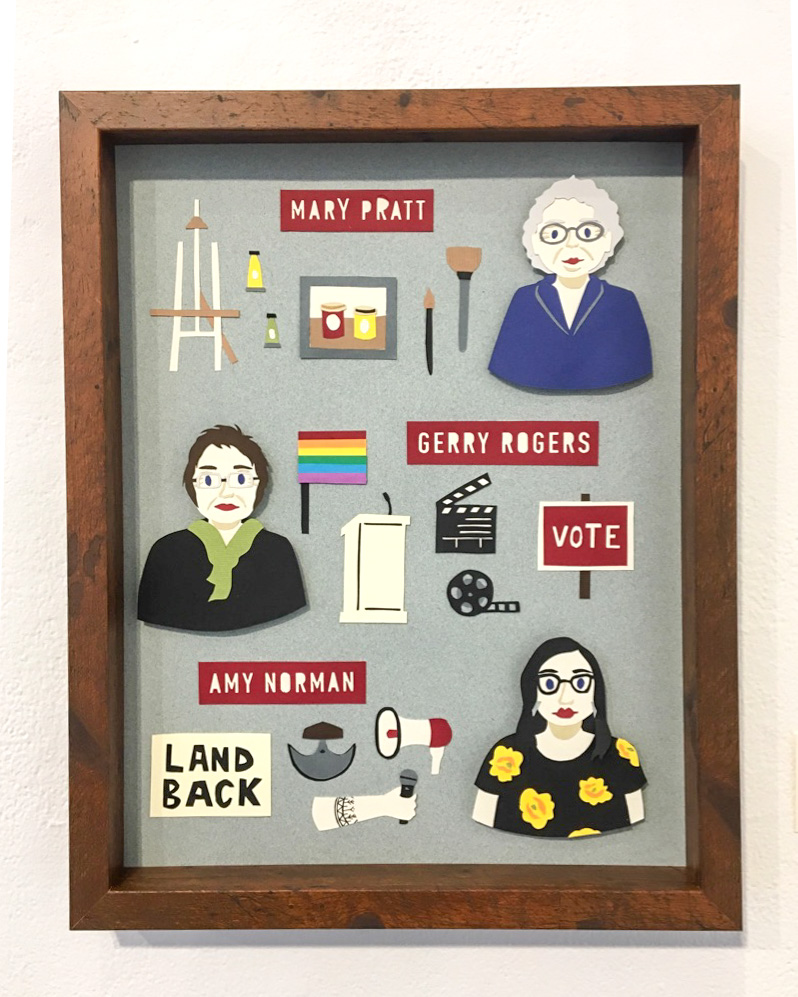 My practice is illustration-based and incorporates papercuts and traditional painting, and more recently, digital art as well. Depending on my concept or idea, I will choose which medium I feel will be best suited to creating a successful and well-rounded piece. My work often contains whimsical characters and scenes that can, without words, tell a story. I particularly like to incorporate imagery of botanicals, landscapes, and architecture in the work that I create. I am inspired by my ever-evolving interest in history, place, and the people and objects that fill the gaps in between.
The amazing thing about art, and particularly illustration, is that so much can be said without using any words at all. Through illustration, I hope to communicate positivity and inclusivity in my work. For the Each for Equal show, I am illuminating some of Newfoundland's influential womxn, past, present, and future. These portraits express and celebrate what these womxn accomplished in Newfoundland and the objects around them share their journeys. These womxn and their accomplishments hopefully inspire people of all generations, genders, and backgrounds to recognize that womxn in this province are strong, independent, and fearless. 
Shan Pomeroy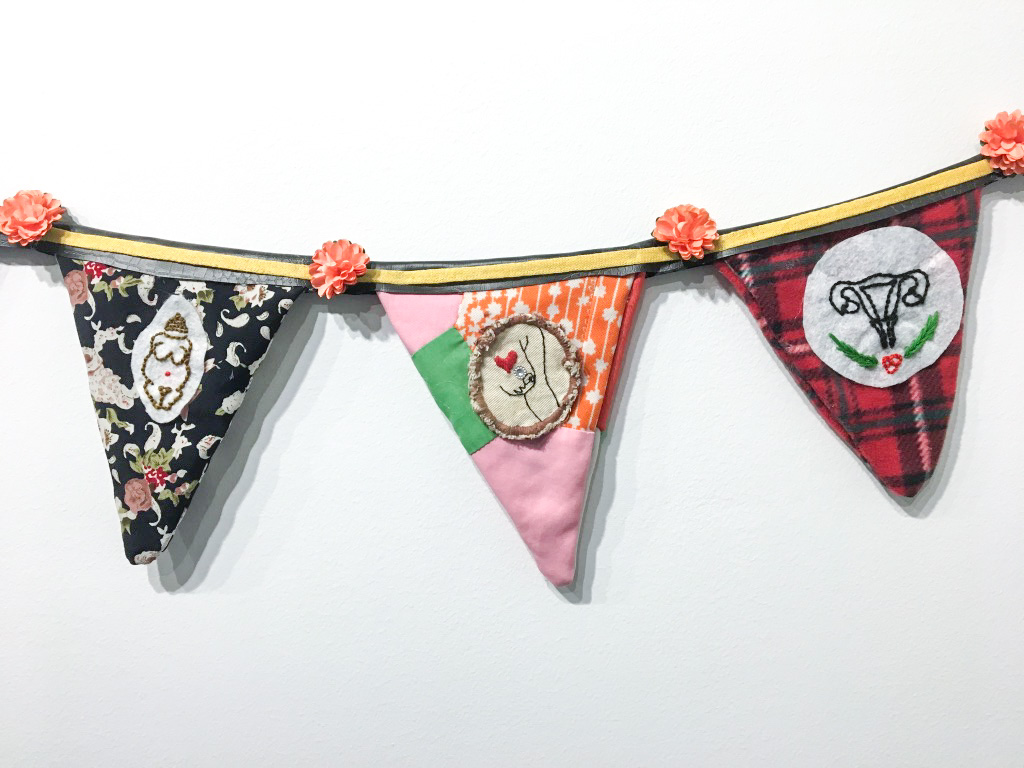 I think of my work as a romanticized yet self-reflexive practice of preservation and documentation, informed simultaneously by traditional illustration, kitsch aesthetics, gender, anatomy, and clinical diagrams.
Through an investigation of various media and subject matter, I highlight tensions between technique, balance, scale, intimacy, distance, observation, imagination, comedy and drama, literal and imaginary, realism and abstraction.
I draw much of my influence from daily life and my own tactile, subjective experience. I collect and chronicle the minutia at work within a particular moment, often juxtaposing sentimentality through some means of interruption, abstraction, or imposition of unconventional elements, challenging the viewer to extract something more.
I hope to promote a celebratory tone through my work produced in cooperation with Each for Equal. In a style reminiscent of "sloppy craft," I've created an embroidered string of six party flags made from up-cycled fabric and illuminated with a variety of images that highlight aspects of gender and womanhood. These images include the Venus of Willendorf, pelvic medical diagrams, mastectomy patches, and trans-inclusive iconography.
Flags denote dominance. Party flags, traditionally hung as temporary party decor, are particularly suggestive of celebration, nostalgia and lightness. These banners of triangular flags have gradually evolved to become nearly synonymous with millennial aesthetics. Kitschy, atmospheric, and affordably ornate, my flags boast subject matter of a darker, heavier nature, among floral motifs and soothing pastels as a means to present them in a jovial, affectionate, and optimistic way.