Artists in Residence: Sarah Joy Stoker and Omar Badrin

Sarah Joy Stoker and Omar Badrin will be here at Eastern Edge Gallery from June 11th – 17th completing an artist residency. The week will be a research-based process of exploration and creation open to the public for ongoing viewing, culminating in a public viewing and performance on June 16th.
---
Public Performance
Saturday, June 16th at 5:00 pm
Eastern Edge Gallery
This performance/showing will be a live interpretation of the culmination of work done by Badrin and Stoker throughout the residence week. Animation through movement and spacial play by Stoker of the works and articles created by Badrin. Approx 30 – 40 mins in length.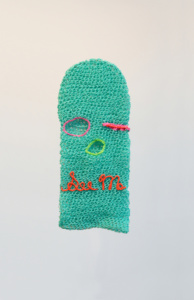 St. John's, NL born and based, Sarah Joy Stoker works in the realms of contemporary dance, interdisciplinary performance and installation. She keeps issues of ecology and humanity as the focus of her work, believing that art is an active force in life and should therefore be a vehicle for action in our communities. Since graduating from the School of Toronto Dance Theatre in 1996, she worked as an independent dance artist in Toronto and Montreal performing her own work and that of other choreographers and companies nationally and internationally. Returning to St. John's, she worked tirelessly to generate increased opportunities for creation, exploration and experimentation within the dance and interdisciplinary communities. Sarah worked as coordination manager, board member and chair of Neighbourhood Dance Works and the Festival of New Dance between 2003 and 2010, has been on the board of Eastern Edge Gallery and The Association of Cultural Industries of NL. She continues to live and work in St. John's creating her own work and collaborating with the local and national communities.
Omar Badrin is an interdisciplinary artist born in Kuala Lumpur, Malaysia. Badrin obtained his MFA at the Ontario College of Art and Design University (2015), where he was awarded a graduate medal for his work in the Interdisciplinary Master's in Art Media and Design program. Since graduating, he has received project and travel grants from the Toronto Arts Council, Ontario Arts Council and Canada Council for the Arts. In 2017, Badrin received an Honorable Mention for the Melissa Levin Emerging Artist Award from the Textile Museum of Canada.