Call for a Treasurer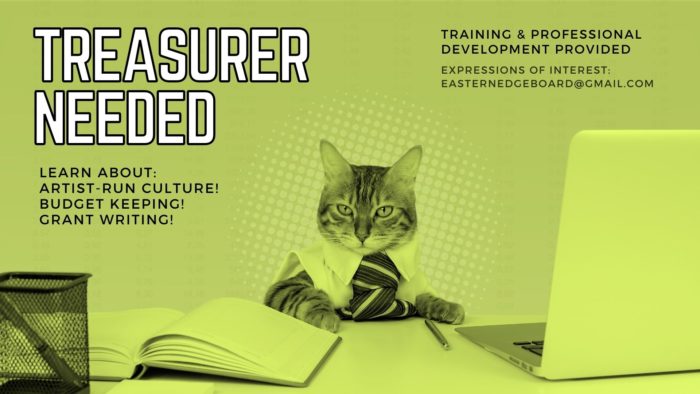 Eastern Edge is looking for a Treasurer to join our Board of Directors. 
Are you interested in learning more about the behind-the-scenes aspects of artist-run centre culture? Do you want to learn more about financial management in a grant-based organization? This could be the opportunity for you!
We are looking for someone with an eye for detail and an interest in learning more about non-profit management. Eastern Edge will provide training, access to professional development opportunities, and lots of support! 
In this position, you will work with Eastern Edge's Executive Director and Board of Directors on three main tasks. (1) Planning and budgeting, (2) financial oversight, and (3) financial reporting to the board. Eastern Edge also retains the services of a professional bookkeeper and an Accounting Firm.
Members of Eastern Edge's Board of Directors are expected to serve a two-year term, enthusiastically support Eastern Edge's mandate, and be available to attend monthly board meetings.
Please send any questions or expressions of interest to easternedgeboard@gmail.com.