Christeen Francis: Love Under the Patriarchy – Portraits
Next week, Christeen Francis' exhibition, Love Under the Patriarchy – Portraits, will open in the rOGUE Gallery! We're so looking forward to having Christeen's prints in the rOGUE, and we hope you'll join us on May 5th from 7-9pm for an opening reception! We will have snacks and refreshments to go around! To RSVP to the Facebook event, click here.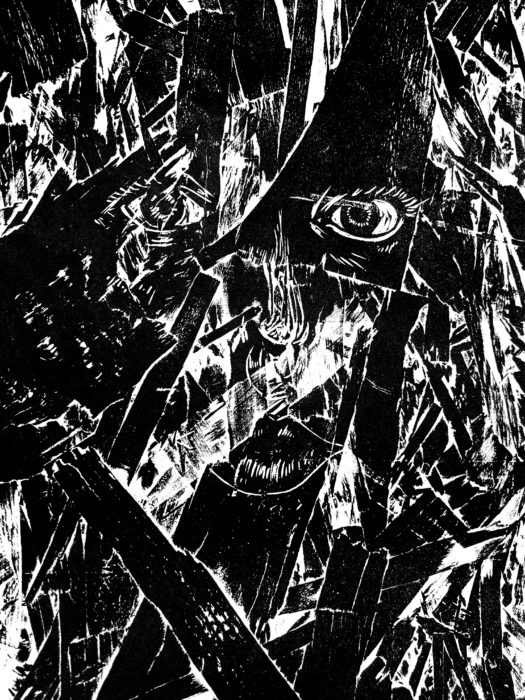 Love Under the Patriarchy – Portraits seeks to highlight the ways in which we find love in a patriarchal society, encompassing all forms of love with an emphasis on community. What began as informal conversations with friends, evolved into a podcast and collaborative zine edited by Christeen Francis and Renee Sharpe. From there, Christeen began creating woodcut portraits of friends who had experienced sexual assault or abuse. The portraits are a testament to survivors ability to persevere and heal, but also show the complex fragmentation of self and community that can occur throughout the process. Life and love under the patriarchy is a struggle in which we find ourselves pulled apart by conflicting and contradictory beliefs: the ideals we strive towards versus the afflictions ingrained by the long-standing dominant culture. Much like the portraits, we fade in and out of recognition while navigating these beliefs and experiences – splintering in moments of failure, and revelling in moments of clarity with the help of friends and community.
Artist Bio
Christeen Francis is a printmaker and musician based in St John's, NL, where she works as director of St Michael's Printshop. She completed her BFA at NSCADU then ran a screenprint shop in New York City before returning to her hometown of Montreal to complete her MFA at Concordia University. She is committed to social and political print that engages with local communities and the public at large. She has exhibited in Canada, the United States, Germany, and Iceland, and is a member of Justseeds Artist Cooperative. Her research interests include urban wildlife and wild spaces, the homogenization of cities and culture, and how we find love under the patriarchy.
Show Documentation
Photo Credit: Ksenia Korniewska