Dion Kaszas in the rOGUE Gallery
Spirit Song Festival presents Dion Kaszas: Nlaka'pamux Blackwork: Tattooing for Transformation, Healing, and Adornment

Nlaka'pamux Blackwork: Tattooing for Transformation, Healing, and Adornment is a group of photographic prints, a sculptural piece, a painting, and a single channel video installation. All of this documents the creation of a contemporary Nlaka'pamux tattoo style. I began the revival of Nlaka'pamux tattooing in 2012, using the ancestral technology of hand poking and skin stitching. Nlaka'pamux Blackwork is the next step in the resurgence of my ancestral embodied mark making practice. I am creating a contemporary Nlaka'pamux tattoo practice using the modern electric tattoo machine, pigments, and techniques. Through museum and archival research I have begun reaching back into my ancestral visual lexicon, creating contemporary embodied artistic masterpieces on the bodies of my clients, collaborators, and community members. This exhibition provides documentation of two of the in progress Nlaka'pamux Blackwork bodysuits. Both of them take inspiration from designs, symbols, and motifs found on Nlaka'pamux baskets and painted clothing. Nlaka'pamux Blackwork: Tattooing for Transformation, Healing, and Adornment provides a small glimpse into two of my collaborators'internal and external transformations.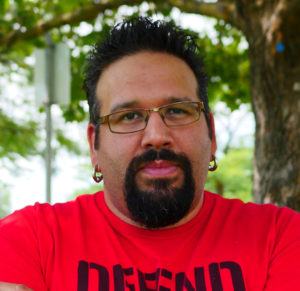 Dion Kaszas is an Nlaka'pamux cultural tattoo practitioner and a leader in the revival of Indigenous tattooing in Canada. He has been tattooing professionally since 2009 and started the revival of Nlaka'pamux tattooing in 2012. Dion travels to National and International events, conferences, and tattoo festivals representing Nlaka'pamux and Indigenous tattooing in Canada.
He specialize in neo-tribal, dot work, black work and ornamental tattooing with a special emphasis on traditional hand tattooing techniques. These include hand poke and skin stitch tattooing methods which arise from his Nlaka'pamux culture. He has had the honor of assisting in the revival of Indigenous tattooing across Turtle Island (North America) as co-founder of the Earthline Tattoo Collective and the Earthline Tattoo Training Residency.
Dion's passion for tattooing extends beyond his artistic work into the successful completion of his Masters degree in Indigenous Studies at the University of British Columbia Okanagan. His continued area of research is Indigenous tattooing, focusing keenly on the revival of Indigenous peoples tattooing practices, using Indigenous and Creative research methodologies. Since his graduation Dion has contributed to a variety of publications and exhibitions as author, editor, curator and consultant.
His work has been featured in Tattoo Traditions of Native North America: Ancient and Contemporary Expressions of Identity, The World Atlas of Tattoo, and highlighted in Newspaper articles from the New York Times to the CBC. In 2018, he was featured in a variety documentary films and TV series. These include Skindigenous, a 3 Season, 13-part documentary series produced in association with APTN exploring Indigenous tattooing traditions around the world and the FOX Nation series USA Ink.