Drew Pardy: That's Hot
Eastern Edge is excited to introduce Drew Pardy in the rOGUE Gallery for the upcoming exhibition, "That's Hot". Join us on September 1st, 6-8pm for the opening reception, complete with delicious snacks and refreshments. Don't forget to RSVP to the Facebook event by clicking here!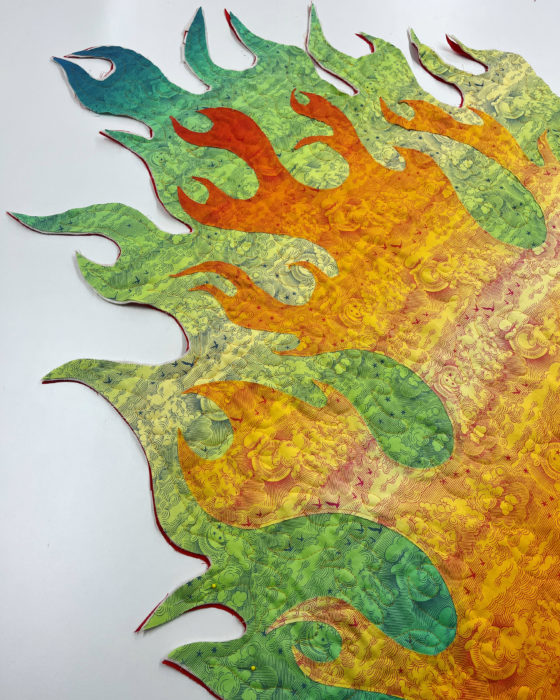 That's Hot is an experiment in play, modeling after queer aesthetics of childhood and friendship. This interactive installation of quilts, each holding some tender, fiery, friendship-love, invites you to cuddle! Imagined softer futures are ablaze in this playroom. Play can be a vessel to imagine new futures and find new pathways forward. It puts past and future anxieties on hold as we engage ourselves in the present. In this way, play helps us to sidestep fear and look for transformative alternatives to the present state of politics and society. In That's Hot, we look at how piping hot the possibilities of play and the redistribution of care through soft and silliness really is.
Drew Pardy (she/they) is an artist working in textiles, performance and installation based in St. John's, NL. She received her BFA in 2019 from Grenfell Campus, Memorial University. They use "radical silliness" as a vessel for change— exploring themes of labour, feminism, and queerness. This play is a way of taking care. Drew is one half of the friendship heart necklace that is HOT 4 THE MOMENT, a collective and loveship with Georgia Dawkin and is a member of TRUCK Collective with Annie Canto and Emily Neufeld. Drew has exhibited nationally and internationally.
Opening Reception Photos
Photo Credit: Shireen Merchant
Show Documentation
Photo Credit: Shireen Merchant