Eastern Edge & Artforce NL Workshop Series
Eastern Edge and Artforce NL have partnered up to bring you a special workshop series!
Eastern Edge is an artist-run centre located in St. John's, NL, dedicated to exhibiting work that facilitates critical dialogue concerning issues in contemporary art and society, and actively encouraging emerging and established artists whose work speaks to feminist, multicultural, queer, and other diverse perspectives.
Artforce NL is an arts-based education charity, helping Newfoundland and Labrador youth overcome social and/or economic obstacles. Through arts-based programming and connections, Artforce helps young people coping with challenging circumstances develop life skills essential for independence and success.
In February and March we will be offering a number of workshops oriented around professional arts practices. These workshops will help developing artists hone their skills in art writing and presentation. They will be a mix of online (Zoom) and in-person workshops facilitated by practicing artists.
UPDATE: We are delighted to continue our partnership with Artforce NL to bring you even more workshops throughout April and May! Stay tuned for details and registrations!
Workshops:
February 21, 1:00 – 3:00pm
Artist Grant Writing 101 with Daniel Rumbolt


During this workshop participants will learn how to read and understand the guidelines of various grants or call for submissions, and how to gather your thoughts and materials in order to fully meet the necessary requirements. The workshop will focus on channelling your big ideas into a concise project proposal, and will include tips to help you draft a budget, prepare support materials, and refine your writing skills. The workshop will end with an open Q&A to dig deeper into your specific projects and ideas.
To watch a recorded version of this workshop, click here!
March 5, 1:00 – 3:00pm
Photographing your Artwork with Matthew Hollett
High-quality images of your artwork make a huge difference when applying for exhibitions and grants! This is a workshop on documenting artwork through photography. We'll compare different ways of digitizing your work, including professional cameras, phone cameras and scanners. We'll talk about the importance of good lighting, and using a tripod. We will also go over post-processing images in Photoshop: cropping and perspective correction, brightness, saturation and colour balance, and so on. Finally, we'll look at different image formats and how to resize and format your files for different purposes.

March 7 & 8, 10:00am – 2:00pm
Art Installation and Exhibition Lighting with Kym Greeley


This workshop will walk artists through installing their work in the Wake Up Inspired exhibition in Eastern Edge's rOGUE Gallery. As such, attendance is limited to artists exhibiting in Wake Up Inspired. To submit an application to this exhibition, see the Call for Submissions.

March 18, 1:00 – 3:00pm
Head, Heart, Hand: Demystifying Writing About Art with Craig Francis Power
"If you're anything like me—and I really don't suppose you are—you may have read some piece of writing about art in a journal, periodical, or exhibition catalogue, and wondered what the writer seemed to be trying so very hard to say.
Likewise, you may have come across a review in which some other writer did nothing more than literally describe an artwork's formal qualities without delving into the political and historical context in which a given work was made, or for that matter, some wider relevance a work may have.
Notorious both for impenetrable art-jargon word-clouds and facile trivialities, writing about art can be simple. But it's never easy. How does the art writer see and think and feel deeply about art and communicate effectively to an audience their experience in a way that is true to the art, and to the writer themselves?
Up to six participants are asked to bring in for discussion some short piece of art writing they love (or hate), while Craig Francis Power (he/him) attempts to guide us through what works, what doesn't, and why."
March 25, 1:00 – 3:00pm
How to Write an Artist Statement with Daniel Rumbolt
What is an Artist Statement? Is it the same as a bio? Is it like a CV? And how do you even begin to write one? This workshop will help answer these questions and more as we dive into the many ways artists use statements to support their work. We will learn about the different types of statements, how they differ from an artist bio or resume, and how you can use it as a tool to better understand your own practice.
The workshop will include a presentation, but is conversational in nature. Participants are encouraged to bring their own draft artist statements or project ideas so we can develop your writing as a group! All levels of experience are welcome.
To watch a recorded version of this workshop, click here!
April 21, 1:00 – 3:00pm
Canva for Artists with Elijah Martel
Join us for a crash course in Canva, the online graphic design platform. We'll cover the basics of site navigation, templates and editing hacks, and how to make the most of Canva's free features. You'll end the day with all the tools you need to make high-quality business cards, PDF portfolios, and graphics for social media. No experience needed!
To watch the recording, click here (Processing!)!
April 29, 1:00 – 3:00pm
Digitizing Artwork on a Budget with Ksenia Korniewska
Documenting your artwork without having access to professional lighting or photographic equipment can be challenging and frustrating, but it's not impossible! In "Digitizing Artwork on a Budget" a painter and photographer Ksenia Korniewska is going to teach you how to overcome challenges and work within limitations when digitizing your artwork at home. We will learn why even an entry-level camera is better than a phone, how to light your artwork using simple desk lamps, why sometimes scanning is better, and finally, how to take stunning detail shots using macro extension tubes. We will also talk about editing your images in Photoshop: photomerge, colour correction, removing dust particles and pet hair, and more! Participants are encouraged to bring their own cameras and a small piece of artwork! All levels and experiences are welcome.
May 10, 1:00 – 3:00pm
Presenting and Protecting your Art with Amanda Penney
This workshop will deliver helpful tips about presenting and protecting your art. I will share ways to frame/hang artwork made of paper, options for presenting textile art, and considerations when presenting 3D sculptures in a gallery space. I will share reliable resources for custom framing shops in the area. Participants will learn about the importance of labelling and protecting your artwork with packaging suitable for storage and shipping. I am passionate about keeping artwork safe and I want to share some helpful tips I've learned along the way.
May 13, 1:00 – 2:00pm
Artist CVs and Bios with Rachel Gilbert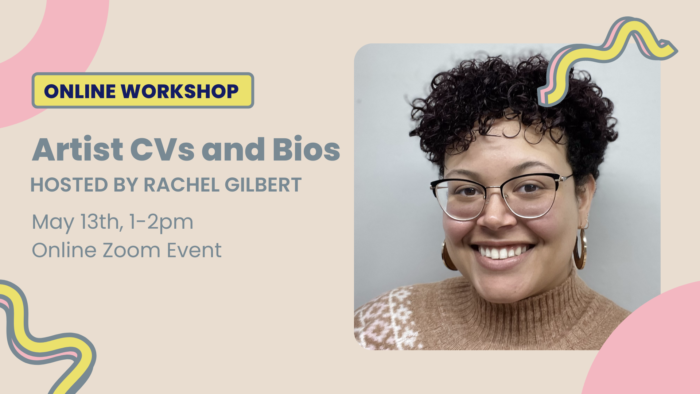 In this workshop, Rachel Gilbert will guide participants through the dos and don'ts of creating a curriculum vitae (CV) and an artist bio. As a visual artist and cultural worker with experience on provincial and national committees and juries, Rachel will discuss the different CV formatting options used for job applications, exhibitions, or residency proposals and what to and not to include in each. We'll also review the steps to writing an artist bio that promotes you and your practice, and we'll explore contemporary formatting possibilities.