Eastern Edge x ArtforceNL: Wake Up Inspired
Eastern Edge is excited to present our first rOGUE Gallery exhibition of 2023! Join us on March 10th from 6:00-8:00PM for the opening reception of  Wake Up Inspired, a group show coordinated by EE and Artforce NL. There will be snacks and refreshments, all are welcome! To RSVP to the Facebook event, click here.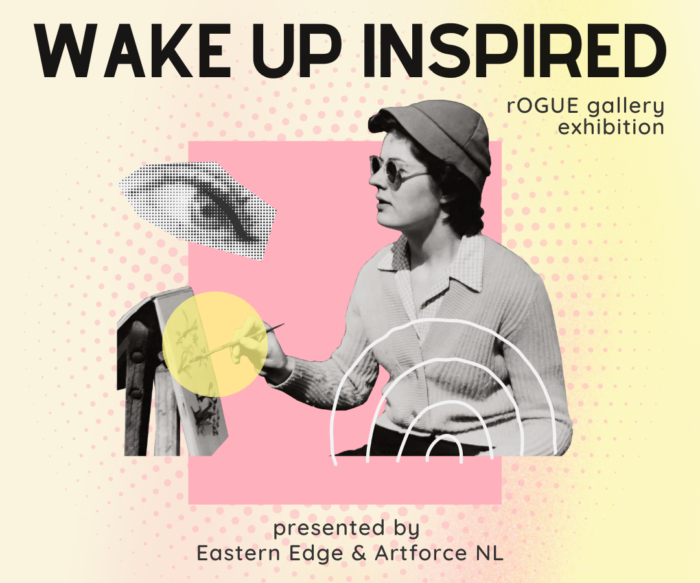 Wake Up Inspired is an annual exhibition of visual art (prints, paintings, drawings, sculptures, photographs, etc.) by Newfoundland and Labrador artists aged 15-35, organized by Eastern Edge and Artforce NL.
Eastern Edge is an artist-run centre located in St. John's, NL, dedicated to exhibiting work that facilitates critical dialogue concerning issues in contemporary art and society, and actively encouraging emerging and established artists whose work speaks to feminist, multicultural, queer, and other diverse perspectives.
Artforce NL is an arts-based education charity, helping Newfoundland and Labrador youth overcome social and/or economic obstacles. Through arts-based programming and connections, Artforce helps young people coping with challenging circumstances develop life skills essential for independence and success. artforcenl.org
Participating Artists:
Anna Murphy
Beck MacLeod
Brooke Linehan
Carolyn Williams
Charlotte May Hobden
Chelsea Beehan
Christine Wight
Daniel Martel
Drew Pardy
Dylan Dixon
Georgia Dawkin
Helena Panting
Jessie Donaldson
Jonathan (Johnny) Rose
Joseph Kealan Kade
Katrina Taliana
Kevin Melanson
Kit Sora
Kristen Piercey
Lidia Martinovic
Luanne Dominix
Madison Walsh
Margaret Joba-Woodruff
Marissa Singleton
Megan Hutchings
Nehara Herat
Nasim Makaremi Nia
Nicholas Aiden
Nicole Haldoupis
Noah Defreyne
Nora de Mariaffi
Phoebe Coles
Rebecca Mullett
Ryan Herritt
Tessa Graham
360 Video
Show Documentation
Photo Credit: Ksenia Korniewska