Glenn Gear, Paige Gratland, Daniel Barrow
Residency: July 8 – August 20
Exhibition: September 2 – October 15, 2022
Paige Gratland (BC), Daniel Barrow (MB), and Glenn Gear (NL) all met during the Intergenerational LGBT Residency at Gibraltar Point, Toronto Island last summer. There they spent two weeks working together, exchanging stories, ideas and images, and saw many commonalities within their bodies of work. They each employ narrative from a distinctly queer perspective and also each infuse their love of narrative into object-making. Specifically, they each make videos and objects that employ a decorative charge, revealing little by little an encoded queer content. The videos and the decorative or wearable objects (whether it be cowboy boots, traditional beading, or miniature t-shirts on mannequins) illustrate intimate scenes of contemplation, sexual freedom, phobias or shameful obsessions.
"After working in the community for two weeks this past summer, it seemed obvious that a group exhibition was emerging. We imagined presenting this show in each of our respective home provinces – so that we can each have the opportunity to act as a host for each other and, of course, for the work itself."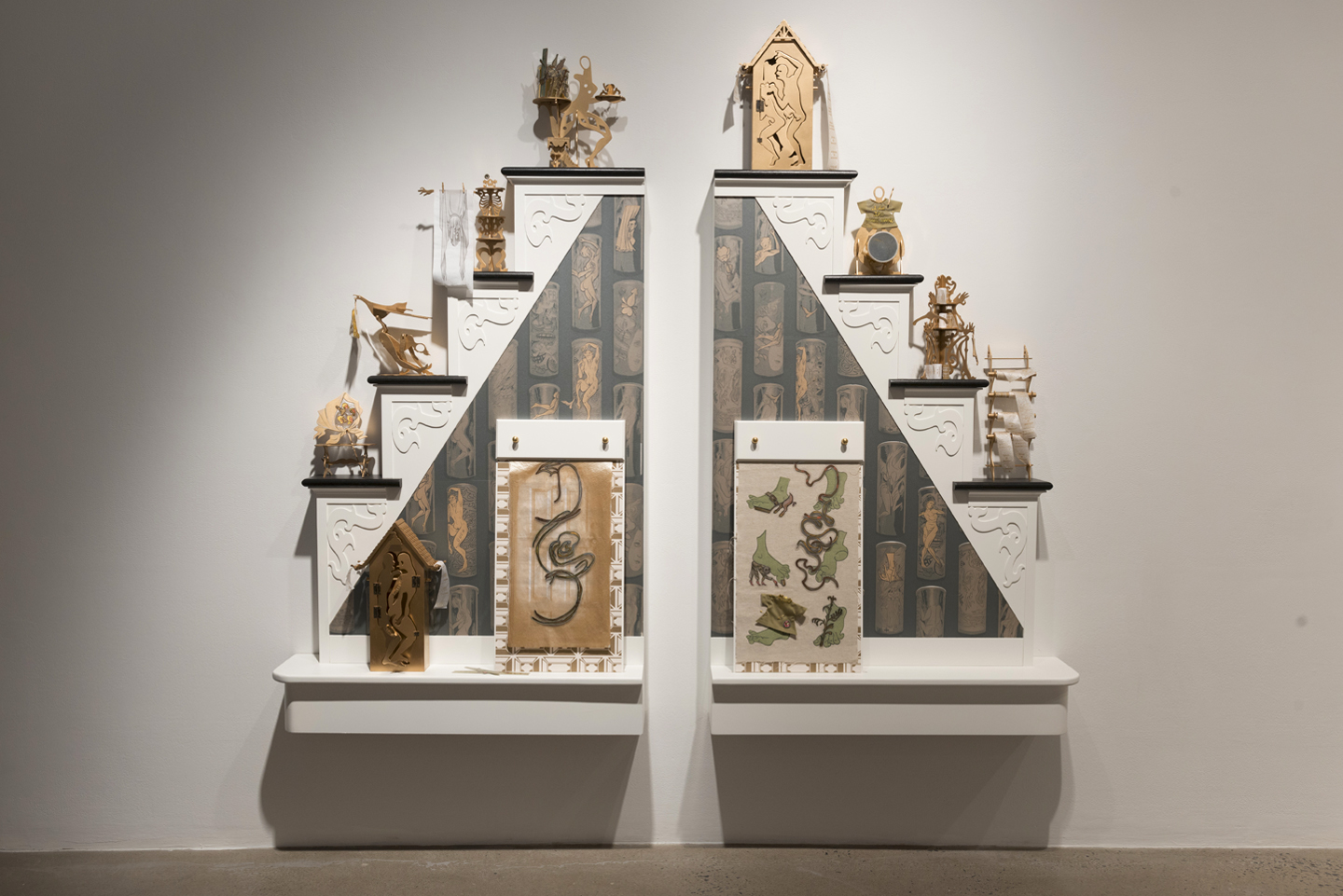 Pyramid 2, 2018, Mixed media sculptural wall piece, Materials: Wood, screen- printed paper, toilet paper, resin, fabric, plastic, by Daniel Barrow

TakKik, 2018, part of the exhibit, Tionnhehkwen; Visions of Seeds by Native Immigrant, Montreal, by Glenn Gear 

Gay State Boots, 2013, Leather Boot, by Paige Gratland 
---
Marcia Huyer, Negotiating +/-
October 28th – December 10th
Negotiating +/- is an adaptable installation consisting of one hundred and sixty individual plastic bags inflating and deflating individually and collectively. Negotiating +/- explores concepts of space and offers a moment of pause and reverie which is most relevant within our current social situation.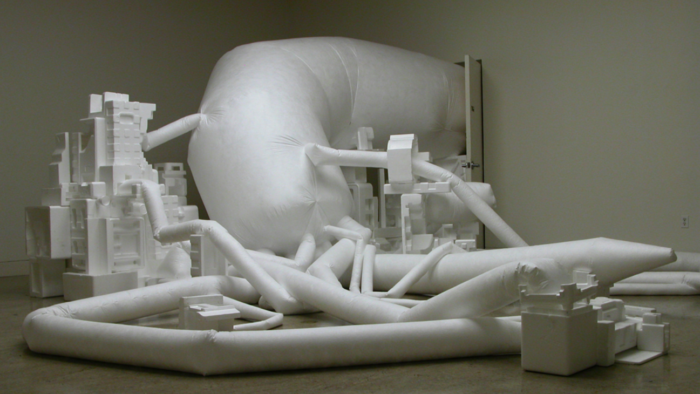 ---
Riisa Gundesen
March 10th – April 22nd, 2023
This exhibition will consist of a series of cutout paintings, installed on the walls, floor, and plinths, overlapping each other and creating a distorted recreation of the artist's bathroom. Gundesen addresses popular commercial items associated with 'wellness', beauty régimes and mental health, (such face masks, candles, bath products, makeup paraphernalia, fitness attire/athleisure) both as still life objects and 'costumes' which transform painted figures in ambiguous or unsettling ways. This body of work explores themes of femininity, the abject, and mental illness, addressing the commercial popularity of "self-care" and "wellness".
---
rOGUE Gallery
Shazia Ahmad
July 8th – August 20th, 2022
Informed by Pakistani textiles that surround Ahmad domestic space throughout her life, her nuanced relationship to her Pakistani identity is nostalgic. These remembrances are expressed through a vibrant limited colour palette in reconstructed repetitive elements of both domestic interiors and exteriors. This exhibition is about confinement during the pandemic, and reaching out to touch a past which can never exist again.
Born in Karachi, Pakistan to a Pakistani father and a Chilean mother, Shazia Ahmad's practice and research interests are centred on the notions of home and belonging, tied to the broader theme of otherness due to her interfaith and mixed-race background. Her practice comprises painting, printmaking, and handmade miniature dioramas. A recipient of multiple Canada Council for the Arts Explore and Create grants, Shazia has exhibited her work in Canada, the United States, and Spain. She is currently the 2021-22 Don Wright Scholar at St. Michael's Printshop in St. John's, NL, Canada. 
---
rOGUE Gallery
Charlene Denief, Walking Away From Yourself
September 2nd – October 15, 2022
Walking Away From Yourself is an autobiographical series of figurative oil paintings focusing on the artist's experience with being diagnosed with Social Anxiety and Depression.
---
rOGUE Gallery
Natalie Esther
October 28th – December 10th, 2022
Esther's exhibition plays with historical notions of looking down as a way to highlight concepts of irony and value.