Under New Management: Video Rental Store: Su-Ying Lee & Suzanne Carte
Main Gallery: October 23rd – December 4th, 2021
"Under New Management: Video Rental Store" gives audiences unprecedented access to artists' work by allowing them to take work out of the gallery for viewing as they wish. The video rental store operates similarly to any retail rental; however all of the available titles are works by artists. Viewers/customers/renters provide non-monetary payment to the artists in the form of textual or object feedback.

Su-Ying Lee & Suzanne Carte, Under New Management: Video Rental Store
---
Fare & SQUARE

Main Gallery: December 9th-16th 2021
Salon Soiree December 16th
In addition to being a key fundraising event for Eastern Edge, Fare & SQUARE is also a survey show, and an annual cross section of Provincial art that highlights the best of our artists. The Fare & SQUARE exhibition will take place from December 9th-16th, 2021, with the Salon Soiree happening on the evening of the 16th. At the Salon Soiree attendees will each take home a beautiful, original artwork by one of our participating artists. Tickets will be for sale this Fall.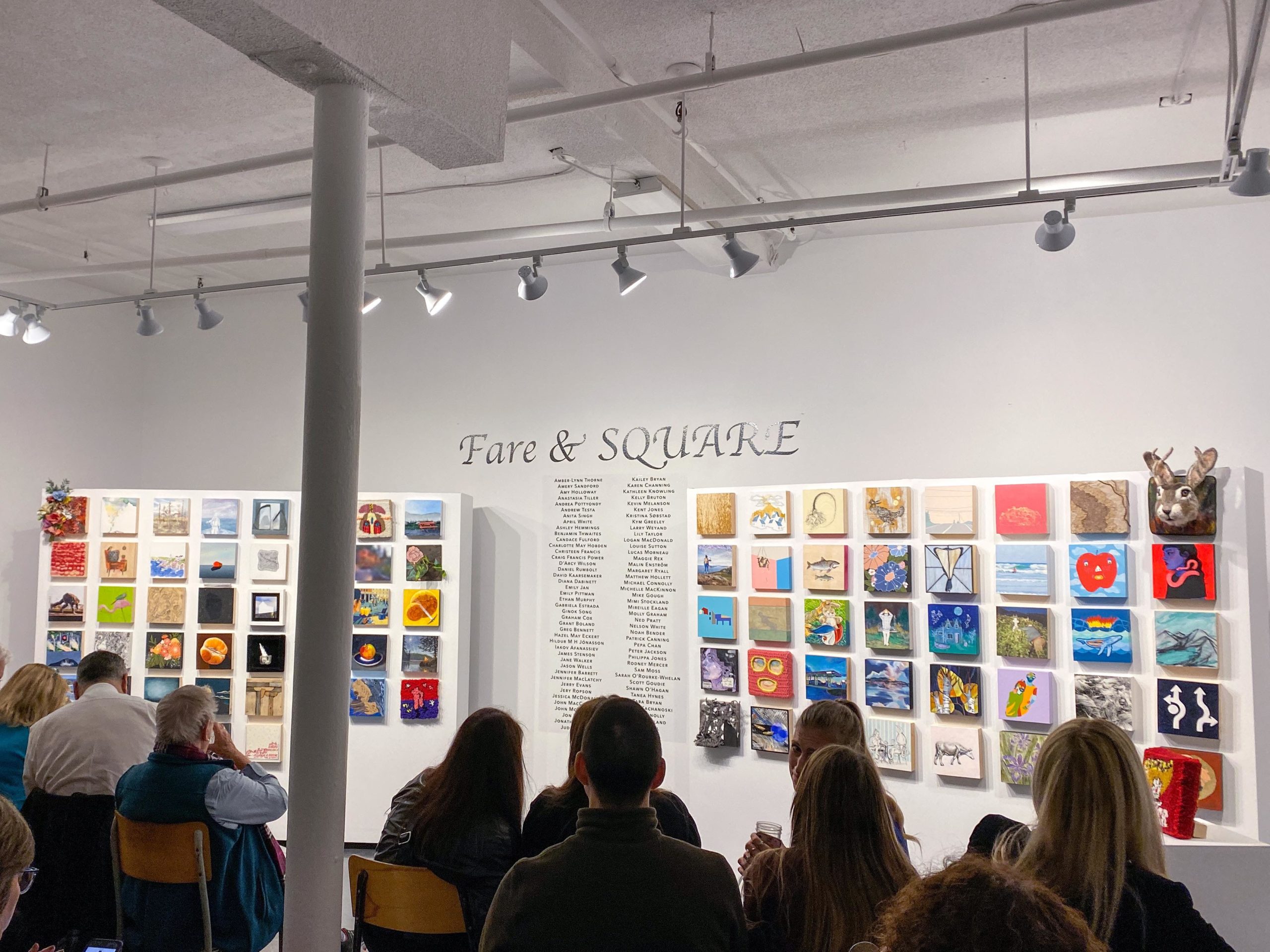 ---
Indecisive Valley: Hea R Kim
Main Gallery: March 11 – April 23, 2022
"This exhibition is inspired by episodes from my own childhood, represented both as sequential narrative recollections and as tangible enshrinements of the inner dreamscape. Exploring place and time through imagery and narration, I would like to highlight the collective experience of pleasure and anxiety, of trying to navigate the space between conformity and individuality.
Having spent my childhood and adolescence in South Korea, I am heavily influenced by my home country, a beautiful, visually saturated, and somewhat whimsical place, where ancient and modern co-exist as contemporaneous aesthetics. In this vein, I visually interpret my blurred memories and utilize my childlike passion through the spirit of playfulness and soft seduction."

Hea R. Kim, Indecisive Valley, 2017-Present, Installation view, mixed media(ceramics, wood, plastics, fibres)
---
Xenia Laffely
Residency: March 11 – April 23, 2022
Exhibition: April 23 – May 6, 2022
"During my residency I would like to reflect on domestic space through the concept of ornamentation and home's artifacts (bed, carpet, decorative objects, cushions). I want this exploration to be mostly experimental through the development of new techniques combining textiles and other materials… Through these experiments and the complex dramaturgy that goes into them, my aim is to address a direct critique to the devaluation of the domestic space, but mostly to the anti-ornamental theory of Austrian architect Adolf Loos, in Crime and Ornaments (1980)."

Xenia Laffely, La Chapelle, Exhibition View 
---
Glenn Gear, Paige Gratland, Daniel Barrow
Residency: July 8 – August 20
Exhibition: September 2 – October 15, 2022
Paige Gratland (BC), Daniel Barrow (MB), and Glenn Gear (NL) all met during the Intergenerational LGBT Residency at Gibraltar Point, Toronto Island last summer. There they spent two weeks working together, exchanging stories, ideas and images, and saw many commonalities within their bodies of work. They each employ narrative from a distinctly queer perspective and also each infuse their love of narrative into object-making. Specifically, they each make videos and objects that employ a decorative charge, revealing little by little an encoded queer content. The videos and the decorative or wearable objects (whether it be cowboy boots, traditional beading, or miniature t-shirts on mannequins) illustrate intimate scenes of contemplation, sexual freedom, phobias or shameful obsessions.
"After working in the community for two weeks this past summer, it seemed obvious that a group exhibition was emerging. We imagined presenting this show in each of our respective home provinces – so that we can each have the opportunity to act as a host for each other and, of course, for the work itself."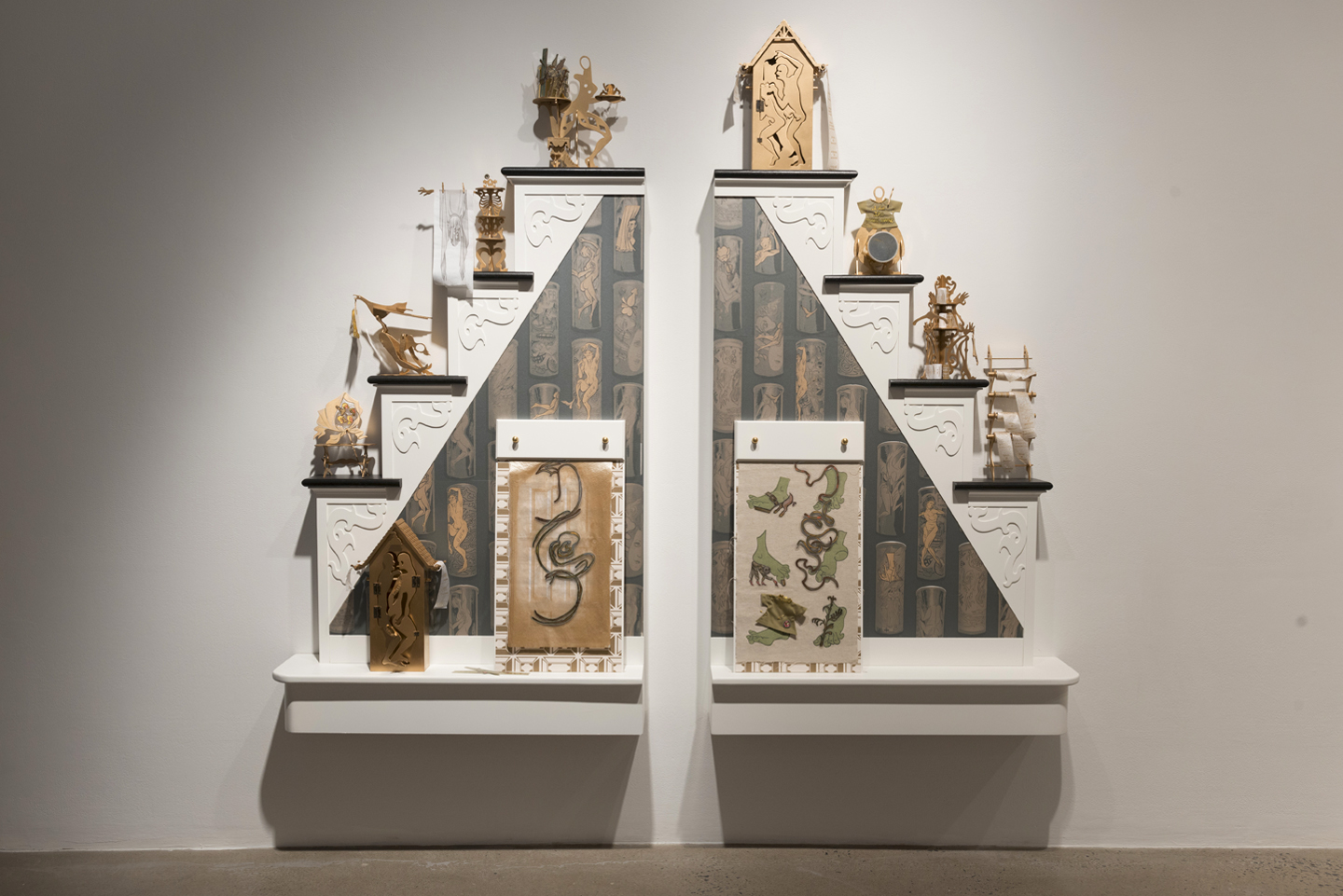 Pyramid 2, 2018, Mixed media sculptural wall piece, Materials: Wood, screen- printed paper, toilet paper, resin, fabric, plastic, by Daniel Barrow

TakKik, 2018, part of the exhibit, Tionnhehkwen; Visions of Seeds by Native Immigrant, Montreal, by Glenn Gear 

Gay State Boots, 2013, Leather Boot, by Paige Gratland