Main Gallery
Marcia Huyer, Negotiating +/-
October 28th – December 10th
Negotiating +/- is an adaptable installation consisting of one hundred and sixty individual plastic bags inflating and deflating individually and collectively. Negotiating +/- explores concepts of space and offers a moment of pause and reverie which is most relevant within our current social situation.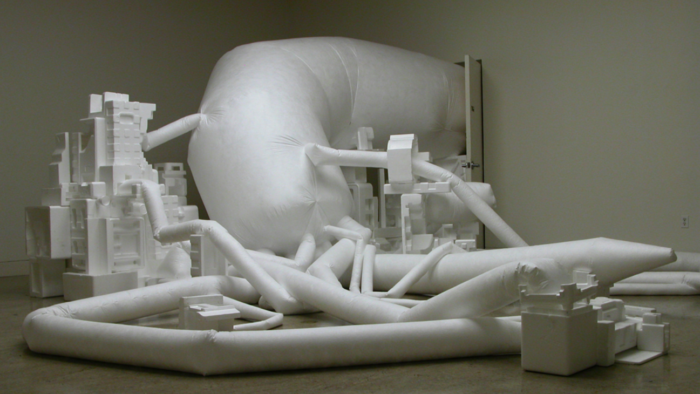 ---
Main Gallery
Riisa Gundesen
March 10th – April 22nd, 2023
This exhibition will consist of a series of cutout paintings, installed on the walls, floor, and plinths, overlapping each other and creating a distorted recreation of the artist's bathroom. Gundesen addresses popular commercial items associated with 'wellness', beauty régimes and mental health, (such face masks, candles, bath products, makeup paraphernalia, fitness attire/athleisure) both as still life objects and 'costumes' which transform painted figures in ambiguous or unsettling ways. This body of work explores themes of femininity, the abject, and mental illness, addressing the commercial popularity of "self-care" and "wellness".
---
rOGUE Gallery
Natalie Esther
October 28th – December 10th, 2022
Esther's exhibition plays with historical notions of looking down as a way to highlight concepts of irony and value.