Indecisive Valley: Hea R Kim
Main Gallery: March 11 – April 23, 2022
Indecisive Valley is a whimsical installation that incorporates diverse hand-built pieces. This wall installation is an amalgamation of various layers of craft techniques and image-based components in two and three-dimensional sculptures. By considering the wall as an open space, familiar components, like the ceramic figurines and papier-mâché transform into an unfamiliar mindscape that is covered with mass-produced goods including plastics and beads.  Visually inspired by her Korean heritage, Kim's explorations share elements of childhood recollections and imagination. Her desire is to visualize the innocent period when days are filled with infinite possibility, indulgence, and mystery. 
Imagining the many possibilities of traditional genres while rethinking the notion of artistic value, this installation is about a fusion of the past, the present, and the possible future.
Hea R. Kim, close-up view of Indecisive Valley, mixed media (ceramics, wood, plastics, fibres). Photo credit to Guy L'Heureux. 
Korea-born and Montreal-based visual artist, Hea R. Kim explores overlapping technical art processes within sculptures and fibres. With her formal education in her home country (South  Korea) and her in-depth studies in material processes and contemporary art in Montreal, Kim aims to challenge the philosophical limits of what craft and art are, as well as what they can encompass in the future. 
Kim has exhibited her works across Canada (Montreal, Toronto, Ottawa), and Seoul, South  Korea. 
---
Xenia Laffely
Residency: March 11 – April 23, 2022
Exhibition: May 6 – June 18th, 2022
"During my residency I would like to reflect on domestic space through the concept of ornamentation and home's artifacts (bed, carpet, decorative objects, cushions). I want this exploration to be mostly experimental through the development of new techniques combining textiles and other materials… Through these experiments and the complex dramaturgy that goes into them, my aim is to address a direct critique to the devaluation of the domestic space, but mostly to the anti-ornamental theory of Austrian architect Adolf Loos, in Crime and Ornaments (1980)."

Xenia Laffely, La Chapelle, Exhibition View 
---
Glenn Gear, Paige Gratland, Daniel Barrow
Residency: July 8 – August 20
Exhibition: September 2 – October 15, 2022
Paige Gratland (BC), Daniel Barrow (MB), and Glenn Gear (NL) all met during the Intergenerational LGBT Residency at Gibraltar Point, Toronto Island last summer. There they spent two weeks working together, exchanging stories, ideas and images, and saw many commonalities within their bodies of work. They each employ narrative from a distinctly queer perspective and also each infuse their love of narrative into object-making. Specifically, they each make videos and objects that employ a decorative charge, revealing little by little an encoded queer content. The videos and the decorative or wearable objects (whether it be cowboy boots, traditional beading, or miniature t-shirts on mannequins) illustrate intimate scenes of contemplation, sexual freedom, phobias or shameful obsessions.
"After working in the community for two weeks this past summer, it seemed obvious that a group exhibition was emerging. We imagined presenting this show in each of our respective home provinces – so that we can each have the opportunity to act as a host for each other and, of course, for the work itself."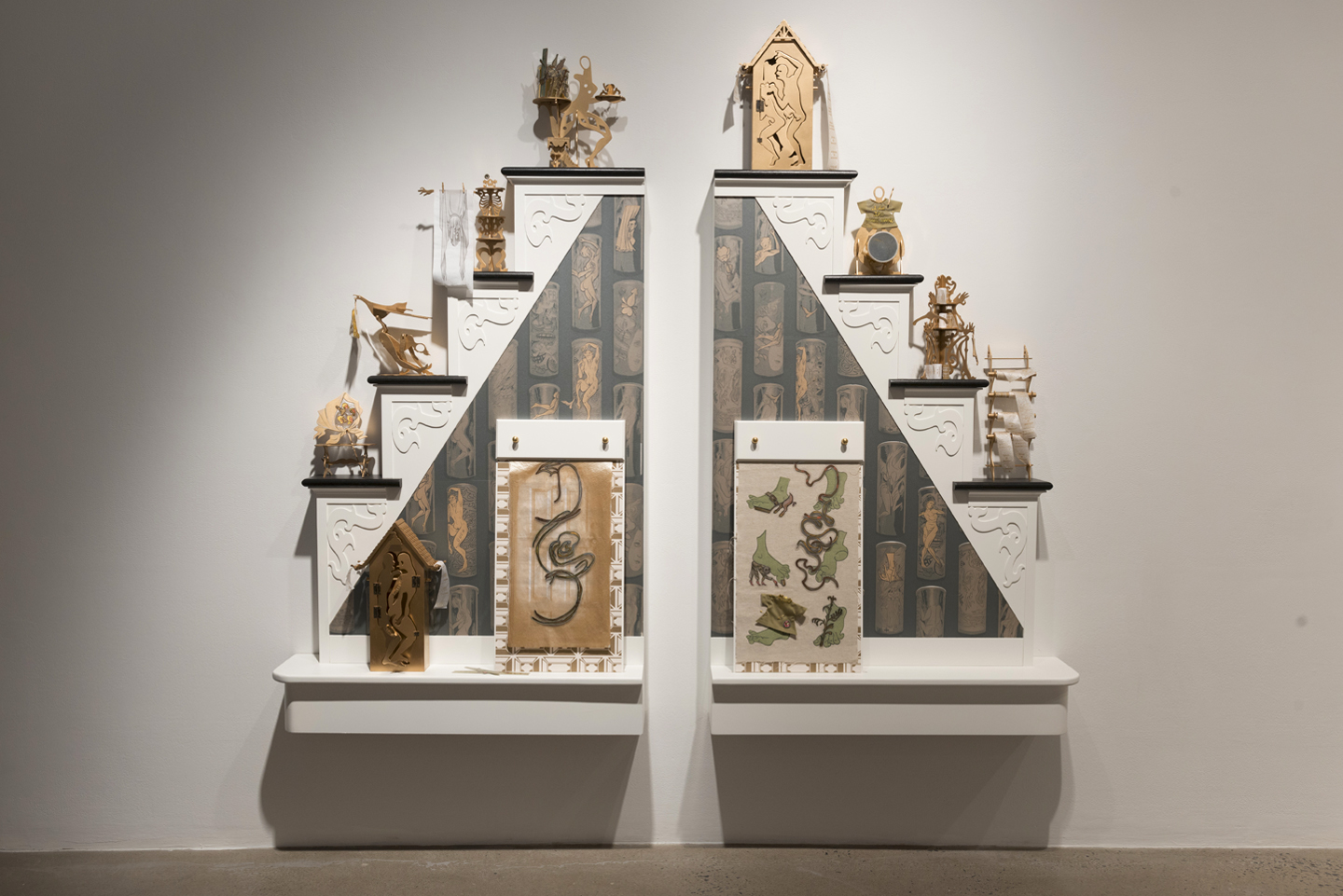 Pyramid 2, 2018, Mixed media sculptural wall piece, Materials: Wood, screen- printed paper, toilet paper, resin, fabric, plastic, by Daniel Barrow

TakKik, 2018, part of the exhibit, Tionnhehkwen; Visions of Seeds by Native Immigrant, Montreal, by Glenn Gear 

Gay State Boots, 2013, Leather Boot, by Paige Gratland