Holding Place: Christeen Francis, Emily Neufeld, Andrew Testa
Main Gallery: August 28 – October 9, 2021
Holding Place brings together the work of three artists: Christeen Francis, Emily Neufeld, and Andrew Testa, who are individually immersing themselves in this place, and exploring who they are in relation to this (new to them) land. This exhibition begins to navigate: how can settler artists with no ancestral connection to Newfoundland build a relationship with this place in a way that is centered around integrity and care? 
Using slowness as methodology and paying attention to the rituals of daily life, all three artists search for ways to make meaningful connections to place, and attempt to answer this core question through diverse material explorations in printmaking, installation, video work, and site-specific interventions.
Artist bios:
Christeen Francis
Christeen Francis' work critically engages with aspects of urban development and displacement, considering the lived realities of humans and non-humans in cities, the concept of home, and the trauma of constant change and restructuring. Viewing cities as places of intersection and blurring of binaries such as urban and wilderness, Fallow investigates the fragility of our assumptions of permanence through video installation, and considers the evolving urban landscape, and the transitional or fallow spaces within. Collecting moments of the intersection of built and fallow and blending footage and manipulated audio, she creates a space to pause and contemplate one's connection to the city as land and consider how we navigate and relate to it. 
Originally from Tiohtià:ke/Montreal, Christeen came to St. John's for a residency at EE, where she took daily walks and fell in love with its many secret pathways and transitional spaces. Seeing St. John's as a unique intersection of wilderness and city, she eventually made her way back as director of St. Michael's Printshop.

Christeen Francis, Borough Burrow, 2019, installation view at Alberta Printmakers, relief print, screenprint, collage, chine colle.
Emily Neufeld
Emily is currently an Artist in Residence at Eastern Edge. Working with assistant Drew Pardy, Emily is conducting this residency from BC pending the relaxation of travel restrictions. Emily Neufeld's work explores the connections between a person's identity and their location. Through her work, she asks the questions: Can a space ever be empty? Where does the content of a house end? How do our memories survive as we are continually displaced, and our homes eventually dismantled? Neufeld seeks to answer these questions through staging interventions into private homes that have been slated for demolition. Searching for the patterns of wear and tear within homes, she finds evidence of the rituals of daily life and amplifies them through her sculptural interventions. Neufeld documents these installations through photography, before leaving the home to be demolished. 
Emily was born and raised in farming country where Treaty 6 and 7 meet in what is now called Red Deer, Alberta. She now lives and works in the unceded territory of the Squamish and T'sleil Waututh peoples in North Vancouver. She is examining her own Mennonite and Scottish settler colonial histories by investigating her relationship to these Indigenous lands in which she now lives and works. Her definition of this place extends beyond the land itself to include plants, the soil microbiome and animal habitats (including the human animal). Her work explores how all of these aspects of place influence and are influenced by each other. This will be Emily's first time visiting Newfoundland.

Emily Neufeld, Before Demolition: Tides, 2019, Installation in fisher's house with tide and lunar charts cut through the walls.
Andrew Testa
Andrew Testa's work asks and attempts to respond to the questions: What does a mutual and nurturing conversation with the other-than-human look like, and what would be the ethics of such an endeavour? Testa engages with these questions by documenting his daily-rituals of walking, pausing, looking, and listening. In the piece, go for a walk, find a place to sit and wait, wait in this place, go back to where you began, repeat, he creates prints from an intaglio plate that has been dragged on the ground during a long walk. In, All the other things, a series of books document natural items borrowed and returned during his stays in various places (Corner Brook and Kamloops). The photographs that document his performative process illustrate gestures of slowness and moments of intimate interactions with the spaces and places around him. 
Testa first came to Ktaqmkuk (Newfoundland) in 2016 to teach at Grenfell Campus and has since become an active community arts member in Corner Brook, where he currently lives and works, and in St. John's, where he currently serves as the Chair at St. Michael's Printshop.

Andrew Testa, Go for a walk – find a place to sit and wait – wait in this palace – go back to where you began – repeat, 2019, performative gesture/ process, Port Union.
---
Steadfast: Heather Jackman
rOGUE Gallery: August 28 – October 9, 2021
"On a family road trip down the west coast of Newfoundland, I happened upon a cemetery perched on a cliff overlooking the ocean. Plastic flowers were scattered across the site, spilling down onto the rocks below. These vibrant flowers contrasted with the weathered grass of the graveyard, now exposed at the onset of spring, faded by the harsh winter snow. Providing a comforting welcome, these lovingly placed flowers convey how this community mourns. Artificial flowers can be thought of as fake or tacky compared to real flowers, but real flowers will quickly wilt and die. Plastic flowers, although they become tattered and worn over the seasons, remain intact and resilient to the harsh coastal climate of Newfoundland. The irony of their inorganic persistence is a compelling tribute."

Heather Jackman, Longing, 2020, digital photograph
---
Under New Management: Video Rental Store: Su-Ying Lee & Suzanne Carte
Main Gallery: October 23rd – December 4th, 2021
"Under New Management: Video Rental Store" gives audiences unprecedented access to artists' work by allowing them to take work out of the gallery for viewing as they wish. The video rental store operates similarly to any retail rental; however all of the available titles are works by artists. Viewers/customers/renters provide non-monetary payment to the artists in the form of textual or object feedback.

Su-Ying Lee & Suzanne Carte, Under New Management: Video Rental Store
---
Fare & SQUARE

Main Gallery: December 9th-16th 2021
Salon Soiree December 16th
In addition to being a key fundraising event for Eastern Edge, Fare & SQUARE is also a survey show, and an annual cross section of Provincial art that highlights the best of our artists. The Fare & SQUARE exhibition will take place from December 9th-16th, 2021, with the Salon Soiree happening on the evening of the 16th. At the Salon Soiree attendees will each take home a beautiful, original artwork by one of our participating artists. Tickets will be for sale this Fall.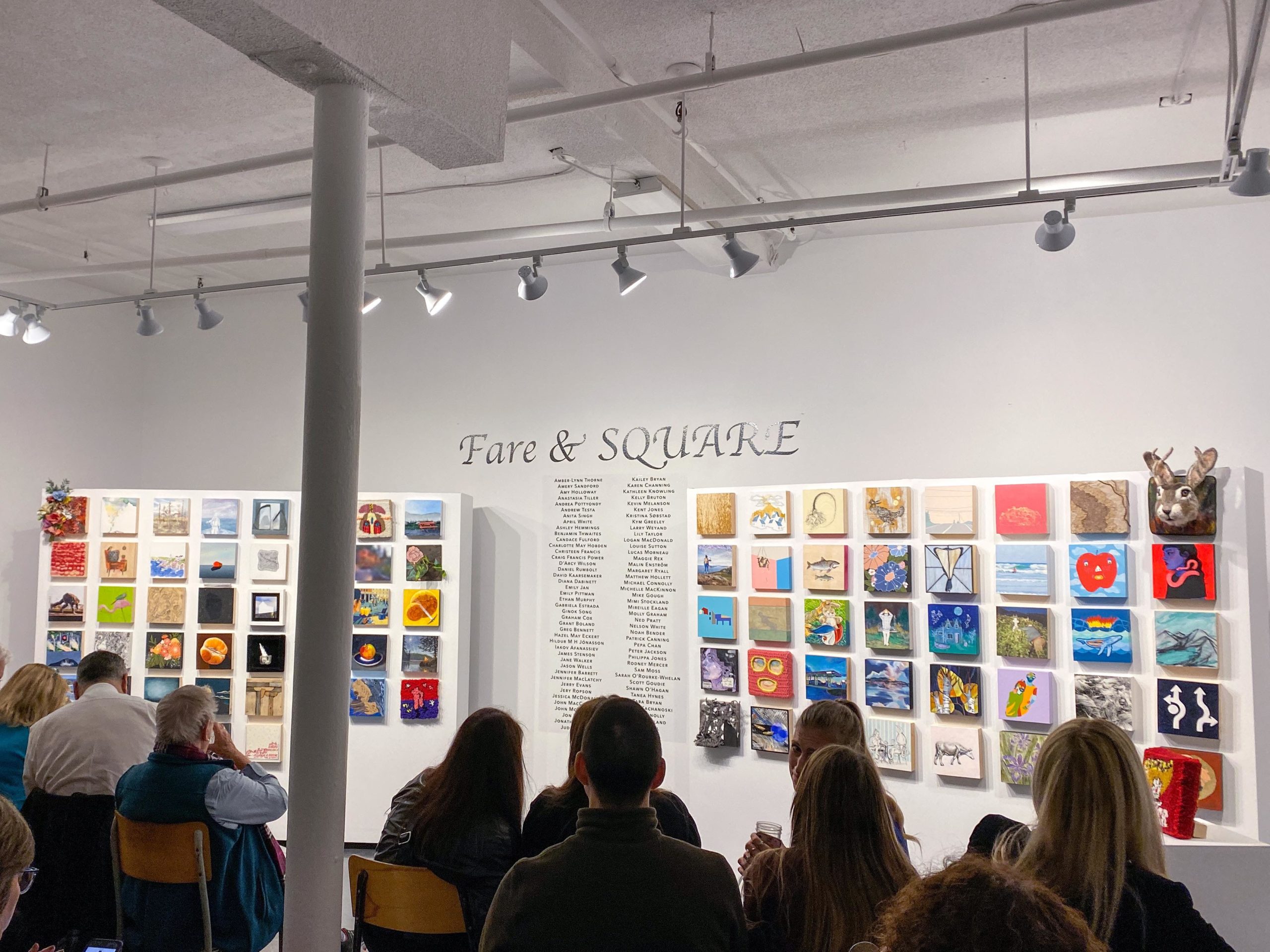 ---
Indecisive Valley: Hea R Kim
Main Gallery: March 11 – April 23, 2022
"This exhibition is inspired by episodes from my own childhood, represented both as sequential narrative recollections and as tangible enshrinements of the inner dreamscape. Exploring place and time through imagery and narration, I would like to highlight the collective experience of pleasure and anxiety, of trying to navigate the space between conformity and individuality.
Having spent my childhood and adolescence in South Korea, I am heavily influenced by my home country, a beautiful, visually saturated, and somewhat whimsical place, where ancient and modern co-exist as contemporaneous aesthetics. In this vein, I visually interpret my blurred memories and utilize my childlike passion through the spirit of playfulness and soft seduction."

Hea R. Kim, Indecisive Valley, 2017-Present, Installation view, mixed media(ceramics, wood, plastics, fibres)
---
Xenia Laffely
Residency: March 11 – April 23, 2022
Exhibition: April 23 – May 6, 2022
"During my residency I would like to reflect on domestic space through the concept of ornamentation and home's artifacts (bed, carpet, decorative objects, cushions). I want this exploration to be mostly experimental through the development of new techniques combining textiles and other materials… Through these experiments and the complex dramaturgy that goes into them, my aim is to address a direct critique to the devaluation of the domestic space, but mostly to the anti-ornamental theory of Austrian architect Adolf Loos, in Crime and Ornaments (1980)."

Xenia Laffely, La Chapelle, Exhibition View 
---
Glenn Gear, Paige Gratland, Daniel Barrow
Residency: July 8 – August 20
Exhibition: September 2 – October 15, 2022
Paige Gratland (BC), Daniel Barrow (MB), and Glenn Gear (NL) all met during the Intergenerational LGBT Residency at Gibraltar Point, Toronto Island last summer. There they spent two weeks working together, exchanging stories, ideas and images, and saw many commonalities within their bodies of work. They each employ narrative from a distinctly queer perspective and also each infuse their love of narrative into object-making. Specifically, they each make videos and objects that employ a decorative charge, revealing little by little an encoded queer content. The videos and the decorative or wearable objects (whether it be cowboy boots, traditional beading, or miniature t-shirts on mannequins) illustrate intimate scenes of contemplation, sexual freedom, phobias or shameful obsessions.
"After working in the community for two weeks this past summer, it seemed obvious that a group exhibition was emerging. We imagined presenting this show in each of our respective home provinces – so that we can each have the opportunity to act as a host for each other and, of course, for the work itself."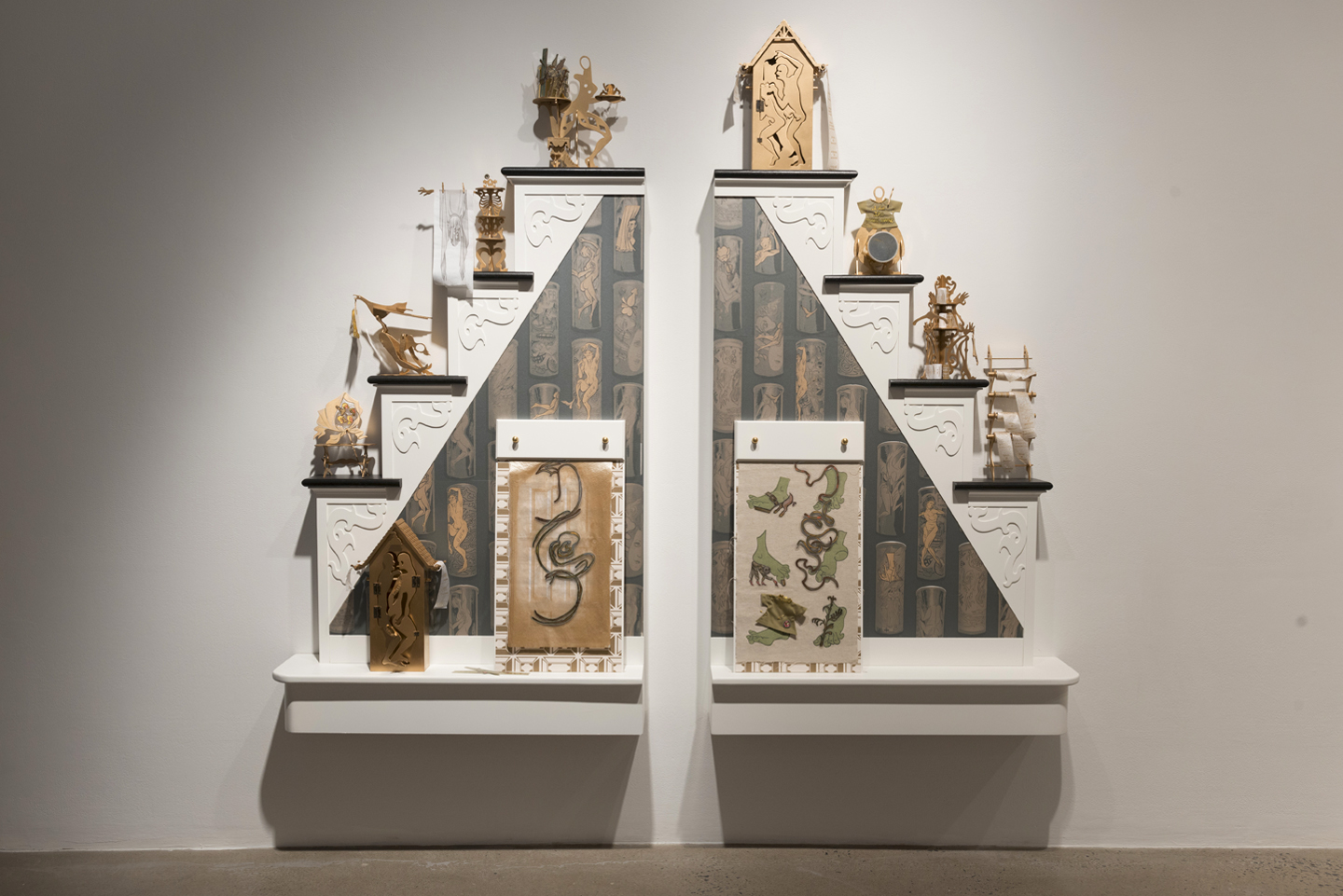 Pyramid 2, 2018, Mixed media sculptural wall piece, Materials: Wood, screen- printed paper, toilet paper, resin, fabric, plastic, by Daniel Barrow

TakKik, 2018, part of the exhibit, Tionnhehkwen; Visions of Seeds by Native Immigrant, Montreal, by Glenn Gear 

Gay State Boots, 2013, Leather Boot, by Paige Gratland