Eastern Edge is excited to present a preview of our upcoming 2018 / 2019 Programming! All of this is made possible thanks to our generous core operating sponsors, including Canada Council for the Arts, ArtsNL, and The City of St. John's.
---
Eastern Edge Gallery & The Festival of New Dance present a new creative exchange that explores intersections between visual arts and performing arts practices. This project is made up of two key components:
– An experimental, interactive, collaborative space called The Guest Room. This fluid exhibition invites the public to imagine, animate and activate the gallery in relation to one's own ideas, impulses and object association.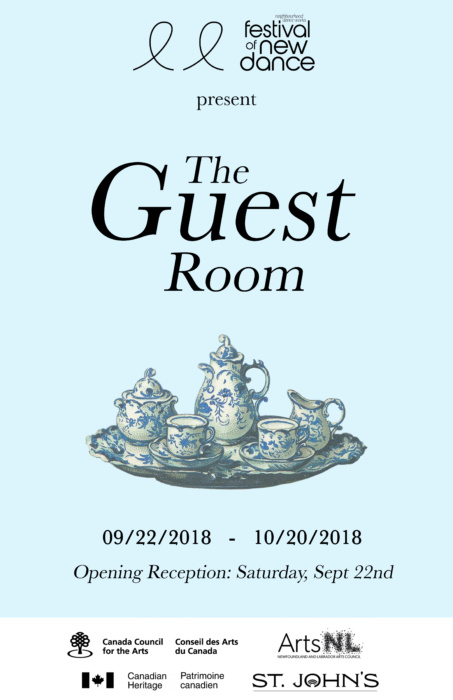 THE LUNCHTIME SERIES
OCTOBER 1st – 4th, 2018
HER CLOSELY
DOUBLE SURE THEATRE CO-OP
MONDAY, OCTOBER 1, 12:00PM
EASTERN EDGE GALLERY
Admission by donation (suggested $10) at the door (cash or credit)

BROKEN
KEVIN WOOLRIDGE
TUESDAY, OCTOBER 2, 12:00PM
EASTERN EDGE GALLERY
How many times can we pick ourselves back up? How many versions of ourselves have we left behind?
BROKEN is an excerpt of a solo mask piece currently in development that examines these, and other questions, as they relate to doubt, self-worth, and our personal relationships. BROKEN is being presented in the Temporary Theatre – an 18x12x8 portable micro theatre structure. The Temporary Theatre is an intimate space that encourages truthful performance, or very slick deception.
Admission by donation (suggested $10) at the door (cash or credit).
---

RISE AND…
LYNN PANTING
WEDNESDAY, OCTOBER 3, 12:00PM
EASTERN EDGE GALLERY
For the thing I feared has overtaken me, and what I dreaded has befallen me.I am not at ease or quiet; I have no rest… -Job 3: 25
I want to throw myself at the floor… but what will I do when I get there?  -Andy Jones
Rise and… , selflessly embodied by Andy Jones, is a kinetic exploration of grief and getting out of bed.
Admission by donation (suggested $10) at the door (cash or credit).
---

Kilautiup Songuninga (Strength of the Drum)
STAN NOCHASAK, SUSIE MERKURATSUK, & SOLOMON SEMIGAK
THURSDAY, OCTOBER 4, 12:00PM
EASTERN EDGE GALLERY
"With the Kilautiup (drum) and katuk (drumstick), we create our own unique style of Inuit drum dance choreography and each song has its own drum dance choreography. All of the drum dancing is symbolic, tells a story about some Life Lesson such as Circle of Life, Unity, Oneness, Equality, unique and universal role of women, men, children, family and humanity, underlined since antiquity by spirituality and nobility, from we, as Inuit, can share with the world and forever proud to do so, whenever there is opportunity anywhere, anytime.  To keep the real Spirit alive."
---
PORTABLE CLOSETS: Kyle Alden Martens
October 27th – November 24th, 2018
Opening Recepion, Saturday, October 27th, 2018
PORTABLE CLOSETS is a combination of friendly and fetishized sculpture, installation, and performance where the visual meaning is hidden just below the surface – coded, however, accessible. Referencing board and video games, this exhibition considers the display and conceal of queer sexuality and celebrates the subversive. The work ranges in materials of velour, neoprene, fabric, leather, rubber, wood, elastic, and diary locks. The installation of the work is clean and simplistic – treating the entirety of the gallery space like a collage of objects.
KYLE ALDEN MARTENS is an interdisciplinary artist based in Montréal. He graduated from the Nova Scotia College of Art and Design University in 2015 with a BFA in Intermedia. He has worked as an Arts Administrator (NS Centre for Craft and Design), Installer (Anna Leonowens Gallery), and Gallery Assistant (Art Gallery of Swift Current). Martens has presented solo exhibitions with the Khyber Centre for the Arts in Halifax, Stride Gallery in Calgary, and Centre Clark in Montreal. You can find him online, learning french, or working in his studio.
---
The Apologues I – X : Emily Jan

January 11th – February 15th, 2019
An apologue is a moral fable or allegory, particularly one that uses animals as its primary characters. The Apologues I – X are a series of ten life-sized sculptural works made of textiles, found objects, and secondhand silk flowers and greenery, which depict hybrid creatures assembled from Emily Jan's experiences on a three-week residency in the Peruvian Amazon in 2015.
A kind of ecological antipode to the North, the Amazonian Rainforest represents for me the apogee of biodiversity and complexity. Whereas the web of life in the North is sparse but elegant, at Equatorial latitudes it is rhizomatic and impossibly tangled, an almost overwhelming cacophony of information for the natural historian and artist.
This bestiary of hybrid beings addresses both the ontological blur which exists between plant/animal/fungus and the temporal blur between living/dying/regenerating in such a dizzyingly complex place.The Apologues address that dissolution of boundaries between self and Other by reimagining individual species combining in hallucinatory and oneiric ways, as if they were the shifting thoughts of the rainforest itself.
EMILY JAN is a Montréal-based artist and writer. As a sculptor, she creates intricately crafted, hyper-realistic installations of found objects inhabited by flora and fauna that is hand-made out of wool, reed, cloth, silicone and resin. These environments, like enterable museum dioramas, mix elements of high culture with low culture, science with mythology, and history with current affairs. The creatures, wondrous and monstrous by turns, feel real but are entirely handmade. They are not taxidermy, but are emotionally believable to the point where they are often mistaken as such.
As a writer and illustrator, Jan creates artist's books that amalgamate the lived research of a semi-nomadic lifeinto works that engage broader concepts such as the circularity of time, the richness of biological and cultural diversity, and the finitude of the planet. Her subject matter ranges in scale from the vast landscapes of the Alaska Range to the minute details of the museum specimen, and her book projects often run alongside her sculptural practice thematically.
In this age of mass extinctions and climate change, the importance of being able to envision places we maynever personally see, to hold space for them in our minds and in our hearts, is ever greater. To this end, the work both sculptural and literary ultimately seeks to transport some of that distant experience to the viewer – to stretch the boundaries of our collective imaginings in order to encompass the unseen, to learn to love the unknown as well as the familiar, and ultimately to strive to weave all these strands into a larger narrative about what it means to be a human living in a world roiling with turmoil and catastrophe but yet which is still mysterious and beautiful.
---
Research and Creation Residency- Joshua Vettivelu
Research: March 15 – April 19
Exhibition: April 26 – May 24
Joshua Vettivelu will be undertaking a research and creation residency, using the tensile strength of wet sand to explore the ways in which bodies are received from water.
The project will specifically look into the 155 Tamil migrants that fled the start of the civil war in Sri Lanka to arrive in St. John's in 1985 contrasted with the reception of the MV Sunsea, which brought 492 Tamils to British Columbia, fleeing the height of the Tamil genocide. The Canadian reception of these two boats differed immensely and will be used as the parameters to look into the ways myths about resource scarcity have been used to enforce political borders as a limit of empathy.
The gallery installation will be comprised of boat forms made out of sand that will fall apart unless tended to. These forms will be informed by interviews with Newfoundlanders involved in the rescue and local expert advice from local boat builders.

Reconsidering My Materials.
Performance. 2014.
Taken by Tobaron Waxman at the Intergenerational LGBT Residency.