Fall 2019-Land Based Mentored Artist Residency
OPEN STUDIO: Visit our Artists in Residence- Friday, October 18th, 12-5 pm
To Care on Visited Land- Middle Cove Beach, Saturday October 12, 2019
Conundrums, Confessions, Contradictions, and Concerns: Working as Environmental Artists in 2019
Land-Based Mentored Artist Residency
September 8th – October 20th, 2019
The residency includes working with Newfoundland land-based artist Marlene Creates for up to six days during the residency, both in the new Eastern Edge Studios and at Marlene's outdoor studio — a six-acre patch of boreal forest where she lives in Portugal Cove. The artist-in-residence will receive professional development advice and guidance specific to their creative goals. The artist will have 24hr access to Eastern Edge Studios.
---
MARLENE CREATES is an environmental artist whose retrospective exhibition, Marlene Creates: Places, Paths, and Pauses, is currently touring Canada and will be presented at The Rooms Provincial Art Gallery in St. John's from October 12, 2019 to January 19, 2020. She has presented her work across Canada and abroad in over 350 exhibitions and screenings, and delivered more than 200 guest lectures. She has held over 40 site-specific multidisciplinary events in The Boreal Poetry Garden. Her work is in many public collections, including the National Gallery of Canada.
She has been the curator of several exhibitions, worked in artist-run centres, and taught visual arts at various colleges and universities. Marlene has received many awards for her work, including the CARFAC National Visual Arts Advocate Award and the Grand Jury Award at the Yosemite International Film Festival. She was elected to the Royal Canadian Academy of Arts in 2001. Marlene lives and works in a six-acre patch of Newfoundland boreal forest, which has been the focus of her work since 2002. Marlene Creates is a recipient of a 2019 Governor General's Award in Visual and Media Arts for "Lifetime Artistic Achievement".
https://ggavma.canadacouncil.ca/marlene-creates
---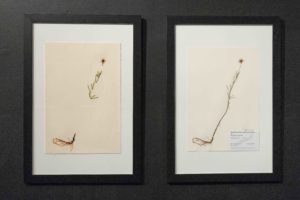 CARRIE ALLISON is an Indigenous mixed-ancestry visual artist, writer, arts administration and educator, born and raised on unceded and unsurrendered Coast Salish territory (Vancouver, BC). Situated in K'jipuktuk since 2010, Allison's practice responds to maternal Cree and Metis ancestry, thinking through intergenerational cultural loss and acts or resilience, and activism, while also thinking through notions of allyship, kinship, and visiting. Allison's practice is rooted in research and pedagogical discourses. Her work seeks to reclaim, remember, recreate and celebrate her ancestry through visual discourses. Allison holds a Master in Fine Art, a Bachelor in Fine Art and a Bachelor in Art History from Nova Scotia College of Art and Design University. Allison has three upcoming exhibitions in the summer of 2019 at The Owens Art Gallery in New Brunswick, Mount Saint Vincent University Art Gallery in Halifax, and The New Gallery in Calgary, Alberta.
---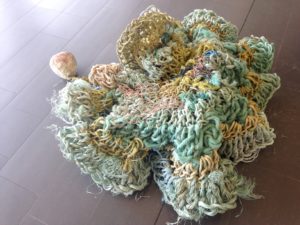 JENNIFER MACLATCHY is an artist, an Interdisciplinary PhD student at Dalhousie University, an aerial acrobatics performer, and a kayak guide. She has always been interested in art that uses cast-off materials, and began collecting marine debris while working as a sea kayak guide. Her research and art practice focus on engaging with marine debris and other invasive species as a way to enact an ethics of care in the time of the anthroposcene. She works with futility and hope through small acts of caring for small things as an effort at enacting environmental justice beyond normative modes of kinship.