Fare & SQUARE Salon Soiree – Tickets now available!

This is a fantastic opportunity for you to support EE and nab yourself an awesome work of art! The finest local artists have been invited to participate in this fundraiser and create an original 8"x 8" artwork on birch panel.
How can you get your hands on one of these fabulous pieces, you ask? You need to purchase a ticket in advance and attend our salon soiree on June 25th.
At the soiree, we will give you a complimentary ✨fancy✨ cocktail to enjoy while taking in all the specially created artworks filling an entire wall. Ticket numbers will then be drawn at random. When your lucky number is called, you may select one of the available artworks!
This is a rare chance to receive a wonderful piece of art at a very reasonable price. It is a fun gamble not knowing what you will go home with, but a relatively safe one – all invited artists are AWESOME!
We will be doing our best to cultivate a sense of excitement and tension at the soirée. At the end of the selection process ticket holders have the extra option of trading their work with the gallery for a wildcard piece of art – (for a fee.)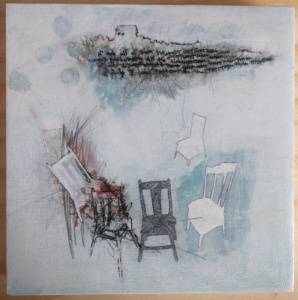 There will only be a maximum of 100 tickets available for this exclusive event. The tickets are $200 and for that price you will receive an original 8×8″ artwork, a fancy cocktail and of course take part in an evening of art, music and fun!
Want to ensure you get a ticket when they become available? We have 50 ticket reservations available now. Email easternedgegallery@gmail.com to reserve your a ticket. You can even select your lucky number.
Now here is the really important part – each of the artists below are donating a specially created artwork for this fundraiser. We are blown away by the generosity of our wonderful art pals. Eastern Edge Art Gallery is a non for profit charity and as such we are so grateful for events like this and your continued support. The list is still growing!
If you have any questions about this event, do not hesitate to contact us at easternedgegallery@gmail.com
PARTICIPATING ARTISTS:
J.C Bear
Grant Boland
Patrick Canning
Pepa Chan
Michael Ciesielski
Melanie Colosimo
Andrea Cooper
Lori Doody
Candace Fulford
Elayne Greeley
Valerie Hodder
Kent Jones
Mary Mac Donald
Michelle MacKinnon
Rodney Mercer
Sam Moss
Alex Noel
Ingrid Mary Percy
Emily Pittman
Benjamin Thwaites
Jane Walker
Michael Waterman
Jason Wells
Brad Whitten
Peter Wilkins
D'Arcy Wilson
Hillary Winter