HOLD FAST Zine Market 2023
Association for the Arts in Mount Pearl
"AAMP is all about encouraging creativity. We host events and activities for people at all artistic comfort levels, providing space and materials for everyone to explore their ideas and have artsy fun."
"We're hosting two workshops during the event 'Happy Nonsense: Creating a fun mini-zine from a silly prompt' and 'Start Storytelling: games and activities to shape your stories' and we'll be bringing a selection of zines, comics, and creativity prompts from a variety of AAMP artists. We're looking forward to the creative energy of meeting other artists and creators at Zine Fest."
"It would be too hard to pick one emoji for our whole organization so we'll pick an ice cream flavour instead! If we were an ice cream flavour, we'd be rocky road – lots of individually interesting ingredients that combine to create something really fun."
---
August Carrigan
"I am a non-binary neurodivergent poet from St. John's NL. I have a biology degree that I've never used and instead delved deep into the arts with poetry, playwriting, and photography. My dog Molly is the love of my life."
"I'm bringing a chapbook about death and a breakup. Super fun topics that everyone can relate to."
If August was an emoji, they would be 😬
---
Best Friends Zines
Best Friends Zines is comprised of Hulk Caesar and Tangiene Martin-O'Hara. Hulk Caesar hosts a live interview and music radio show on CHMR-FM and thinks the moral of Con Air is 'be yourself'. Tangiene's artwork has been described as a visual feast for the senses, a non-stop romp and "what is that thing?"
Hulk Caesar presents 'Scenes from my High School Agenda, 1996', featuring a curated selection of pages from his grade 12 planner. Tangiene's zines are a tribute to chosen family, friends, fur babies and flesh babies.
"Our organization's emojis are a Neutral Face emoji and a Sunshine with Sunglasses emoji (side by side)"
😐🌞😎
---
Blaise Cameron
Blaise is an artist, writer, and researcher from Mabou, Cape Breton, currently pursuing a PhD in Philosophy at MUNL. He enjoys making comics, playing music, reading old books, and watching Columbo with his partner Emily.
He's very excited to have zine comics available at Zinefest, and if he was an emoji he'd be a wizard 🧙‍♂️ (and expects to be one at the end of his studies)!
---
BooBoo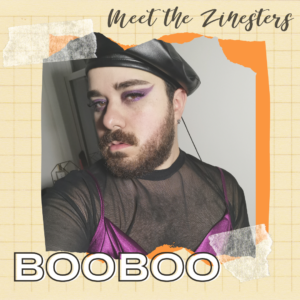 BooBoo is a Anti-Style Pop Artist with an affinity for anything camp! Foolish, Flamboyant and full of themselves, Boo approaches their art with a sense of playful irreverence.
New to the world of zine making, Boo is fully channeling their gay audacity to make funny zines that the masses may or may not relate to! Life can be so serious, Boo's goal with their work is to make you smile, side eye or stare in bewilderment.
"If I was an emoji I would be 🤡 (the house down). Why? Because I think I'm funny, I'm painted and in the words of Adam Lambert 'I'm here for your entertainment.'"
---
Brann Fizzard
Brann Fizzard is an interdisciplinary trans creature with an unhealthy love for monsters and the macabre. They specialize in illustration, printmaking and sculpture but really just love anything that likes to play in the space of what it means to be alive. Other interest include but are not limited to; being a creature, kissing his cat, obsessing about birds, and gushing about how cool monsters are.
Brann has a collection of gothic inspired prints, originals, and stickers, but, will also be bringing some new zines, previously unpublished. He also will be debuting poetry and prose for the first time ever. So be nice okay?
If Brann was an emoji they would the weird offspring of 🦇, 🌑 and 🐺 (aka a really queer vampire-werewolf hybrid)
---
Brooke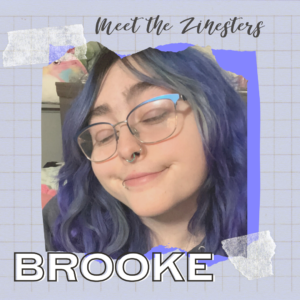 "I'm a Newfoundland-based artist currently attending CNA for art and design. I'll be showcasing zines, lino prints and may have some coloured prints with me as well."
If Brooke were an emoji, they would be 👹
---
Chelsea Beehan
"Hello, I am Chelsea Beehan. I make art when my children sleep. I will bring my zine called Emergence along with some other artful miscellany!"
If Chelsea were an emoji she would be 👾
---
Courtney Davis
courtney is a harm reduction worker and activist who recently moved back home to NL after several years in ontario. she is returning to creative endeavors in an effort to heal from some of the trauma and grief experienced on the frontlines of canada's ongoing housing and overdose crises. she also hopes to use art as a way to acknowledge those we have lost and spread awareness in how we can keep each other safe as community members.
"my table will have my homemade zines featuring personal artwork and photographs focused on the experience of radical love and grief."
If they were an emoji they would be 🌊
---
Daniel Martel
Daniel is an artist living in St John's with a passion for zines – you may have spotted him co-leading exchanges and workshops around the city. He enjoys making zines that explore queer identity, nerd culture, reconnecting with Celtic and Jewish traditions, history, and how all of these things crash into his little gay life. In addition to zine-making, he dabbles in collage, digital illustration, screen printing, and embroidery.
He'll be bringing zines, stickers, screen prints, and some little cross-stitched goods to the HoldFast Zine Fest.
If Daniel were a reaction gif, he would be that one of Charlton Heston that very slowly zooms in on him laughing before chaotically panning up to the sky.
---
Don't Ask Me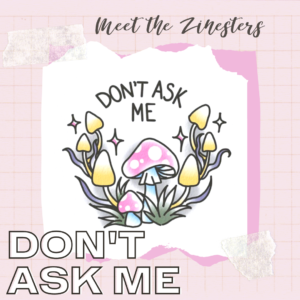 "Don't Ask Me is a zine project for femmes in the metro area punk community. We aim to promote the voices of marginalized people and genders in our punk scene through zines, shows, and zine-making events."
"Don't Ask Me will bring our first full interview zine, The Shape of Punk Right Now. The zine consists of interviews with local punks about punk, politics, and inclusion in the scene. We also have 2 doodle zines (created at our workshops by all participants), and we might bring a few zines made by folks who have attended our workshops."
If Don't Ask Me were an emoji, they would be 👯
---
Downtown Comics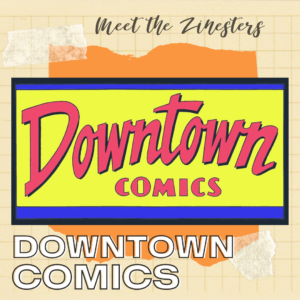 Downtown Comics carries a wide range of new and back issue comics, collectible figures, board games, graphic novels, manga, trading cards, and more! Located in downtown St. John's, they host a variety of community events including a monthly graphic novel reading group and a games night. Check them out at www.downtowncomics.ca
Downtown Comics will be carrying a variety of zines from Canadian creators, including Jenn Woodall and Valerie Webber. There will also be some freebies to help inspire zine-making available while supplies last!
If Downtown Comics were an emoji, they would be the supervillain 🦹
---
Eastern Edge
"Eastern Edge is a community by and for artists. Our free, year-round programming includes workshops, open studios, artist talks, performances, gallery openings, film screenings & more!"
"Stop by our table to say hi and learn about opportunities to get involved. We'll also have EE and HOLD FAST tshirts, colouring books, stickers, pins, mugs & more. Everything you buy goes directly to supporting our work, including the HOLD FAST zinefest!"
If EE were an emoji, it would be 👩‍💻
---
Emily Critch
Emily is a Mi'kmaw and settler artist, curator, and writer from Elmastukwek, Ktaqmkuk Territory (Bay of Islands, Newfoundland). Emily is interested in independent publishing, printmaking, arts writing, and using print media and repetition as a means of cultural transmission. When they aren't curating exhibitions, making art or writing about it, Emily loves to read, knit and watch movies with her partner Blaise.
Emily will have some zines, prints, and knitted hats available at Zinefest! If they were an emoji, they would be the sparkling heart 💖
---
Heavy Sweater Comics
"My name is Kevin Woolridge. I'm a cartoonist! You might know my work from my comic strip The Little World. I'm in the early stages of launching my own publishing company, Heavy Sweater Comics. I'm a lover of Godzilla movies, collector of vintage toys, and a hater of wet socks. Also, I'm a tuba player."
"I'll be bringing along a selection of my Little World mini comics, as well as some related items (buttons, watercolour pieces, etc). Most of my work is written for all ages, along the lines of Jeff Smith's Bone, or The Wizard Oz stories."
"If I was an emoji, I would be a dog 🐶 Or maybe a hamburger 🍔"
---
Hibernating Fox Studios
Theresa came back to art in their 30s while facing their mental health and career change. Inspired by a printmaking workshop and friends starting their own creative endeavours, Theresa started Hibernating Fox Studios in 2018, and has been creating and growing ever since.
They work in printmaking, watercolour, and ink, as well as handmade papercraft such as stamps, cards, notebooks, and papercut art. And recently started playing with making handmade paper. Most items will be handmade originals, with a selection of reproduction prints.
Theresa would be fox emoji, of course! 🦊
---
I Don't Do Comics
I Don't Do Comics (IDDC) is a Canadian publication open to everybody who likes comics and wants to draw them. They'll be bringing printed copies of Issue 6, plus some comic jam printouts to spark your creativity! If IDDC was an emoji, it would be: ✏️
---
Karin Murray-Bergquist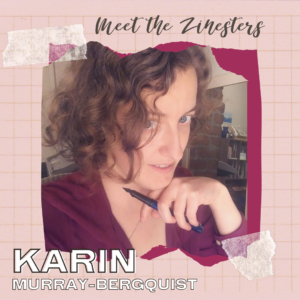 "I am a PhD student in folklore at MUN, currently working on a map of the ghost ship legends of Newfoundland and Labrador. Along with academia, I am a writer, actor, and artist, occasionally running away to sea to work as a shipboard historian. When ashore, I enjoy working on audio projects including a podcast (The Deeps), and launching various projects as part of the Practical Fantasists creative team."
"These sketches, drawn from Antarctic explorers' original accounts, show the lighter side of polar expeditions. Aside from the scurvy and extreme rowing, the Antarctic is full of stories about irate penguins, inconvenient skuas, and the lengths scientists would go to obtain rock samples. I've collected several of these tales, and each illustrated quote will be accompanied by a brief explanation as to what the relevant expedition was about."
"I'd be a two heart emoji! 💕 It makes me feel like a Time Lord!"
---
Kelly Bastow
Kelly Bastow is an illustrator and comics creator from Conception Bay South. Her artwork, created with ink, gouache and watercolors, frequently features landscapes, seascapes, women, and fantasy creatures, as well as emotional themes of belonging and self acceptance. At the start of the pandemic, she left Toronto and moved back to the rock.
"I'll be bringing small and large prints, original art, washi tape and printed booklets."
"I would be the herb emoji. 🌿"
---
Lawnya Vawnya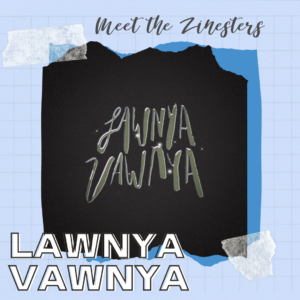 Lawnya Vawnya is a festival of music and art that takes place in St. John's, NL each spring. This year's fest is June 7th-10th! They will be tabling at HOLD FAST Zines with merch! (shirts, hats, pins, frisbees, and more!) + the chance to buy festival passes LIVE for a discount 🙂
If Lawnya Vawnya was an emoji, they would be 💥💥💥
---
NL Public Libraries
"We are Newfoundland & Labrador Public Libraries, a network of 92 libraries across the province (including 3 in St. John's). We work to provide free library materials, programs, and services to meet the needs of people ​in our province."
"At HOLD FAST Zines, we will be providing information about how our libraries can support artists and makers, and will have some library materials available for checkout. Stop by to sign-up for a library card!"
If NL Public Libraries was an emoji, they would be 📖 (obviously)
---
Nora de Mariaffi
"I'm a visual artist/graphic designer/arts org marketing person about town! I work for many places and wear many hats! Buy my art!"
Nora will be bringing "Prints! Fun Handmade earrings! Scrunchies! Maybe some vintage/handmade clothes??? + a top secret mini zine! and MORE!"
If Nora were an emoji, she would be ❤️‍🔥
---
Nothing New Projects
Nothing New Projects is an independent Risograph print and publishing studio in St. John's NL owned and operated by interdisciplinary artist and designer Hazel Eckert.
"We will have a variety of printed matter including zines, artist books, prints, Riso colour charts and more!"
If Nothing New Projects were an emoji, they would be the melting face
---
Quadrangle NL
Quadrangle NL is a charity aiming to create a physical space welcoming to all members of the 2SLGBTQIA+ community in Newfoundland and Labrador, which will house and offer services and programs designed to create social connections, provide resources, and advance all aspects of health and the quality of life for our community through inclusion and diversity, community development, collaboration, and recognition.
Quadrangle NL will be bringing all the 2SLGBTQIA+ joy, passion, and creativity to the zinefest, so get ready for the fabulous!!
"If Quadrangle NL was an emoji we'd be the nail painting one 💅"
---
Riddle Fence
"Who are we? Published four times a year, Riddle Fence is a quarterly arts and culture journal that brings you the most cutting-edge poetry, fiction, non-fiction, arts reviews, and contemporary art from Newfoundland and Labrador, across Canada, and around the world."
"What are we bringing to the zinefest? We'll be there with back issues of Riddle Fence for browsing, t-shirts, and stickers. Sign up for a subscription, or take advantage of Zine Fair bundle pricing to bring home some reading on the spot."
"It's hard to sum us up in just one emoji! But we're a hub for the arts world in NL, and working hard to bring our province's art community to the world, and the world back home to St. John's."
---
Salt Pages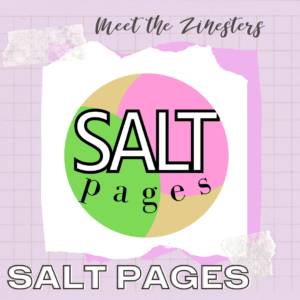 "Salt Pages is a non-profit bookseller based in St. John's – we focus on selling and lending alternative, progressive, and local literature!"
"We'll be bringing copies of our three previous community-sourced zines released over the past two years, plus the first ever printed copies of our brand new zine, Hi My Name Is. We'll also have our usual inventory of books for sale, as well as a collection of zines from other artists and organizations we admire!"
"Also, we would be the stack of books emoji 📚"
---
St. Michael's Printshop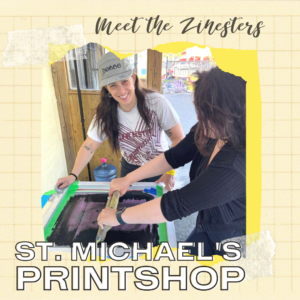 St. Michael's Printshop (SMP) exists to develop and grow printmaking as a participatory and accessible art form. SMP provides the facilities and opportunity for visual artists from across the province, Canada, and internationally, as well as for its local community, to learn and engage in the art of printmaking. One of the province's few artist-run centres and the only community artist-run printmaking studio, SMP promotes and continues to push the boundaries of printmaking as a contemporary art form.
"SMP will be hosting live printing events throughout zinefest! Bring your own light coloured t-shirt for some extra printing fun. You can also find us selling our SMP merch and some shop artist prints."
"SMP is definitely a combination of emojis, so this is hard… but maybe the classic… 🐧"
---
Union House Arts
Union House Arts (UHA) is a community artspace in Historic Port Union. UHA is committed to supporting work being produced by artists and craftspeople in Newfoundland and Labrador and around the world through place-specific dialogues and collaborative programming. UHA aims to build a thoughtful space for community residents and artists to work and share together; to expand ideas about what art can be, how and where it can be shown, and to create an environment that is accessible to people of all experiences and educations. The space is experimental in nature with a focus on place-based programming, knowledge building, and sharing.
UHA will be sharing zines made by former artists in residence, as well as zines made by our programming director, Bethany MacKenzie! Additionally, Bethany will be there to answer any and all questions about our artist in residence program, upcoming open calls, and how you can get involved!
"If UHA was an emoji we would be blueberries! 🫐🫐🫐 (idk why, that's just the vibe I get?)"