POP-UPS 2018
Registration is not required
---
Little Lost House & David Tuck Library Opening
Artist: E. B. Reid
Date and time: Tuesday August 7, 5 – 6 pm
Location: David Tuck Library – Eastern Edge, 72 Harbour Dr
Type: Opening & Photographic Installation
All Ages
Join us for the official opening of the BRAND NEW David Tuck Memorial Library! We have partnered with VANL-CARFAC to extend the library into a new space, filled with even more art books and magazines than ever before. Located just down the halls from Eastern Edge, this cozy library will act as a quiet space for EE members to sit and relax while they read, write, or work on their own professional practices.
We also have lots of room on the walls of the David Tuck Memorial Library, and the inaugural mini-exhibition that will be on display is the photography of E.B Reid!
E.B. Reid recently attended the inspirational Writing with Care Retreat at the wondrous Ochre House in beautiful Ochre Pitt Cove. At this retreat she "discovered" and became enchanted by a Little Lost House, a seemingly abandoned house in the area. This exhibit features some of the images of that enchantment.
---

Where the light shines first
Artist: Ethan Murphy
Date and time: Wednesday August 8, 7 pm and ongoing
Location: Quidi Vidi Brewery, 35 Barrows Rd
Type: Exhibition
All Ages
Where the Light Shines First is a photographic accumulation of the artist's previous and current relationship to Newfoundland's rural environment. Murphy grew up in St.John's and moved to Toronto, Ontario to study photography at Ryerson University. As a young person Murphy felt the limitations of living in a remote area and was eager to leave after the death of his father. Once moved to a congested city he encountered a type of urban isolation and felt a loss of identity after leaving Newfoundland. This work serves as a modern day pilgrimage returning back to the artist's roots while searching for identity through photography. This ongoing series consists largely of the renegotiation of Murphy's relationship with his father as well as the rural environment itself.
This Exhibition will decorate the walls of Quidi Vidi Brewery  during our Festival Launch Party with Riddle Fence!
---

Elbow Room Open Studio
Artist: Emily Pittman
Date and Time: Friday August 10, 4 – 6 pm
Location: The Rooms – Elbow Room Residency Space (2nd floor), 9 Bonaventure Av
Type: Open Studio
All Ages
Currently completing The Room's Elbow Room Residency Program, Emily Pittman is holding an open studio as a HOLD FAST Pop-Up. Allowing artists and community members to visit her workspace and view the in-progress project, visitors will be offered a sneak peak to the exhibition that will open at The Rooms in September 2018. Emily Pittman's practice explores minimalist architecture through layered designs that she compositionally and structurally alters. Using local buildings as subject matter allows her  to build upon design decisions of architects and contractors.
---
Art & Axes
Hosts: Jack Axes
Date and Time: Friday August 10, 11 pm – 3 am
Location: Jack Axes, 152 Water St
Type: Community Event
Ages 19+
CALLING ALL ST.JOHN'S ARTISTS !
Our walls down at Jack Axes are a bit too naked for our liking and we need some fresh art on 'em! So, here's what we're going to do.
To celebrate the HOLD FAST Festival, we're putting away the axes, buying a ton of pizza and setting up some sweet beer deals for any artists that want to come in and add their touch to our walls (as long as it's tasteful of course). So BYO art supplies and come enjoy good food, good beer, good times & good people!! Our walls are your canvas, we can't wait to see what you create
---
ART CRAWL POP-UPS
SATURDAY AUGUST 11TH, 2018
The Fogbank Audio Coworking Group Inc.
Host: Renee Boileau
Time: 12 – 4 pm
Locaton: The Fogbank Audio Coworking Group Inc, Ground Floor, 50 Harbour Dr
Type: Educational, Open Studio
All Ages
Everyone has a story to share. We turn stories into podcasts and find your audience.
Our pop-up event will draw passersby in with intriguing sounds broadcast from our foyer on the Ground Floor of the Neal Building. Once inside, they will be immersed in sounds and stories that give them a sense of place.
Audience members will be invited to become part of their own podcast as "Apprentice Podcasters": sharing a story, recording their own voice on a handheld microphone and turning it into a mini-podcast, if they choose. Fogbank members will steer Apprentices thru the process of finding the "whale" in their story, untangling a short storyline and layering in a sound effect or two to bring it to life. The audience will discover how to catch podcasts through a smartphone app like Overcast or Podbean.
This is a light-hearted exploration to find your own voice (and why it sounds funny when it's recorded!) and to experience the process of creating a story you can share beyond your kitchen table.
---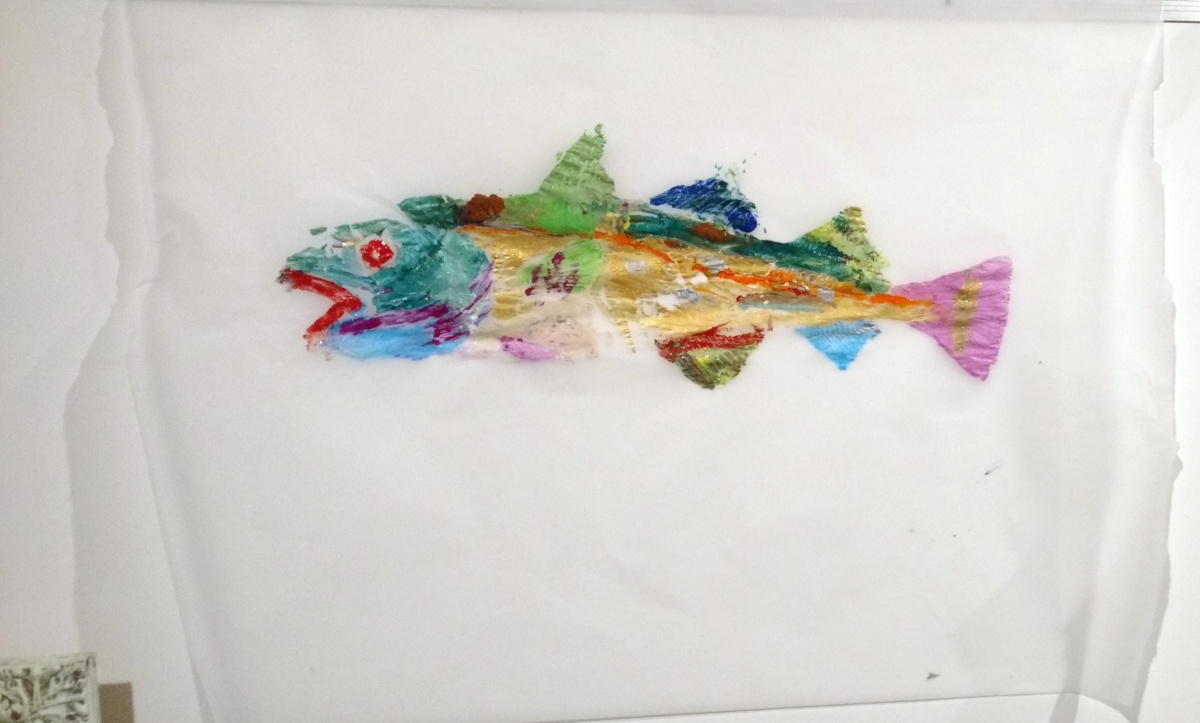 Fishing For Success
Host: Kimberly Orren
Time: 12 – 5 pm
Location: Johnny Ruth, 183 Water St
Type: Educational Workshop
All Ages
Participants will get to try at least one of these activities: Paint a fish, Weave a withe, or knit a net! We hope that by introducing rope and twine work to artists, fishing will continue as part of the human story. The fish painting technique illustrates how each of us can create something beautiful!
---
Who names the ferns?
Artist: Ashley Hemmings
Time: 1 – 3 pm
Location: Broken Books, 245 Duckworth Street
Type: Interactive
All Ages
Who Names the Ferns? is an interactive installation of text and imagery questioning the language and naming systems surrounding the ferns located in MUN's Botanical Gardens. The installation includes digital drawings of fern name plates from the Botanical Garden, as well as half completed drawings left for participants to fill in with text or imagery – giving the public the opportunity to reimagine what a "ghost lady fern" for example could look like, or what a large spikey fern could potentially be named. Participant's drawings will be added onto the installation and scanned into an online imaginary-fern database which will be made public after the event.
---
Hands-on Relief Printmaking
Artist: Anita Singh
Time:  2 – 5 pm
Location: St. Michael's Printshop, 72 Harbour Dr
Type: Educational Workshop
All Ages
Artist Anita Singh will guide participants of all ages to create their own relief prints using lino, easy cut, and quick friendly fun foam.
---
From the West

Selection of works: Faune Ybarra
Time:  6 – 11 pm
Location: Johnny Ruth, 183 Water St
Type: Window Display
All Ages
From the West is a short collection of video-based art created by students, professors and alumni of the Visual Arts program at Grenfell Campus, Memorial University. Grenfell located in the City of Corner Brook, Newfoundland is home to the only Visual Arts program of the province. It is a small city filled with trails, ponds, and local business where art students from across the world find a space to create away from the distractions and art trends of a big city. Likewise, Grenfell professors experience the opportunity to interact with students on individual basis, getting to know and supporting their practices in a personable manner. The exchanges between student and professors and the influence the West Coast has in their artwork can be seen in these multi format videos.
---
Projections
Host: The Leyton Gallery of Fine Art
Date and time: Saturday August 11, 6 – 10 pm
Location: Leyton Gallery. 6 Clift's – Baird's Cove
Type: Film Screening
A series of projects will be displayed in the window of the Leyton Gallery of Fine Art
---
St. Michael's Pop-Up Print Sale + Live Screen Printing
Artists: Mimi Stockland, Amery Sandford, Pepa Chan + others TBD
Date and Time: Saturday August 11, 6 – 10 pm
Location: St. Michael's Printshop, 72 Harbour Dr
Type: Interactive, Sale
All Ages
Bring your own light-coloured clothing items to this event, and witness a LIVE screen printing process as we print the HOLD FAST logo onto it for free! Attendees will also be able to browse and purchase prints from participating artists in a one-time pop up sale.
---
Year of the Goth: a Found Photo Tarot Card Reading
Artist: Liz Waterman
Time: 6 – 10 pm
Location: rOGUE Gallery – Eastern Edge, 72 Harbour Dr
Type: Performance
All Ages
Venture into the darkness of a goth teen's shrine to the macabre and see what the universe has in store for you. Liz will be giving personal tarot readings using her found photo tarot cards and adolescent poetry in this performance piece that takes place in an installation/recreation of her goth teen bedroom.
---