Daze Jefferies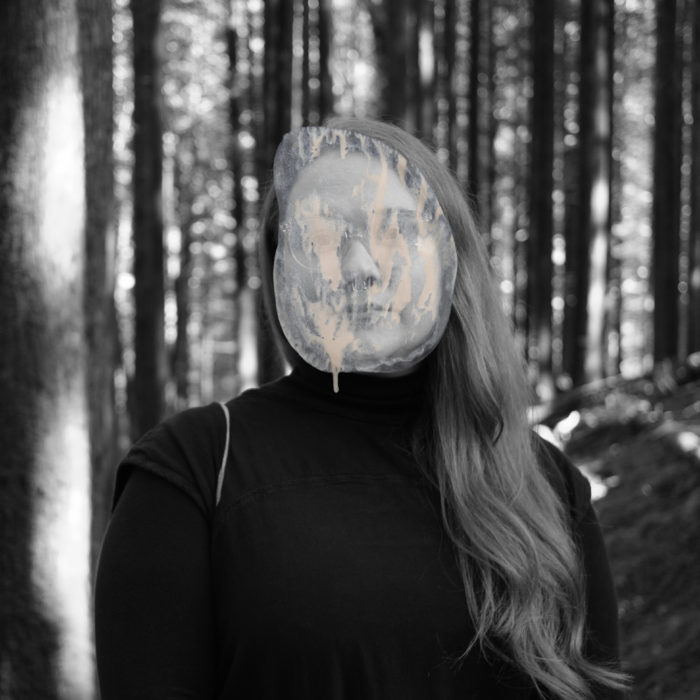 Daze Jefferies (she/her) is a white settler artist, writer, and educator born and raised in the Bay off Exploits on the northeast coast of rural Ktaqmkuk (Newfoundland). Her research-creation and multidisciplinary projects exploring trans and sex worker counter-histories have been exhibited and performed throughout Atlantic Canada, winning her the 2023 Emerging Artist Award from VANL-CARFAC. Her debut solo exhibition, Stay Here Stay How Stay, will be presented at The Rooms Provincial Art Gallery in 2024. Author of the poetry chapbook Water/Wept (Anstruther
Press 2023), and co-author of Autoethnography and Feminist Theory at the Water's Edge: Unsettled Islands (Palgrave 2018), she has also been anthologized in Future Possible: An Art History of Newfoundland and Labrador. She is a board member of Girls Rock NL and the Newfoundland and Labrador Queer Research Initiative, and a volunteer at the Safe Harbour Outreach Project.
Art Crawl Project: dream zones hormones undertones fish bones
Saturday, August 26, 2-8pm // Eastern Edge Gallery, 72 Harbour Dr.
dream zones hormones undertones fish bones is an audiovisual installation exploring speculative intergenerational connections and dreams for the future between trans femmes on the internet, at the turn of the millennium, in Atlantic Canada.
Workshop: Exploring Local Queer History Using the Wayback Machine
Thursday, August 24, 2-4pm // Craft Council Gallery, 155 Water St.
---
Ale Monreal
Ale Monreal is a multidisciplinary artist and film school drop-out of Colombian and Chilean descent. Her body of work consists of several mediums ranging from films, paintings, textile/needle works to analog and digital photography. Drawing on inspiration from her childhood summers spent in Colombia at her grandmother's, she merges traditional textile work, painting and analog photography with digital media. As a first-generation Canadian she tries to capture the experience of loss and wanting to be in two places at once, and the roaming nature of belonging neither here nor there.
Art Crawl Project: Entre Líneas
Saturday, August 26, 2-6pm // East Coast Quilt Co., 343 Water St.
Entre Líneas is an ongoing transdisciplinary project that uses traditional rigid heddle loom weaving, stop-motion animation, and digital editing techniques to create experimental video. Layering multiple realities, past and present onto an analog loom structure creates the foundation for the idea that memory is just fragments of moments woven together in our minds. The video is a visual representation of the sometimes-abstract compositions we form when trying to bring back memories to the surface of present time.
Workshop: Chroma Keying Textiles
Wednesday, August 23, 6-9pm // East Coast Quilt Co., 343 Water St.
---
Georgia Webber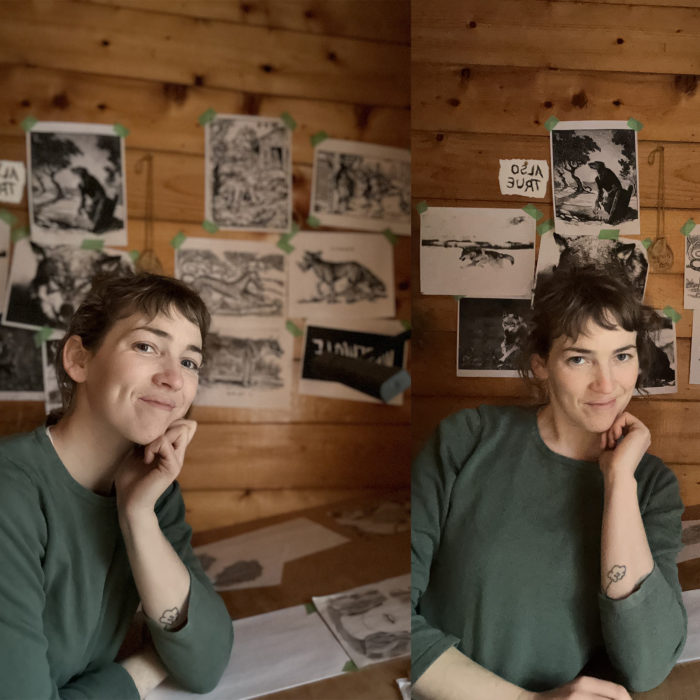 Georgia Webber is a comics artist and teacher, guiding students to find their own voice in creativity while respecting their own needs and limitations under the name Drawing the Inside Out. Georgia is best known for her graphic medicine comics, including Dumb: Living without a Voice (Fantagraphics 2018) about her experience with life-altering chronic voice pain. Explore her work at www.drawingtheinsideout.ca.
Art Crawl Project: World Within a World
Saturday, August 26, 2-8pm // Water St. (various)
World Within a World is a series of large-scale drawings on the sidewalks and sides of buildings in downtown St. John's. They depict geometrically patterned silhouettes of the people who move through these spaces, and the impressions they make on a location (footprints, shadows, body heat, etc). These patterns honour the inner complexity of the spiritual worlds that inhabit each of our bodies, inner environments which are not revealed unless the observer applies their attention and care, and is given permission to come in.
Workshop: Drawing Our Inner Worlds
Wednesday, August 24, 3-5pm // Eastern Edge Gallery, 72 Harbour Dr.
---
Niya Abdullahi
Niya Abdullahi is a filmmaker, multidisciplinary artist, and the founder of @Habasooda, a collective dedicated to sharing the richness of the Muslim experience through a variety of storytelling avenues. Themes of identity, liberation and resistance inform her work. She uses art as a vessel to promote social change. Her films have screened at TIFF Next Wave, Nuit Blanche Saskatoon, Breakthroughs Film Festival, and Gallery 44, amongst others. She was a 2021 Hot Docs Accelerator Fellow and sits on the Advisory committee for the Nia Centre of the Arts BLACKOUT project and the ArtworksTO program.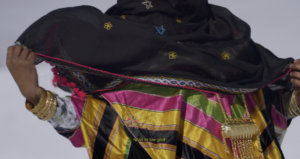 Art Crawl Project: in the whiteness
Thursday, August 24, 8:30-9:30pm // 154 Water St. parking lot
Saturday, August 26, 2-6pm // Rocket Bakery, 294 Water St.
This single-channel video and projection is an exploration of identity through the eyes of a displaced Harari-Ethiopian woman, who now lives in Canada. She uses poetry and movement as a meditative method of reconnecting with her roots and in doing so, she establishes a magical bond with her ancestors. in the whiteness examines what it's like to experience hypervisibility and invisibility in congruence.
Workshop: You're ZINE(seen) at HOLD FAST!
Thursday, August 24, 5-7pm // Eastern Edge Garage, 72 Harbour Dr.
---
Idlefield Collective
The Idlefield Collective is a collaboration between Jake Nicoll, Pamela Mackenzie, Ariel Sharratt and Mathias Kom. With graduate training across the disciplines of art history, criticism and ethnomusicology as well as engineering and sound production, the Idlefield Collective brings a depth of experience to their projects.
The Phonoautomat is a solar-powered recording camper that Jake Nicoll built during the pandemic. It has made appearances at a number of summer festivals, including Sappyfest and Art In The Open.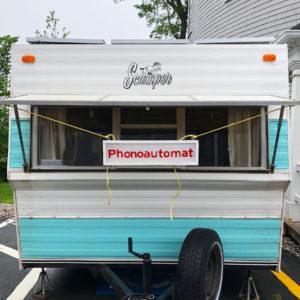 Art Crawl Project: The Phonoautomat
Saturday, August 26, 2-7pm // Eastern Edge parking lot, 72 Harbour Dr.
The Phonoautomat is a solar-powered instant recording booth. Participants can record up to five minutes of audio and it will instantly duplicated onto four cassette tapes that can be shared and collected. Like an instant photo booth, the spirit is spontaneous, collaborative and open ended. Built into a converted 1970s camper trailer, the Phonoautomat is capable of recording pretty much anything, from spoken word to an entire band utilizing the backline provided.
Workshop: Exquisite Musical Corpse
Friday, August 25, 3-5pm // Eastern Edge parking lot, 72 Harbour Dr.
---
DarkNL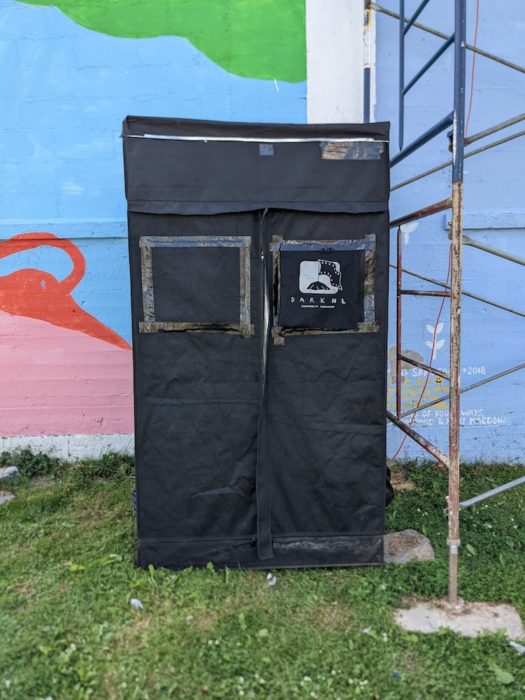 DarkNL Community Darkroom is a not-for-profit artist-run photography centre committed to the growth and fostering of the analog photography community in Newfoundland and Labrador. Its aim is to establish a supportive and inclusive environment for local artists to expand their photography practices and to promote public engagement of analog photography within the community at large.
This year, DarkNL will be joining the Idlefield Collective as part of their Phonoautomat presentation. Before recording their song, the band will pose for a cover photo. This will be made by DarkNL Community Darkroom, with a variation on the traditional analog photobooth that uses a specially-designed instant pinhole camera to produce four nearly (but not quite!) identical images. The photos will be developed while the band is recording their song, and will be available by the time the mixing is complete.
---