This year Allison Graves will be delivering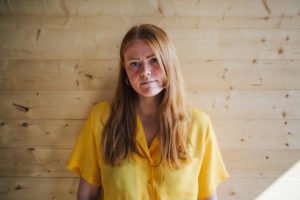 a daily report on all things HOLD FAST.  Say hi if you see her around and be sure to check back on this page for the latest report!
Allison Graves received her BA in English Literature from Dalhousie University and her MA in Creative Writing from Memorial University, where she wrote a collection of short stories called Soft Serve. Recently, she completed a residency at The Banff Centre and an internship at Drawn and Quarterly. Her work has appeared in The Antigonish Review, Riddle Fence Magazine and Room Magazine. Her fiction has been long listed for prizes in Prism, The Fiddlehead, The Newfoundland Quarterly and last year her story won the Newfoundland Arts and Letters Award for short fiction. Last week she spoke at The Trampoline Hall Lecture Series, and she will be this year's Writer in Residence for the Hold Fast Contemporary Arts Festival. She lives, works and plays drums in Newfoundland.
---
Day One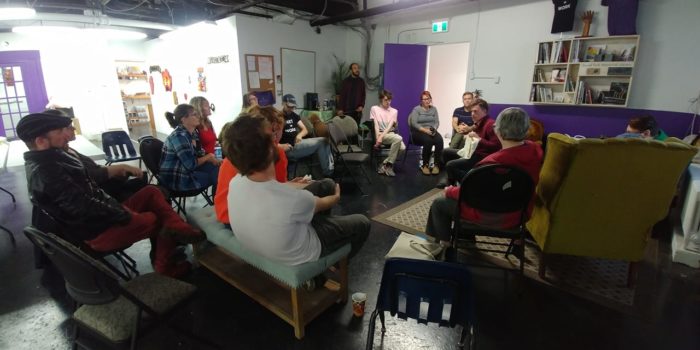 Smiley Face:
A look at Hooked Rugs for Assholes by Craig Francis Power
Craig Francis Power and I sit on a picnic table facing the harbour. A massive cruise ship called the Princess Sapphire has just disappeared through the narrows and Craig is rug hooking a smiley face and smoking a Juul.
"I originally started rug hooking as a way to quit smoking," he says. "But it didn't work."
I ask him questions about its parallels to writing and how both modes of art making leave him feeling. He tells me that he thinks a lot about his past actions while hooking and calls the practice therapeutic. Inside Eastern Edge, Craig's hooked rugs are hung all around the room; a massive rug hooked snake on the ground. Craig had just finished speaking to the room about how rug hooking became a meditative activity for him and how this medium allowed him to subvert his funny and often sarcastic doodles into something with a satirical edge; something grittier than is usually associated with the craft.
"I would draw a quick doodle and then turn it into something painfully time consuming," he says. He starts talking about the political and class associations with rug hooking. He talks about how because of its approachability and because of cost-efficient materials, rug hooking has become an inclusive art practice that almost anyone can participate in.
Craig's talk really made me think about ideas of value and what we consider to be important as artists and as people. I then start thinking about the cruise ship that just left the harbour — the princess — and I think about how strange cruise ship days are in St. John's and how three thousand new people start roaming downtown, looking for directions to George Street. I think about the massive shadow the ship casts all around our feet. And I think about how special and valuable this community of people is in downtown St. John's.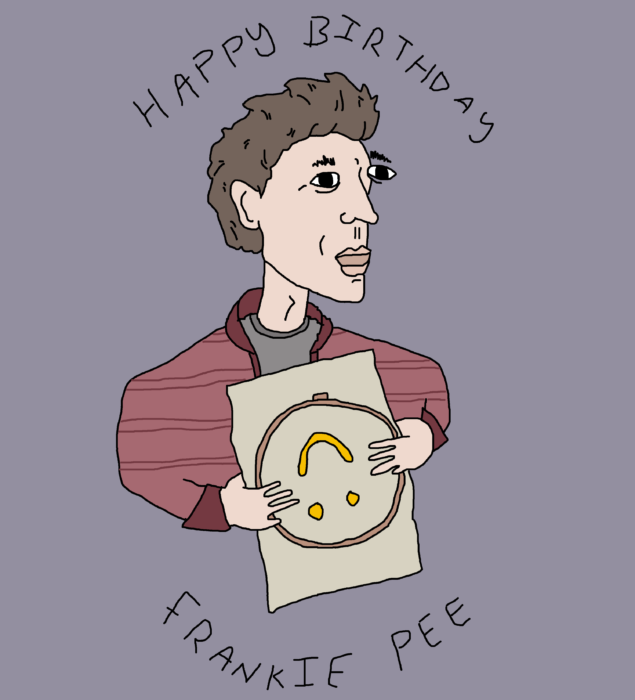 Today is Craig's birthday and he just finished blowing out candles on a Sobey's cake that says Happy Birthday Frankie Pee. When we were outside, Craig told me that the more shit that's happened in his life, the more he's needed art. I think about this when I go back inside and finish rug hooking the smiley face he started for me. Born on the Bayou plays four times from Craig's phone as I rug hook a smiley face and think about being sad. I start getting stressed out that I won't finish filling in the face so Craig finishes it for me.
I leave the workshop with the smiley face swinging from my right hand and I think about how I feel better than I did a few hours ago.
---
Day Two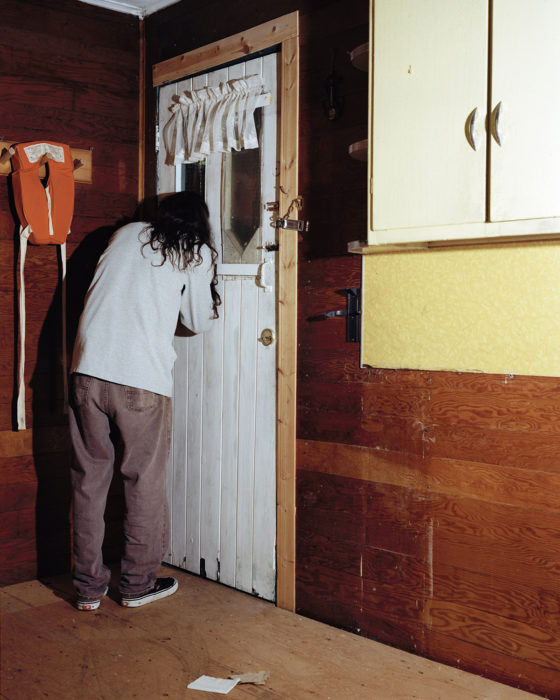 Meditations on Ethan Murphy's What's Left and What's Gathered
My mother grew up on Bell Island. This has always been a fundamental part of my narrative while living in St. John's. Tonight I messaged my mom and asked her if she knew Paul Christoper Murphy and she responded, I knew him very well.
With What's Left and What's Gathered, Ethan Murphy explores what it's like to communicate and ultimately collaborate with an absent person. In this case, he is searching for communion with his father, the previously mentioned Paul Murphy. This connection between our parents and the very intimate, very weird, and very wonderful place in which they both grew up — Bell Island — is important because Ethan's my friend.
Yesterday, Ethan led a workshop where he gave each of us a waterproof disposable camera and encouraged us to walk around taking pictures of things we perceived as meaningful and accompany the images with writing. Instead of being able to see an image right away, this exercise would encourage us to connect with a space, cataloguing how we feel in the moment and taking time away from the image to consider how it might turn out. I walked up Signal Hill and took a picture of my foot kicking the tower, in the same grove where I kick the tower every day. I started thinking about all the things that connect me to St. John's and I felt a certain elation using an entire roll of film to convey essentially what I do in a day. I wrote tentative titles for every image I took in the notes section of my phone. I thought about the images in a gallery and how I would call the show Swim Spot. I thought about my relationship to writing and how it's always changing.
In What's Left and What's Gathered, Ethan looks to ask questions. The questions are in response to reading and understanding his dad's writing which continues to exist in journals that were left after his death. When Ethan and I talked about the show yesterday, he led me around the gallery, speaking eloquently about each image. The interior spaces are grounded in a cabin in Torbay that his father left to Ethan and his sister. Each portrait in the show is something Ethan calls an "anti-portrait". The people featured in the photos — his friends, his uncle, himself — are all facing away from the camera, a certain futility to the portraits that encourages us they're not the point.
Titling is really important to this show. The following images are all accompanied by titles that I think are rich and beautiful in their effort to understand the relationship between images and text.
In the show's first image, As The Transparency Ends, Ethan's friend André, a figure who often appears in Ethan's photos, is entering the cabin through the window. 
"That's just how I get into the cabin. I always go in through the window," Ethan tells me. "It's like the front door." Ethan's chewing on a toothpick while he talks to me. "The title, As The Transparency Ends, is supposed to be kind of funny cause like nothing is transparent, it's actually really opaque, trying to communicate with this person."
In the image titled, And Now We're Doing Something Else, a man who Ethan tells me is his father's brother is placing a gravestone — a simple cross — into a bush littered with flowers. Ethan talks about how this image forces the viewer to look at a literal symbol of death. 
The show's two anchoring images on Eastern Edge's back wall are essentially embodiments of the show's title. The one on the left, Our Place, documents the cabin as is. Ethan's father's desk is in the corner of the shot and it's also sitting behind me in the gallery. This image shows things left. The image on the right, We Hung Around In Circles, shows a fire, something that must be fed to stay alive. Something fleeting if you don't take care of it. There's a chair in this photo that also sits behind me in the gallery. 
"You hold onto people's things; what was valuable for them as a way of holding onto who you think they are," Ethan tells me while we look at this image. "It's important to hold onto someone's personality from what's leftover."
On the opposite wall is an image called Positive Attitude and it's the side of a building on Bell Island painted with flowers. I've driven by this building ever since I was small and I never thought too much about it.
"This one's called Positive Attitude because my dad would always say that. He would never shut the fuck up about it," Ethan says to me, laughing slightly. "You know, you don't have to be sad. You can be positive and creative about interacting with ideas of loss." Ethan talks about how he had these journals for years but never confronted this stuff in a critical way until this show. "I thought why not now?"
Ethan left one image out of the show.
"It's a picture of our wallet, or what was his wallet and now is mine. It was taken against the baseboard of my apartment in Toronto and his school picture and my Ontario drivers license are both inside. The bottom half of our faces are hidden by the pockets. It's called You Compared Yourself To Me." He plays with the toothpick in his mouth. "It's a super important picture to the show but I didn't know if I wanted to include a picture from Toronto because I didn't know how I wanted my relationship with him to exist there."
He circles back to talking about the cabin and reading his dad's poetry. "It's awesome because it just feels like a poem when I'm hanging out there."
---
Day Three
Crawling Around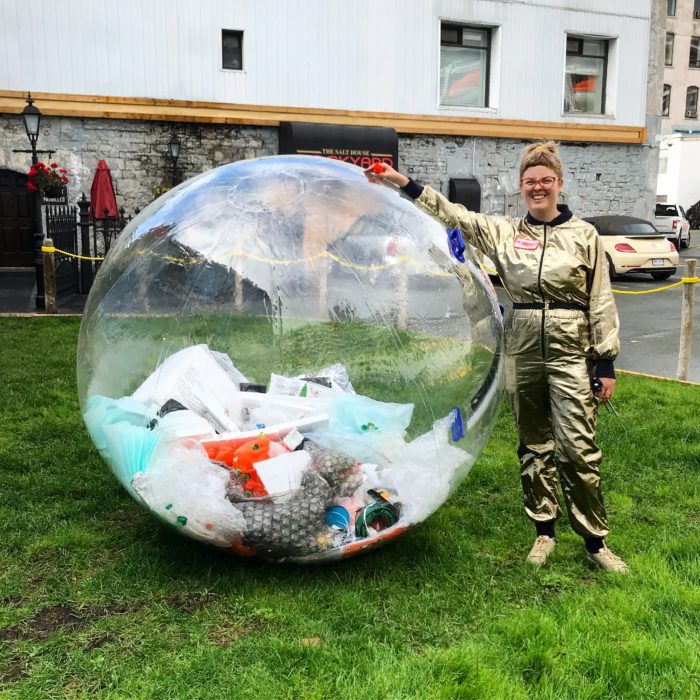 Yesterday, while eating a grilled cheese at Toslow — made for me by Craig Francis Power — I wrote some notes about the Art Crawl down in my phone. Every year, the art crawl presents an opportunity to see so much art at once but also reconcile with the intimacy of downtown St. John's. Craig is making McCain Fries and Craft Singles grilled cheeses on white bread and he's calling it "white trash" food. In the program, Craig talks about how this is the food he grew up on. His hooked rugs, which I wrote about on Day One, are hung all around the small, sparkly, special bar. In his artist talk, Craig talked about growing up in a working class family and all of his art this weekend seems to confront this foundation in his life. He seems excited about the prospect of making art and making food that is accessible to everyone. 
Before I ate the grilled cheese, I went to Christina Parker Gallery, where Will Gill is showing pictures from a collection titled, A Foundation of Ash. The photos are dark and destructive in their depiction of limbs holding other limbs in desolate surroundings. Will says in his statement about this show that he travelled to Fort McMurray after the fires in 2016 and looked to use the remains of the forest to talk about ideas he was interested in. The destruction surrounding the place in the photographs and the ideas of renewal and transcendence that Will also manages to convey are inspiring. 
I then wandered with my friends to Eastern Edge. Jake talked about how he started surfing and laid down on his stomach to show us the physical stress it entails to get up on a board. There's once again a massive cruise ship in the harbour, looking like something permanent and unmovable, almost like a new condo building. Beside the cruise ship, Arianna Richardson is rolling around in a massive inflatable plastic ball, filled with an assortment of plastic waste collected by the community. She inflates the ball in front of us and rolls around in the ball, in a way that looks even more physically exhausting than Jake surfing. Arianna's artist talk the other night examined her practice of trying to almost beautify waste. She's dressed in a metallic onesie and while I understand that this ball is meant to make people confront how much they waste, she also manages to create such beautiful, visually appealing art with garbage. 
I then walked inside and read one of Ethan's dad's poems that made me feel catatonic and raw and then ate a piece of Ethan's salmon avocado roll. I saw Lily Taylor's completed mural outside and thought about how it kind of looked like me. 
Eventually, I wandered up to the interactive virtual reality project Biidaaban: First Light. This VR project was made by Lisa Jackson and Mathew Borrett and reimagines the city of Toronto if it were guided by its original Indigenous languages. It was my first virtual reality experience and it was brain bending. The text in the film was largely indigenous voices speaking in their native languages. This was profound and helped contribute to the mood of the whole experience that looked to show an urban landscape more balanced with nature. People are scarce in the project, so you must pay attention to the hum of life. I was simultaneously calm and anxious the whole time, my ideas about Toronto feeling both solidified and undone. 
I came home and watched Stanley Kubrick's Eyes Wide Shut and I thought about art all night.
---
Responsibility, Relationships and Heart Rot: A Summary of Hold Fast 2019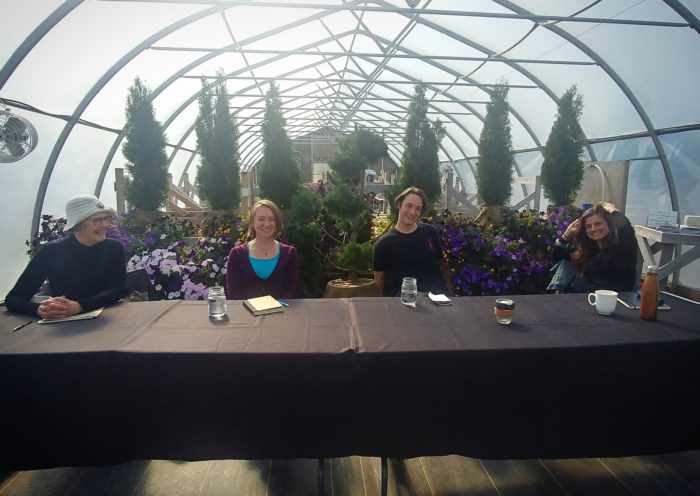 The last day of HOLD FAST, there was a panel at Murray Meadows moderated by  Marlene Creates. The panel was called Conundrums, Confessions, Contradictions, and  Concerns and looked to create a dialogue about working as an environmental artist in  2019. The panel took place in a greenhouse with mismatched chairs Marlene brought from home. In the corner of the greenhouse there was a confession box where people  were encouraged to anonymously confess their biggest recurring sins toward the environment. The panelled artists, Carrie Allison, Jennifer Maclatchy, and Ethan Murphy talked about how their practices are informed by their responsibility to the  sustainability of the planet and then Marlene read the confessions. The confessions detailed everything from people's preference for long, hot showers and the problems with being a touring musician. The heat of the greenhouse combined with the consumption of my fourth coffee that morning made me feel hot and overwhelmed, almost like I was in a daze. While I contemplated the significance, intimacy, and rarity of sitting in a green house with many accomplished artists talking about how to keep making art and how to keep living in meaningful ways, I realized this is what was happening all weekend. The art I saw at HOLD FAST 2019 was commenting on what it's like to take something on, to assume responsibility, to inherit something big. 
After the panel, Marlene took almost a dozen of us back to her house in Portugal Cove, where she lead us through the Boreal Poetry Garden. Devon and Ethan grabbed walking sticks and Marlene lead the way. It was through this tour that I could really begin to understand Marlene's intimacy with the land she lives on. She offered precise and impressive detail about each hurricane and disaster that devastated the land, she kept pointing to the tree trunks that were inflicted with heart rot. I wrote heart rot in the notes folder of my cell phone. She talked about her series of photos taken for the project Water Flowing to the Sea Captured at the Speed of Light from 2003 where she took a series of photos with an underwater film camera that looked back at her, taking distorted photos of her as the water moved over the camera lens. The project was meant to convey her own transience, temporality, and ultimately impermanence. In the Boreal Poetry Garden, Marlene's collaboration with the land becomes central to her whole character. She has curated a space for live shows in the poetry garden, she's built bridges and benches, and everything felt like art to me that afternoon. 
Afterward, I went to Bell Island with some friends. We caught the ferry right away which always feels lucky and our hair blew around on the top deck. Ethan Murphy laid down on the ground and took pictures and he met a man who sold him a lens for his Hasselblad. We went to a Kitchen Party at Dicks' Fish and Chips and drank black horse and watched people swing dance. Ethan and I talked about one day making art on Bell Island — the place where both our parents grew up. 
When I got home that night I wrote a bunch of stuff in my journal about HOLD FAST. My skin felt salty from the island and I thought about how magical the weekend had been. I thought about every artist and how the work they brought to St. John's commented on this idea of what it means to take something on. 
Ariana Richardson's Consumption Therapy Demonstration Chamber was simply one demonstration of a practice of work that tries to make waste management more appealing. In her artist talk, she detailed her effort to make materials that enhance the beauty of garbage cans. She then records people's waste management patterns and accumulates it into visually engaging graphs and charts. By engaging with her practice as the role of "The Hobbyist" — dressing herself in a metallic jumper that almost reminds the viewer of plastic — she aims to comment on the absurdity of how much waste we use by rolling around in a plastic ball of garbage collected by the community. I was very impressed by Ariana's ability to repurpose waste and make it nice to look at. Her demonstrations at HOLD FAST as well as her practice in general is populated with metallic objects that shine. By aesthetically changing how we think about waste she is looking to shift the dialogue of what we throw out. 
Teresa Connors' work, similar to Ariana's, also looks to record relationships to our environment. Her data-gathering process is similarly meticulous and intensive and looks to make data-gathering creative. Through coding, as well as From the Edge, the audiovisual project she showed at HOLD FAST, Teresa composed music from data. The connections between Marlene, Ariana, and Teresa's work helps understand our place in the context of the natural world with riveting ideas that seemed to fit together in a time where it's more imperative than ever to understand our relationship and responsibility to the environment. 
Ethan Murphy's exhibition in the main gallery at Eastern Edge was at its core a narrative about what we gather when someone's gone. The show explores Ethan's relationship to his late father and creates a dialogue between his own image-making and his father's belongings as well as his father's journals, filled with poetry. His father's desk and chair sit in the middle of the gallery and Ethan encourages people to sit there, in a place his father would presumably write. The show, What's Left and What's Gathered, is filled with ideas of what we take on when someone's no longer there. Most of Ethan's photos are taken at the cabin in Torbay that his father left Ethan and his sister. Some of the images are taken on Bell Island, where his father grew up. The only image Ethan left out of the show is a picture of his wallet that used to belong to his father. An image of his father sits in the wallet's pocket. Ethan uses the show to create a dialogue between his father's art practice and his own and also understand what it means to hold onto the things someone valued the most to continue reminding and informing how you feel about them. 
Craig Francis Power and Lucas Morneau navigate ideas about the social anxieties we inherit. Lucas Morneau's art practice looks to comment on ideas of queerness and the importance of using art to queer public spaces. In his artist talk, Lucas discussed the difficulty of making art when he was younger, given the rigidity of the public spaces he existed in. Through his characterization as The Queer Mummer, Lucas has used costume design — mainly masks and balaclavas he crochets himself — as well as performance to force the public to confront queerness. 
Craig's rug-hooking was the focus of his practice at HOLD FAST, but as someone who knows both Craig and his practice as a fiction writer, I understand the broader ideas of his practice. Rug-hooking is something Craig says he was drawn to because of its accessibility; anyone can do it. His crawl project, White Trash Diner, was meant to comment on his upbringing and he himself served the food he grew up eating. Craig's art at HOLD FAST looked to comment on our ideas of class consciousness and understand the art we make as a result of how we grew up. 
HOLD FAST 2019 exhibited art that commented on our responsibility when inheriting something significant. The art was informed by our responsibility to the planet, our social responsibilities, our responsibility to ourselves, our relationships, and our past. There was more art shown at HOLD FAST that I didn't discuss in this essay but had a big impact on me. Writing for HOLD FAST allowed me to think about how important it is to have people come to this island and make things. I walked by Lily Taylor's mural outside the gallery yesterday. The mural is a girl watching you through giant binoculars. In her artist talk Lily discussed how this was inspired by the famous Alex Colville image To Prince Edward Island, 1965. I thought about Colville and the importance of art-making from small places — how it makes the spheres we live in feel even more intimate and important. Lily's mural made me feel like I was being watched; like I was responsible.