Curated by Jason Penney, October 27 – December 08 2017
MacDonald traveled to First Nation communities experiencing corporate and government encroachments on their land. Focusing on, documenting methods First Nation communities employ to enforce their borders. Among the members of the recently registered Mi'kmaq Qalipu First Nation band, MacDonald was drawn to this research as a means of "trying to understand what it means to be connected to this heritage that has in many ways been assimilated into western culture to the point of erasure".  These topics will be tackled through a series of photos and sculptures. Responsive parallels between MacDonald's research methodology and unfolding provincial events will be explored by curator Jason Penney through supplementary screenings and lectures. Writer Camille Usher, whose grandfather is Coast Salish from the Penelakut nation and grandmother is Dene from Aklavik, will write accompanying text responding to MacDonald's work. Penney has selected video works from: Kent Monkman, Thirza Cuthand, Dana Claxton, Raven Davis and several films from the NFB to screen throughout the exhibition.
---
PEJIPUK |the winter is coming: MEAGAN MUSSEAU

Date: February 2nd – March 17th, 2018
PEJIPUK | the winter is coming is an exhibition by Meagan Musseau acknowledging the inherent and intuitive connections to Ktaqmkuk, the island now called Newfoundland. This exhibition integrates Indigenous art practice with contemporary techniques to reclaim Mi'kmaq and Beothuk cultural belongings and place names. Musseau works in opposition to colonialism and the cultural erasure of the traditional people of Ktaqmkuk. Her artistic practice is comprised of research, community involvement, and actions between herself, land, and story objects.
---
Curated by Jerry Evans, April 20th – May 29
at The Government House, NL
Reclamation
is an exhibition of Indigenous artworks from our first peoples; Innu, Inuit, Mi'kmaq and artists who self identify as having Indigenous ancestry here in Ktaqmkuk,
Nitassinan
, Nunatsiavut and NunatuKavut, known now as Newfoundland and Labrador.  The Exhibition title reflects that we are reclaiming a portion of Government House, replacing current artwork that is non Indigenous and reclaiming that space.  Included in the exhibition are selected works from the permanent collection of the province as well as works on loan from artists and collectors. Senior artists such as Gilbert Haye, Stan Hill Jr. and Dinah Andersen are exhibited alongside talented young artists such as Jordan Bennett, Melissa Tremblett and Meagan Musseau. Our collective artistic voice is Contemporary and timeless. The artwork reflects this home land and our cultural ways.
Jerry Evans
>
>
>
---
Curated by Joanna Barker
April 21st – June 2nd, 2018
In 1949, the Terms of Union between Newfoundland and Canada failed to acknowledge all Indigenous communities on both the island and mainland portion of the province that is now NL. This exclusion has often been referenced as Joey Smallwood directly saying that 'there are no Indians here'. Though those words were never said verbatim, they were believed to have been spoken and have been misquoted by Indigenous and non-Indigenous members of our province for generations. The destructive cultural, social and emotional ramifications of this claim have been longstanding.
In this exhibition, curator Joanna Barker poses the question to artist Melissa Tremblett and photographer John Jeddore – if there were no Indians here, where were you?
---
M'sit No'kmaq (All my relations),
with Jordan Bennett & Jerry Evans
April 14 @ St. Michael's Printshop
Jordan Bennett and Jerry Evans will occupy Eastern Edge Art Gallery to create a Tattooing action that adds to the ongoing revival of Indigenous tattooing practices in Ktaqamkuk and throughout Canada.  Prior to contact with European cultures and peoples the practice of tattooing among Indigenous nations that occupied and occupy the land which is now called Canada was almost universally present. Each nation had its own protocols, designs, motifs, and techniques. Due to pressure from the Church and other colonial institutions after colonization tattooing is one of the cultural art forms that was neglected to extinction in many nations. Jordan and Jerry are part of a larger movement across Canada to revive Indigenous tattooing within communities through expanding on knowledge, and awareness of Indigenous cultural tattoo arts revival and practices.
---
Identify: A Celebration of Indigenous Arts & Culture Closing Ceremony featuring Eastern Owl with special opening address from Delilah Saunders and throat singing by Jennie Williams and Tabitha Blake.
Tickets available at the LSPU Hall Box Office. $15
All profit from this event will be donated to the Loretta Saunders Scholarship Fund.
Eastern Owl is known locally and nationally as a unique group of women who blend the styles of First Nations Drum Music and Contemporary Folk to create their own innovative sound. A powerful ensemble of seven vocalists, they have been captivating audiences at festivals and concerts across Canada. With deep roots in community, Eastern Owl has committed to deepening their connection with their traditional practices while helping to educate indigenous and non- indigenous audiences alike. They are recent recipients of the 2016 ArtsNL CBC Emerging Artist award, and have taken the national stage during Canadian Music Week, Coastal First Nations Dance Festival, and Petapan. The women have been making waves following the release of their celebrated debut album "Not Quite Like You" and are one of the most in-demand groups in Newfoundland and Labrador today. Eastern Owl is currently working on their sophomore album, which is due to be released in the fall of 2018.
Jennie Williams is an Inuit visual artist and performer, born and raised in Happy Valley-Goose Bay; she is currently residing in Nain, Nunatsiavut. As a photographer, she photographs people in their genuine environments and circumstances, working to document every day life and practices and traditions in the manner that they are celebrated in Labrador today. As a performer, she has been performing and teaching Inuit throat singing and drum dancing for the past 15 years nationally and internationally.
Tabitha Blake grew up in Rigolet Nunatsiavut and moved to St. John's which is where she was introduced to the Inuit traditions of throat singing, drum dance and singing in her Inuttut language. Within the past years she has started writing daily prayers as well as song/poem's and she gets her inspiration from the indigenous movements such as Water Is Life. The arts gives her a means to project her thoughts either through her writing, craft makig, drawings and performances. Her first teachers were her Grandmother and Mother who taught her at a young age craft making and her love for the arts just grew from there.
Delilah Saunders is an Inuk writer and activist from Nunatsiavut. She has been working on the issue of missing and murdered Indigenous women and girls since 2014, when her sister, Loretta Saunders, was murdered in Halifax. Delilah's approach ranges from challenging the political sphere, media, academia, the justice system and our selves and how we contribute to a society that has found thousands of Indigenous women and girls murdered, or missing.
---
The NDN Way
Interpreted by Brian Solomon & Mariana Medellin-Meinke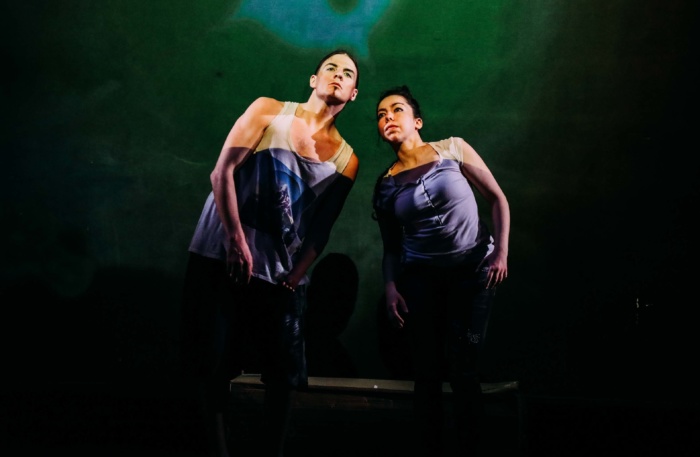 Dance Performance • LSPU Hall
Thursday, April 19th @ 8 pm
Tickets are only $15!
TICKETS WILL BE AVAILABLE STARTING MONDAY, APRIL 16TH AND AT THE DOOR.
In 1974, a budding artist created her first CBC documentary after finding inspiration in the synthesis of the Cree world views by Ron Evans. Inspired by the same original recording of the Cree storyteller, Solomon's the NDN way re-imagines, remixes and interprets these philosophies about medicine teachings, pipe ceremonies, sweat lodges and death in a highly theatrical, visual art-warp.
Created and interpreted by Brian Solomon
with creative contribution and interpretation by Mariana Medellin.
---
The ​Identify: A Celebration of Indigenous Arts and Culture ​Festival private Reading with the Cast & Crew of the play 'Only Young' written by Shannon Webb-Campbell.
Thursday April 12th @ LSPU Hall
​
This piece is still being workshopped, and we would like the invited members of the First Nations communities of Newfoundland & Labrador to engage in a conversation around the play. We hope that through consultation the play can be a positive addition to the repertoire representing our communities and experiences of learning about our cultural heritage.
We value your considered input and perspective and look forward to you joining us this evening.