Throughout 2018 as part of our 'Identify' Project, the last Sunday in every month Eastern Edge will be hosting an Indigenous film screening.
Timuti, Jobie Weetaluktuk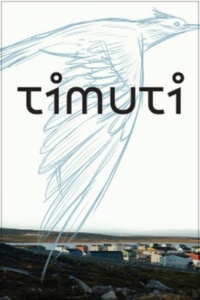 Wednesday May 30th for a special free screening of Jobie Weetaluktuk's TIMUTI, provided by the National Film Board. Film starts at 7pm!
In this short film, artist Jobie Weetaluktuk turns his gaze on his family and the power of ritual through the story of a young woman and her unplanned child.
In Inukjuak, an Inuit community in the Eastern Arctic, a baby boy has come into the world and they call him Timuti, a name that recurs across generations of his people, evoking other Timutis, alive and dead, who will nourish his spirit and shape his destiny.
Running Time: 30 minutes
---
Identify: A Celebration of Indigenous Arts and Culture festival film screening at the Rooms
A program of short films produced by indigenous filmmakers provided by the National Film Board. All the films presented in this program use archival materials to explore ideas surrounding history, representation and identity.
Mobilize (dir. Caroline Monnet)
An exhilarating journey from the Far North to the urban south, capturing the perpetual negotiation between the traditional and the modern by a people moving ever forward.
Nimmikaage (She Dances for People) (dir. Michelle Latimer)
Both a requiem for and an honouring of Canada's First Nations, Métis and Inuit women, this short film deconstructs the layers of Canadian nationalism.
 >
>
>
>
Etlinisigu'niet (Bleed Down) (dir. Jeff Barnaby)
In five short minutes, this short film destroys any remaining shreds of the myth of a fair and just Canada.
>
>
>
>
>
Sisters & Brothers (dir. Kent Monkman)
In a pounding critique of Canada's colonial history, this short film draws parallels between the annihilation of the bison in the 1890s and the devastation inflicted on the Indigenous population by the residential school system.
 >
>
>
>
>
>
>
>
The Ballad of Crowfoot (dir. Willie Dunn)
Released in 1968 and often referred to as Canada's first music video, The Ballad of Crowfoot was directed by Willie Dunn, a Mi'kmaq/Scottish folk singer and activist who was part of the historic Indian Film Crew, the first all-Indigenous production unit at the NFB. The film is a powerful look at colonial betrayals, told through a striking montage of archival images and a ballad composed by Dunn himself about the legendary 19th-century Siksika (Blackfoot) chief who negotiated Treaty 7 on behalf of the Blackfoot Confederacy. The IFC's inaugural release, Crowfoot was the first Indigenous-directed film to be made at the NFB.
>
>
Vistas: Inukshop (dir. Jobie Weetaluktuk)
In this short film, filmmaker Jobie Weetaluktuk mixes archival and new footage to make a statement about the appropriation of Inuit culture throughout history.
 >
>
>
>
>
>
>
Vistas: Red Ochre (dir. Jerry Evans)
A personal, impressionistic rendering of what it's like growing up Mi'kmaq in Newfoundland, while living in a culture of denial.
>
>
>
>
>
>
Three Thousand (dir. Asinnajaq)
In this short film, Inuk artist Asinnajaq plunges us into a sublime imaginary universe—14 minutes of luminescent, archive-inspired cinema that recast the present, past and future of her people in a radiant new light.
>
>
>
---

Doors open 7pm, film starts 7:30pm

SATURDAY, October 28, 3- 5pm
2 Spirit Dreamcatcher Dot Com – Thirza Cuthand
2 Spirit Dreamcatcher Dot Com queers and indigenizes traditional dating site advertisements. Using a Butch NDN 'lavalife" lady (performed by director Thirza Cuthand), 2 Spirit Dreamcatcher Dot Com seduces the viewer into 2 Spirit "snagging and shacking up" with suggestions of nearby pipeline protests to take your date to, and helpful elders who will matchmake you and tell off disrespectful suitors. It's the culturally appropriate website all single 2 Spirit people wish existed. Following up on her video "2 Spirit Introductory Special $19.99" this work examines the forces of capitalism through envisioning a "financially unfeasible" service for a small minority community.
A playful burlesque performance peels away layers of history to reveal a persuasive and thought-provoking dance that informs as much as it delights.
The Group of Seven Inches – Kent Monkman

Group of Seven Inches borrows from the diaries of 19th century painters of "Indians," George Catlin and Paul Kane, turning their dismissive writings on the "romantic savage" upside down and inside out. Miss Chief Eagle Testickle (the outrageous alter ego of Cree artist Kent Monkman), forces innocent naked white men to become her figure models, seduces them with whiskey, and when she's done with them, dresses them up as more "authentic" examples of the "European male."
Shot on the grounds of the McMichael Canadian Art Collection in Kleinburg, Ontario, Group of Seven Inchessubverts the subjectivity and authority of colonial art history and everything else it can get its hands on.
Miss Chief: Justice of The Piece – Kent Monkman
On loop in the gallery, Oct 27th – Nov 3rd
Miss Chief Eagle Testickle holds court in a performance at the National Museum of the American Indian in Washington, DC. Introducing her new inclusive nation, the Nation of Miss Chief, she deconstructs issues of blood quantum, race and tribal enrollment.
---
Naked Island Detention – Elle-Maija Tailfeathers and David Seitz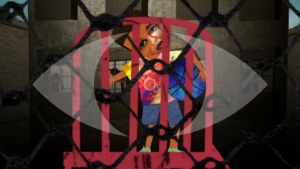 on loop in the gallery Nov 4th – 10th *
WALLS ARE REAL, BORDERS ARE IMAGINARY. An animated criticism of long-term detention for minors in immigration centres.
---
This River – Erika MacPherson and Katherena Vermette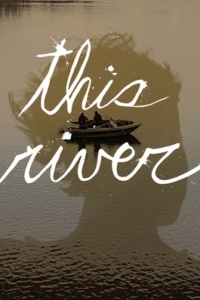 on loop in the gallery Nov 11th to 17th *
This short documentary offers an Indigenous perspective on the devastating experience of searching for a loved one who has disappeared. Volunteer activist Kyle Kematch and award-winning writer Katherena Vermette have both survived this heartbreak, and share their histories with each other and the audience. While their stories are different, they both exemplify the beauty, grace, resilience, and activism born out of the need to do something.
---
It's Not Your Fault – Raven Davis
on loop in the gallery, Nov 18 – Nov 24
It's Not Your Fault is a short movie about the violence of online comments made towards Indigenous people, and specifically about Indigenous Women of Canada, and the negligence of online/social media outlets allowing hate speech. It's Not Your Fault is a personal response recorded, edited and performed by myself, as an Indigenous person who has experienced violence by both Indigenous and Non-Indigenous men.
---
Terre-Neuve – Logan MacDonald
on loop in the gallery, Nov 25 – Dec 8
---
This is one of the 200 exceptional projects funded through the Canada Council for the Arts' New Chapter program. With this $35M investment, the Council supports the creation and sharing of the arts in communities across Canada.
Ce projet est l'un des 200 projets exceptionnels soutenus par le programme Nouveau chapitre du Conseil des arts du Canada. Avec cet investissement 35 M$, le Conseil des arts appuie la création et le partage des arts au cœur de nos vies et dans l'ensemble du Canada.
Eastern Edge would like to further acknowledge the generous support provided by, Flotilla and The Averbach Foundation.