INK FEST Open Studios: Steamroller Block Carving
Want to try out wood block carving? Eastern Edge will be hosting an open carve for St. Michael's Printshop's INK FEST! Join us on Saturday, May 27th from 1-5pm in the Eastern Edge Studios for some wood block carving! Wood blocks will then be printed using a steamroller on Sunday, May 28th!!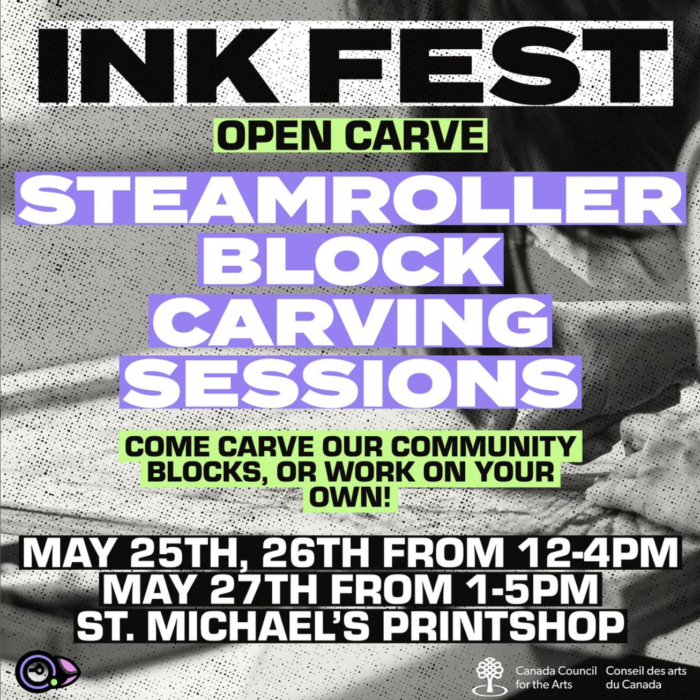 If you love relief printing, or are interested in learning, these open carves are for you.
Come stop by and carve some big time wood blocks with us! We have large community blocks ready to carve and collaborate on, and we have a few smaller (but still large) blocks to carve if you are interested in making your own design. All supplies are included. The blocks will be printed on Sunday May 28th during our Steamroller Printing event, you won't want to miss it!
These open carves are beginner friendly, there will be staff and volunteers available to help you out!
THURSDAY, MAY 25th & FRIDAY, MAY 26th from 12-4PM @ ST. MICHAEL'S PRINTSHOP
SATURDAY, MAY 27th from 1-5PM @ EASTERN EDGE STUDIOS