Jordan Bennett Mural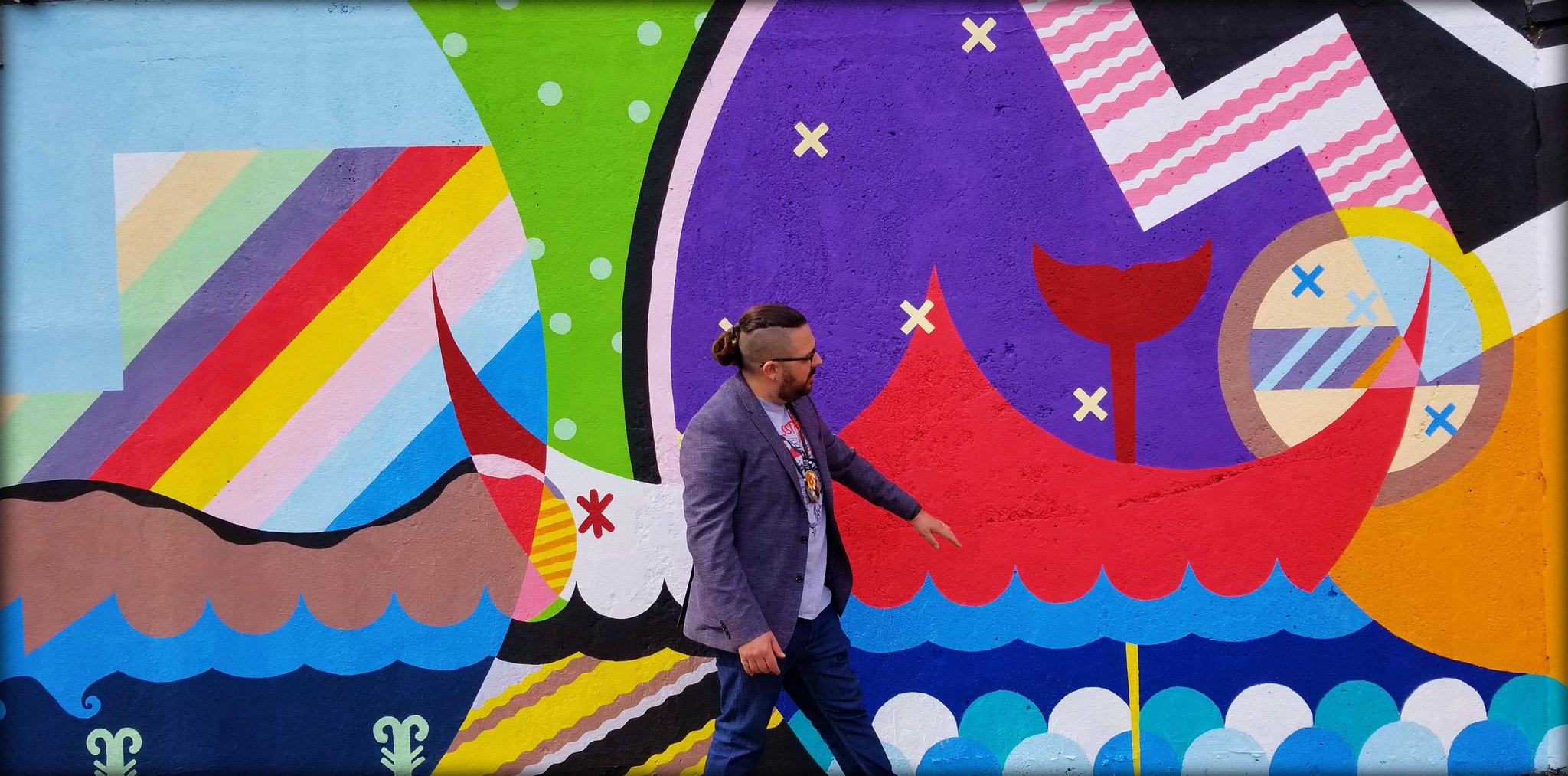 As part of Identify: A Celebration of Indigenous Arts and Culture in April, Jordan Bennett created a beautiful public mural in downtown St. John's. It is thanks to the generous support from the City of St. John's that we were able to help make this project happen! And a big thank you to the continued support from our friends at The Paint Shop for hooking us up with another generous paint donation.
Statement from the City of St. John's:
"City Unveils Mural at Queen's Road
Today, the City in partnership with Eastern Edge Gallery have unveiled a new mural on Queen's Road by artist Jordan Bennett.
"Murals enliven and beautify the city," said Maggie Burton, council lead on the Arts and Culture Advisory Committee. "Congratulations to Jordan on this beautiful work of art and many thanks to Eastern Edge Gallery for approaching us with the opportunity to participate in this celebration of Indigenous arts and culture."
The mural was painted as part of a local art festival called Identify: A Celebration of Indigenous Arts and Culture, which featured visiting artist Jordan Bennett, a mi'kmaq artist and Newfoundlander. Jordan participated in several aspects of the festival, including the design and creation of the mural.
"It has been an amazing experience to create and complete such a large and vibrant work through Mi'kmaq and Beothuk visual culture for the Island of Ktaqmkuk in the city of St. John's," said Jordan Bennett. "I hope this piece will bring the public as much joy and energy it brought to me in creating it."
Since 2005 the City has contracted artists to design and complete several murals throughout St. John's including the Great Fire of 1892 mural on McBride's Hill, the George Street East Stairwell, Victoria Street Steps, Duckworth Street, Flowers Hill, Battery Road, Blackhead Road and Scanlan's Lane.
The Paint Shop Benjamin Moore have generously donated the paint required for the project."
Additional Media:
http://www.stjohns.ca/media-release/city-unveils-mural-queens-road
http://www.thetelegram.com/news/local/st-johns-unveils-new-mural-at-rawlins-cross-204870/
http://vocm.com/news/new-mural-injects-indigenous-imagery-into-downtown-landscape/
https://theovercast.ca/identify-a-2-week-celebration-of-indigenous-arts-and-culture-kicks-off-in-st-johns/