Mainframe Artist Talk with Ale Monreal, April 15 from 1-2 pm
Scroll down for the event recording.
Visit us at 72 Harbour Drive on April 15th (1-2 pm) for our Mainframe resident Ale Monreal's artist talk!
Ale is one of two resident artists working in our space until April 22nd. Her current project, titled "Entre Lineas: recalling time by weaving fragmented memories," is a transdisciplinary project that uses traditional rigid heddle loom weaving, stop motion animation and digital manipulation techniques to create experimental videos.
To learn more about Ale and her work, visit her website at alemonreal.com
Artist Bio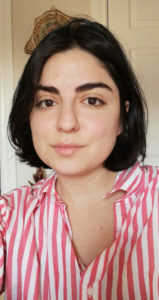 Ale Monreal is a multi-disciplinary artist and film school dropout of Colombian and Chilean descent.  Her body of work consists of several mediums ranging from films, paintings, and textile/needleworks to analog and digital photography. Drawing on inspiration from her childhood summers spent in Colombia at her grandmother's, she merges traditional textile work, painting and analog photography with contemporary media. As a first-generation Canadian, she tries to capture the loss of wanting to be in two places at once and the roaming nature of belonging neither here nor there.
Artist Talk