Maker's Night with FARR AiR Evelyn Roitner and guest artist James Knott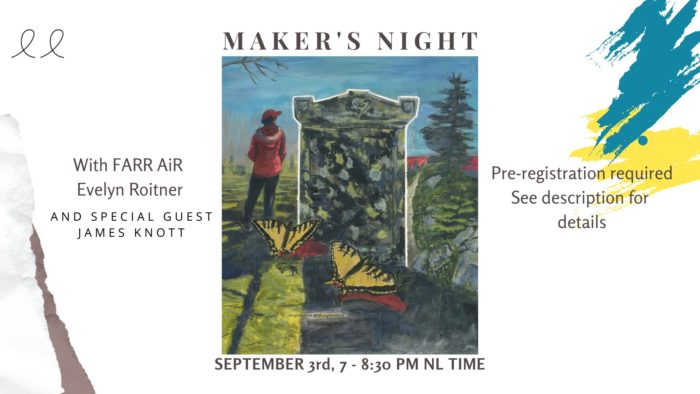 Join us for a special Maker's Night with FARR AiR Evelyn Roitner and special guest James Knott!
Click here to register for this free event.
Evelyn encourages us to indulge in "Personal Map-making" based on something close to our hearts. It can be a person or place we're missing, an animal or a time (memory or future). Participants are encouraged to create their own maps, or work on their own projects throughout the event!
Evelyn's research during her residency focused on "psychogeography*"- a concept first introduced to her by her friend James. During the event, they will discuss maps and their subjectivity (how bias influences maps – power, money, politics, colonization), psychogeography, and place (and its many interpretations).
*Psychogeography's definition according to Guy Debord (1955): "the study of the precise laws and specific effects of the geographical environment, whether consciously organized or not, on the emotions and behavior of individuals."
——————————————————————-
Evelyn Roitner is an emerging multidisciplinary artist and illustrator. Originally from Aurora, ON she is now based in St. John's, NL. In 2016 she graduated from OCAD University with a Bachelor of Design in Illustration.
Through traditional and digital mediums, she explores themes of identity, storytelling, place and personal mythologies.
James Knott is an emerging, Toronto-based artist, having received a Bachelors of Fine Arts in Integrated Media from OCAD University . Their performance-based practice combines theatre, video, and audio art to create immersive and emotionally resonant experiences for the viewer. Currently their practice looks to house personal narratives and queer experience through self mythologizing, and auto-iconographic aestheticism
——————————————————————-
Pre-registration required! Please click the link here to leave your email so that we can send you a link to the event: https://forms.gle/CrrKfaD1c6HGy6k5A
While this method of Zoom/Event access does not make you obligated to attend the event, it does give us permission to send you a link to the event prior to the start time.
This event is FREE and OPEN TO EVERYONE. If you have never attended an event with EE before, we encourage you to partake and make new friends! If there are any barriers to access this event, please email us at gallery@easternedge.ca so we can investigate how to resolve the issue.