Peace Love 'n Pride 2022
Every year Eastern Edge partners with Peace Love 'n Pride for a series of pride week events! This year these events were postponed from the summer to October, to coincide with LGBT History Month.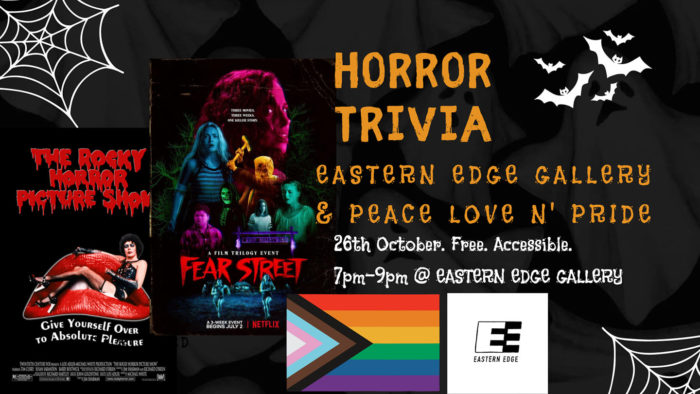 Horror Trivia – October 26, 2022
From Rocky Horror to Fear Street, we love queer horror. Come out and join us for a spooky, silly, fun night of trivia. There is no pre registration for this free event but we do have a medium sized capacity in the building so come early with your groups to get a table!
Our 5 categories will be:
🎃 classic queer horror movies & TV (60's-90's)
🎃 contemporary queer horror & TV (2000s to current)
🎃 queer horror in books
🎃 Disney Halloween and horror (not necessarily queer but campy)
🎃 Drag & horror
This will be all ages but beware, some questions will be far from G rated so you might be in for a scare 😱
Trans Picnic and Clothing Swap – October 30, 2022
This event directly follows the Trans March – the march will end at the Eastern Edge parking lot, and the celebratory picnic will begin! You do not have to attend the march to attend the picnic – you can drop in and leave whenever you want. While this picnic is primarily for trans and non-binary folks, all allies are welcome! Plant-based and gluten free options will be provided thanks to The Nook and Cannery! This is a kid friendly event! There will be chalk, friendly music, and some colouring pages to draw on. Since we have rescheduled to the day before Halloween please feel free to wear costumes
You do not need to bring clothing to donate to take home clothing! just make sure to bring your reusable bags and boxes. If you want to donate gently used clothing, costumes, shoes or accessories please sort them into the sized sections. If you need help their will be volunteers there please just ask.