Poster Design Workshop w/ Joe Fowler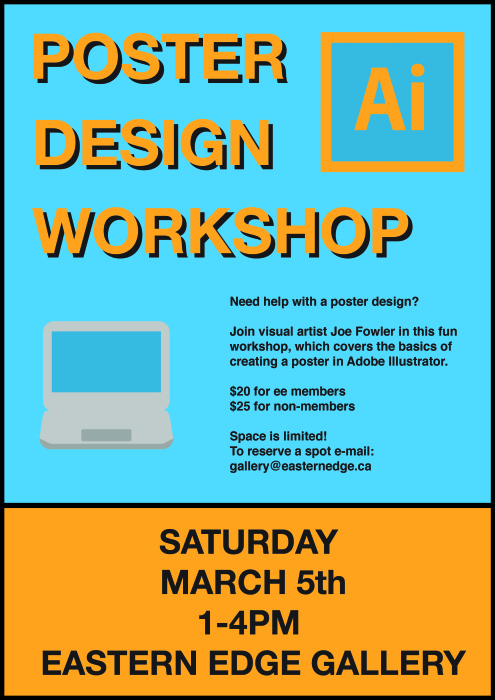 Poster Design Workshop
Saturday March 5, 2016
1-4pm at Eastern Edge Gallery
Need help with a poster design? Learn how create your own unique posters using the latest technology. Join visual artist Joe Fowler in this fun workshop, which covers the basics of creating a poster in Adobe Illustrator. The workshop will cover document setup, basic program tools, font choice, and text organization. The workshop will demonstrate the practical applications of Adobe Illustrator for artists, musicians, and anyone with an event to promote. Participants will leave knowing how to create their own vector-based poster ready to send to the printers.
$20 for ee members
$25 for non-members
Participants are asked to (but not required to) bring:
1. A laptop with Adobe Illustrator installed. Follow this link to install the free 30-day trial:
https://creative.adobe.com/products/download/illustrator
2. An idea for a real or hypothetical event to inspire a poster design.
Space is limited!
To reserve a spot e-mail: gallery@easternedge.ca