rOGUE Gallery, Alex Antle, Njiknam (My Younger Brother)
Drop by on Saturday, March 12th at 1:30 pm for an artist talk with Alex Antle!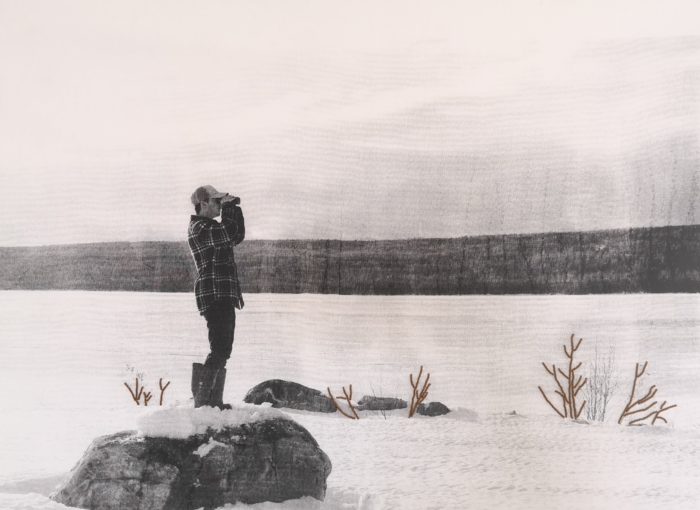 Njiknam (My Younger Brother) is a series of works inspired by Alex's brother, Matt. The series explores the relationship between being a modern Mi'kmaw person and engaging in traditional Mi'kmaq practices. It explores the blend of Newfoundland and Mi'kmaq culture and challenges the stereotype of what cultural practice looks like. Nijknam invites visitors to view the experience of land-based Mi'kmaq culture.
Alex Antle (she/her) is an emerging L'nu artist located in Elmastukwek, Ktaqmkuk (Bay of Islands,  Newfoundland). She has been learning and practicing beadwork for 4 years with the guidance of a  community of Mi'kmaq beaders. Alex has recently started learning and incorporating other traditional practices into her work including caribou tufting and quillwork.
Alex's work explores the relationship between tradition and modern Mi'kmaq people. She is interested in living culture, the evolution of Mi'kmaq culture, and the importance of land and water. Alex has exhibited her work in galleries across Atlantic Canada, participated in art festivals, and frequently shares her skill through beading workshops. In 2021, Alex received the emerging award from VANL-CARFAC as well as a professional project grant from the Newfoundland and Labrador Arts Council. Alex also creates wearable art and runs a  small arts-based business, Bunchberry Beadwork.
Facebook
https://www.facebook.com/bunchberrybeadwork 
Instagram
https://www.instagram.com/bunchberrybeadwork 
 https://www.instagram.com/alexantle/ 
Website
www.bunchberrybeadwork.ca
TikTok
@BunchberryBeadwork