Spirit Song Festival 2020: Artist Talk with Jordan Bennett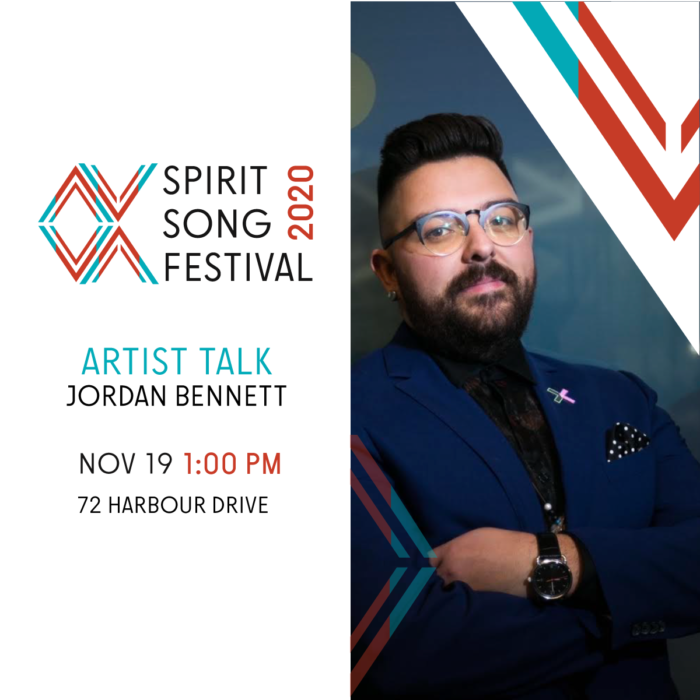 EE and First Light are partnering to bring you lots of incredible programming during Spirit Song Festival 2020 (November 18th – 24th)!
Join us online, November 19th, at 1 pm (NL time) and tune into Jordan Bennett's artist talk, live-streamed on the Sprit Song Festivals Facebook page from EE studios!.
Click here to be brought to their Facebook Page.
If there are any barriers to accessing this event, please email us at gallery@easternedge.ca so we can investigate how to accommodate you.
---
Jordan Bennett is a Mi'kmaq visual from Stephenville Crossing, Ktaqamkuk (Newfoundland). He lives and works on his ancestral territory of Mi'kma'ki in Terence Bay, Nova Scotia with his partner in life and art Amy Malbeuf. Jordan's ongoing practice utilizes painting, sculpture, video, installation and sound to explore land, language, the act of visiting, familial histories and challenging colonial perceptions of indigenous histories and presence with a focus on exploring Mi'kmaq and Beothuk visual culture of Ktaqamkuk. In the past 10 years Jordan has participated in over 75 group and solo exhibitions nationally and internationally in venues such as the Smithsonian-National Museum of the American Indian, NYC; MAC-VAL, Paris; The Museum of Art and Design, NYC, NY; Museum of Contemporary Native Arts, Santa Fe, NM; Project Space Gallery, RMIT, Melbourne, AUS; The Art Gallery of Nova Scotia, The Winnipeg Art Gallery, The Power Plant, Toronto, ON; Musée d'art contemporain de Montréal, Montreal, QC; Institut du Monde Arabe, Paris, France and was one of two artists to represent Newfoundland and Labrador in the 2015 Venice Biennial at Galleria Ca'Rezzonico, Venice, Italy as part of the official Collateral Events.