100 Mini Houses: A Downtown Exploration: Molly Margaret
"100 Mini Houses; A Downtown Exploration, is an exhibition of 100 miniature portraits showcasing the magic and detail of the houses and buildings in Downtown St. John's.
In 2019 I began to paint mini house portraits as gifts for friends and family. After posting a few online, I received overwhelming support and started to accept commissions from clients for custom pieces. While this was all developing, so was a sneaky little global pandemic.
The idea of producing 100 mini house portraits struck me as the perfect pandemic project. Throughout my life, I was aware of the big and grand, as well as tiny and sweet homes that made up the architecture of Downtown St. John's. The goal of my exhibition was to create a large body of work that represented what I see in my hometown. It is a beautiful, quirky city with so much character, and I feel honoured to celebrate it in this way."
– Molly Margaret
Click here to watch Molly's Artist Talk.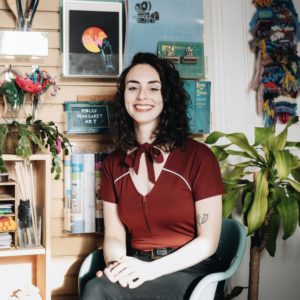 Molly Margaret is an illustrator and creator living in St. John's, Newfoundland. Her work is largely inspired by Newfoundland imagery and culture, as well as architecture and people wearing tiny boots.
Click here to go to her website