The Tara Bryan Legacy Fund Presents Mary Risala Laird
The Tara Bryan Legacy Fund presents two special events with visiting artist Mary Risala Laird.
Thursday, October 12: Artist Talk
7-8:30pm, Eastern Edge Gallery (Reception to follow)
Laird will take us on an art meander through her life, and ask us to look at our own lives and the conjunction of events. Why do we do what we do? What gives us joy? Do we remember how to play? How do we refresh our sense of wonder? How do we weave all the parts of our lives into a sparkling net, if a sparkling net is what we wish?
This event is free of charge; donations to the Tara Bryan Legacy Fund accepted.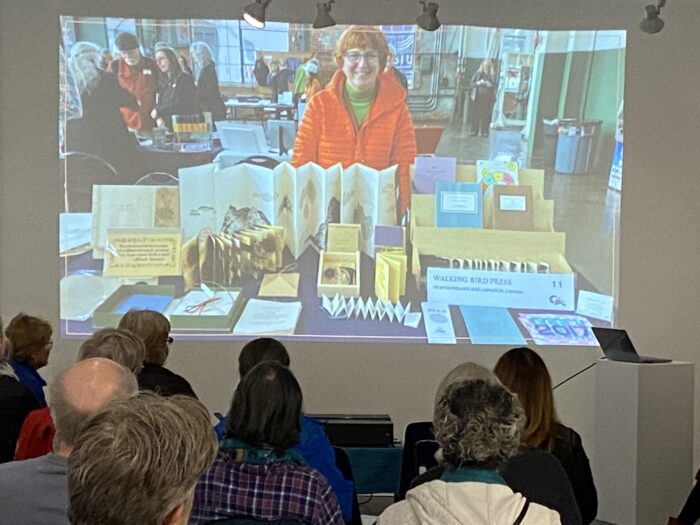 Saturday, October 14: Book-binding Workshop
10:30am-3:30pm, Quidi Vidi Village Artisan Studios
Bind your own copy of Lebanese Mountain Cookery! Learn a multiple-signature-link stitch, make book covers by hand, discover letterpress editions of poetry and art from Quelquefois Press, and go home with a cookbook!
$50 with supplies and lunch included. Register at marylaird.eventbrite.ca
The Tara Bryan Legacy Fund celebrates the memory of book artist and painter Tara Bryan by
expanding and supporting Book Arts and Visual Arts in Newfoundland and Labrador.
A key, beloved figure in the arts community of this province, Tara had a prolific and far-reaching
career. Although celebrated locally for her landscape paintings and imagery of icebergs, she was
also fundamental to the book arts community both locally and internationally. She was known for
her original, inventive handmade artists' books, many of which were letterpress-printed and
bound in her own printshop: walking bird press.
Tara Bryan passed away in September 2020. She will long be remembered not only for her
impressive achievements in art, but also for her compassion, wit, intellect, and verve.