Thirteen: Chapbook Launch & Queer Poets Open Mic
Friday June 7th, 6:30-9:00 PM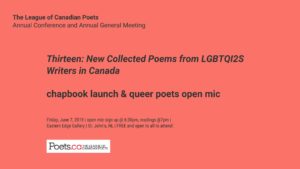 The League of Canadian Poets is coming to St. John's and we're thrilled to be hosting a launch for Thirteen: New Collected Poems from LGBTQI2S Writers in Canada (LCP Chapbook Series) – our newest chapbook made in celebration of LGBTQI2S voices that continue to enrich, question, and propel literature in Canada!
Join us to celebrate Thirteen with feature readings, plus sign up for our queer poets open mic!
Sign up starts at 6:30pm, readings at 7.
Pay What You Can, with 100% of proceeds donated to Planned Parenthood – Newfoundland and Labrador Sexual Health Centre! Open to all to attend!
This event is a celebration of LGBTQI2S poets and their contributions to the Canadian poetry community! Please be mindful of your relationship to the LGBTQI2S community when considering signing up for the open mic. We're here to create space for queer folks to read 🌈💖🌈
Cash bar and light refreshments (free). A limited number of chapbooks will be available for sale ($10 each).
Feature readers:
John Barton
Chloe Lewis
Jim Nason
To learn more about Thirteen, visit poets.ca/products/thirteen.
Accessibility Information:
Eastern Edge Gallery is committed to creating a space that is as physically accessible as possible to all of our patrons and members of the arts community. No entrances leading to the gallery have buttons to press to automatically open the doors and all require someone to physically (manually) open them. There is a ramp in the front of the building leading from the outside parking lot through a set of glass double doors (width of 71 inches). They lead into the main hallway of the building, where you will find the purple double doors (width of 64 inches) leading to Eastern Edge Gallery on your immediate right. The bathroom is just to the left of the hallway (width of 39 inches) down a slight ramp, and the doorways to the bathroom is 30 inches wide. The bathroom is a small space, approximately 6 feet by 5 feet – even less so with the toilet, sink, and swinging door taken into account). The building recently had a second bathroom located just beyond the first one, with more floorspace making it more accessible to our patrons.
Safer Spaces Policy:
Eastern Edge Gallery will not tolerate discrimination or violent acts in any capacity, which includes but is not limited to: racism, white supremacy, sexism, heterosexism/homophobia, cissexism/transphobia, queerphobia, sizeism, ableist and ageist comments, sexualized and all acts of violence and harassment. This policy is always in effect and we are dedicated to creating as safe and welcoming space as possible within the gallery. If you have any questions, or suggestions on how we could improve our safer spaces policy, please do not hesitate to contact us by phone at (709) 739-1882 or email (gallery@easternedge.ca).
This event is programmed as part of the League's Annual Conference and Annual General Meeting. To learn more visit poets.ca/conference.
About the League of Canadian Poets:
The League is the professional organization for established and emerging Canadian poets. Founded in 1966 to nurture the advancement of poetry in Canada and the promotion of the interests of poets, it now comprises over 700 members. The League serves the poetry community and promotes a high level of professional achievement through events, networking, projects, publications, mentoring, and awards. It administers programs and funds for governments and private donors and encourages an appreciative readership and audience for poetry though educational partnerships and presentations to diverse groups.