Three Launches – One Evening at Eastern Edge!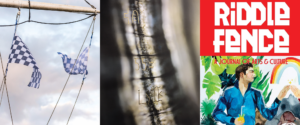 (Image: November, November – Ryan Josey; Michelle Sylliboy; Riddle Fence Issue #32 Cover – Lily Taylor)
Meet EE Studios Summer Artists in Residence:
Craig Francis Power, Ryan Josey & Teresa Connors!
rOGUE Opening Reception
Michelle Sylliboy: Komqwejwi'kasikl
Performance: Kiskajeyi – I AM READY
Artist Michelle Sylliboy will be launching her Hermeneutic exploration of Mi'kmaq komqwejwi'kasikl poetry with a solo exhibition and performance. Breathing life into the ancestral writing system of hieroglyphic words and ideas through her poetry, Michelle will bring together local musicians in a performance connecting space and time to that of this land's Komqwejwi'kasikl language. Copies of Kiskajeyi – I AM READY will be available for sale throughout the evening.
Riddle Fence Spring Issue Launch
 & podcast listening room in the David Tuck Memorial Library!
Also, Eastern Edge is happy to be hosting attendees of the APAGA conference on Thursday, June 13th. There will be lots of great folks involved in the arts from across the Atlantic for you to meet!