Welcome to our new AiR, Renée Brazeau!
Join us in giving a warm welcome to our new Artist in Residence, Renée Brazeau! Renée will be working here in the Eastern Edge Studio from September 1st to October 14th, 2023.
Renee Brazeau intends to work on a quilted mapping project exploring the relationship between place and the expression of one's queerness.  The exploration will begin by creating a series of large imaginary quilted maps. These maps could take the form of recognizable aerial maps and/or psychological maps. Brazeau will approach quilting in a painterly fashion by intuitively combining embroidery, screen-printing, sewing and applique techniques to create non-traditional quilts. This non-traditional approach to quilting rejects the idea of following a pattern, similarly to how queerness is about rejecting society's pre-determined pattern.
Renee would like to acknowledge the grant she has received from Canada Council. This grant will play a pivotal role in supporting Renee's residency at Eastern Edge.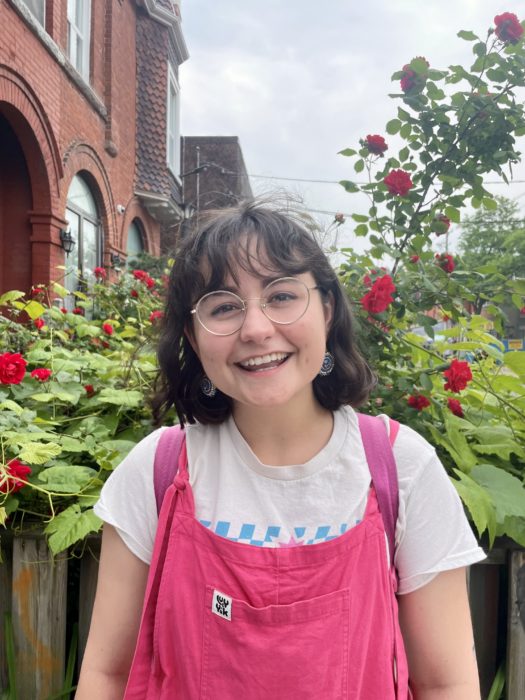 Renée Brazeau (she/they) is a queer, femme, white-settler, artist and educator who is currently based out of Kjipuktuk (Halifax).
With a formal background in drawing and painting, Renée applies a painterly approach to their developing textile practice, in which they are mostly self-taught. Their work explores themes of place, mapping, queer identity, chronic illness, daily mundane moments, quotidian joy, establishment of self, and belonging. Renée's work is made in an attempt to better understand and document where she is both physically and psychologically in a given moment.
They completed their Bachelor of Fine Arts (Honours) and Bachelor of Education both from Queen's University in Kingston, Ontario. Following their undergraduate studies, they pursued a Masters of Arts in Art Education from NSCAD University, where they developed a keen interest in socially engaged community art education.  Renée currently balances her time between her art practice and teaching within community and post-secondary contexts.
Stay tuned on our website and social media channels for updates on Renée's residency!