Amalie Atkins / The Shed Collective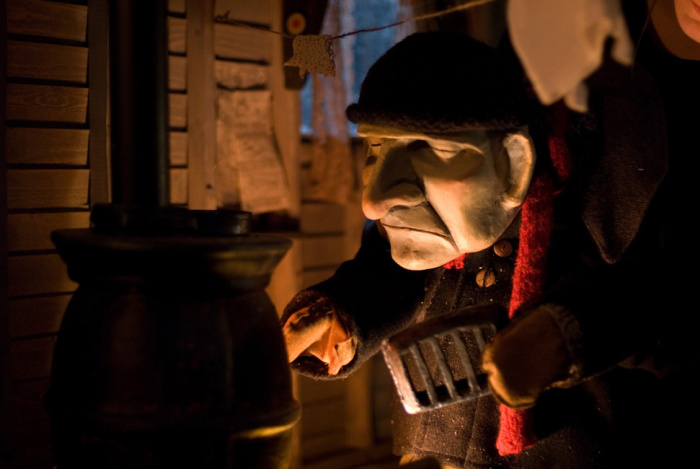 AMALIE ATKINS – SCENES FROM A SECRET WORLD
THE SHED COLLECTIVE – DARK NIGHT OF THE UGLY STICK
MAY 1 – JUN. 12
Scenes From a Secret World delves into the life/death/life cycle of fairy tales while proposing re-imagined archetypal characters: a wolf that is not evil and a damsel who is not in distress. Set in a fictional world that combines the distinctive atmosphere of chosen locations with a lyrical sound scape, the film and photographs investigate the interconnectedness of humans and nature. Amalie Atkins' work is inspired by the repetitive tasks related to her textiles work, such as cutting and stitching, during which subconscious ideas emerge into stories and eventually story lines. Having studied at the Alberta College of Art and Design, Atkins currently lives and works in Saskatoon. Her work has been exhibited across Canada and in 2009 debuted in Berlin, Germany.
Read the collection of poems by Sylvia Legris.
Dark Night of the Ugly Stick features a scale replica of a typical rural Newfoundland shed, found by many to be reminiscent of 'pop's shed'. This detailed world, filled with hand built tools, unfinished projects, memories, and odds and ends, is the playing space for a short film evoking the pathos of what will be lost when the last generation of pre-confederation Newfoundlanders has died, and younger generations have left these rural communities. The Shed Collective is a diverse group of local artists including filmmakers, visual artists and artisans brought together to create the setting for the short film "Dark Night of the Ugly Stick". Their collaboration has resulted in an evocative and meticulously detailed replica of a rural Newfoundland shed offering us an intimate glimpse into a disappearing way of life. The Shed collective includes: visual artists Scott Keating, Peter Drysdale and Monique Maynard; artist and puppeteer Darka Erdelji; writers/filmmakers David Keating and Jonathan Watton.
Read the exhibition essay by Monique Tobin.