Anna Williams – Dark Timber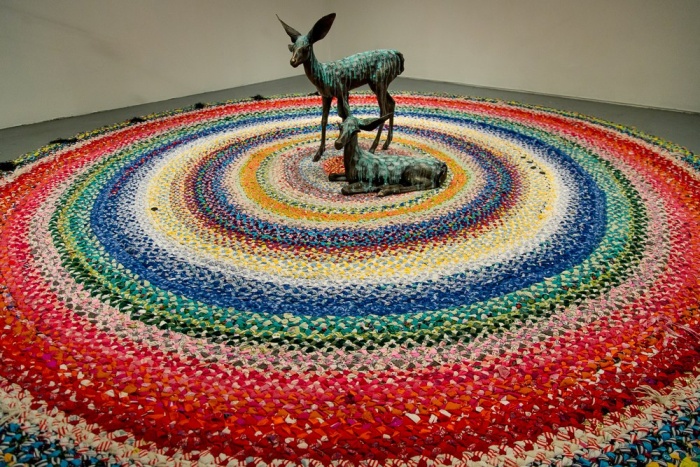 Dark Timber is a mixed sculptural installation that explores the link between human and animal through the investigation of what we have lost in our passage from nature to culture.
This work centers around two life-sized bronze whitetail deer fawns who stand upon a brightly coloured, braided rug made of collected old clothing that Anna continues to enlarge during the show from clothing brought to her by viewers. Traversing the gallery space, a cloud of one hundred clear flameworked glass hunting arrows loom above the fawns.
Opening reception + Artist talk: February 23rd at 7pm
About the artist:
Anna Williams was born in 1984 in Ottawa, ON. After studying fine arts at Mount Allison University she returned to Ottawa where she continues to live and work. Her sculptures employ the animal and narrative to examine the construction and manipulation of identity in contemporary society. Williams has had solo shows in both Canada and the U.S., and had works purchased by the Canada Council Art Bank, the Bank of Canada, the City of Ottawa, and the Femme Art Fund, as well as numerous national and international private collections. Williams is currently working on her second large-scale public commission for the City of Ottawa.