HOLD FAST Pop-Up Schedule

The Art Crawl is the highlight event of HOLD FAST, taking place in downtown St. John's on the evening of Saturday August 27th, from 2-8pm. At this event, downtown St. John's comes alive with artistic performances delivered at various outdoor and indoor locations across the city. Featured festival artists and locals alike present performances, exhibitions, interventions, and more!!! Check out the projects by our featured festival artists and pop-up partners below!
Pop-Ups
Connie Michele Morey – Rootless performance
Connie Michele Morey's studio practice explores the experience of home as ecological interdependence. Through site-specific performance, and participatory sculptures
documented through photography and video, her work questions the relationships
between ecology, displacement and belonging.
Connie Morey will perform Rootless, which explores the embodied experience of being displaced from the earth-as-kin in the face of the industrialization of living things.
When: 2pm (20-30 minutes)
Where: The Craft Council, 155 Water Street
---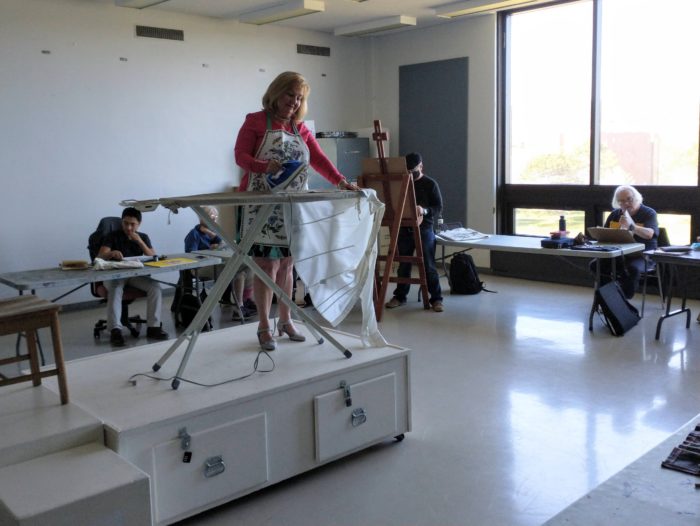 Group of 77 – Figure Drawing
Join our sketching group, Group of 77, as we spend a few relaxed hours drawing outside from live, timed models. No experience is necessary, we welcome artists of all levels! Take time to explore the benefits and challenges of drawing from life. Just bring your sketching materials.
When: 2-4pm
Where: Magnum & Steins outdoor patio, 329 Duckworth Street
---
Library on the Go – Nature Zines

Come make a nature themed zine with Library on the Go! We will have pre-folded booklets with suggestions on how to fill the journal. This could include drawing, writing, taping items into the booklet, etc. This will be an interactive activity for participants of all ages.
When: 2-5pm
Where: Government House (parking lot)
---
Jessica McDonald – An Invitation to Weave
Jessica McDonald invites you to come sit at their loom, and try your hand at weaving! Press the treadles, pass the shuttle, beat the reed, and create your very own small piece of woven cloth.
Jessica McDonald is a textile artist based in St. John's, Newfoundland. Rooted deeply in preservation and loss, she is passionate about exploring concepts of home, community, and textiles and the history that it carries. Jessica brings the traditional craft of textiles to light through exploration, research, and teaching.
When: 2-6pm
Where: 81 Cochrane Street
---
The Quad – The ART of MAKEUP!
Come learn tips and tricks about makeup from two local makeup artists and drag performers. Jade Nohels and Michael O'Brien will teach some drag makeup techniques along with some everyday looks. There will be limited makeup and other products FREE to take during the event. All ages, location is accessible, please use Gower Street doors to enter the building.
When: 3-6pm
Where: Gower St United Church
---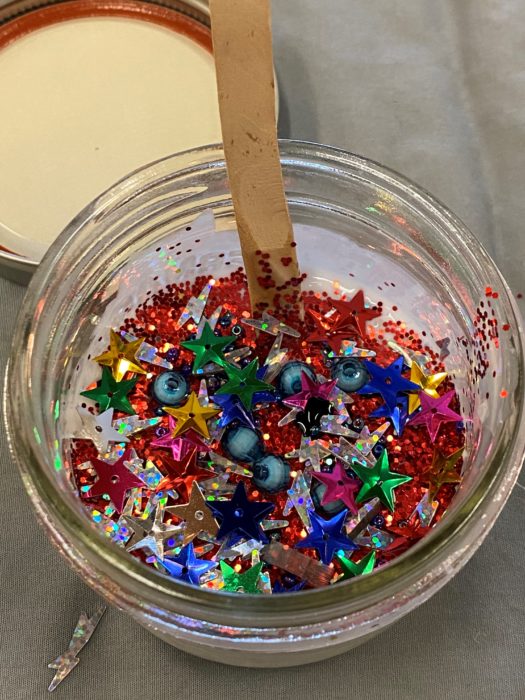 Admiralty House Museum – SLYME!
When you think of Mount Pearl, do you think of punk rock? Join Admiralty House for our punk rock 'SLYME!' activity to celebrate over 40 years of punk rock and DIY creativity in the province.
When: 2-8pm
Where: Eastern Edge Parking Lot, 72 Harbour Drive
---
Mystery Letter Stickers
Stop by Eastern Edge Studio and pick up some free letter stickers. Use the stickers to create messages, images, and public interventions. A sticker can be stuck anywhere. A letter can be anything. Make your mark and watch it disappear.
When: 2-8pm, or until the stickers run out!
Where: Eastern Edge Studio, 72 Harbour Drive
---
The Rooms – Artist Spotlight + Paper Sculpture
Nasim Makaremi Nia is an artist from Iran, currently living in Newfoundland and Labrador. Her art is focused on subjects such as humanity, the lives and the emotions of women, and she uses animals and products like tampons and sanitary pads as symbols to deal with sexuality to magnify gender discrimination and censorship.
When: 2-4pm
Where: The Rooms (3rd floor atrium), 9 Bonaventure Ave
---
East Coast Quilt Co – Quilted Whale
Come see the 20 foot quilted whale, assembled by the East Coast Quilt Co team! This whale made its debut at the Festival of Quilts in Bay de Verde earlier this month and is breaching the surface one more time to participate in HOLD FAST.
When: 2-7
Where: 81 Cochrane Street
---
Shazia Ahmad – Diorama Installation
Come see the beautiful collaborative dioramas made during Shazia Ahmad's workshop earlier in the week! Participants worked together to create two dioramas based on downtown St. John's.
When: 2-8pm
Where: Anna Templeton Centre, 278 Duckworth St
---
Faune Ybarra – Eco-Printed Blanket
Come see the collective "eco-printed" blanket made during Faune Ybarra's "Flower Pounding" workshop. This collaborative piece considers the poetics of juxtaposing a material typically understood as fragile (flowers), with the force of a hammer.
When: 2-6pm
Where: Rocket Bakery, 294 Water Street
---
Louis Atkinson – Sisters with Transistors film screening
Sisters with Transistors is the remarkable untold story of electronic music's female pioneers,
composers who embraced machines and their liberating technologies to utterly transform how we produce and listen to music today. The film maps a new history of electronic music through the visionary women whose radical experimentations with machines redefined the boundaries of music, including Clara Rockmore, Daphne Oram, Bebe Barron, Pauline Oliveros, Delia Derbyshire, Maryanne Amacher, Eliane Radigue, Suzanne Ciani, and Laurie Spiegel. It is narrated by Laurie Anderson.
When: 5-6:30 Friday and 2:30-4pm and 5:30-7pm Saturday
Where: NIFCO, 40 Kings Road
---
St. Michael's Printshop – Live screen printing!
Come try your hand at some DIY t-shirt screen printing! Bring your own shirt, and print one of SMP's pre-made designs, including a custom HOLD FAST t-shirt design, not available anywhere else!!
When: 2-4pm
Where: Eastern Edge Parking Lot, 72 Harbour Drive
St. Michael's Printshop – Members' Exhibition Closing Reception
This is your last chance to see the St. Michael's Printshop Members' Show! Come check out what our local printmakers have been up to this past year.
When: 6-8pm
Where: St. Michael's Printshop, 72 Harbour Drive (upstairs)
---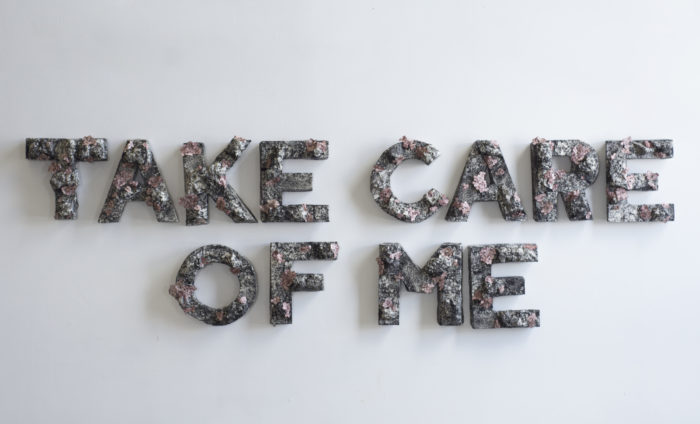 Emily Critch – Pearly Everlasting

Pearly Everlasting is a text based print installation that honours the artist's inherited histories from their Grammy based on a road trip they took together in the fall of 2017. Pearly Everlasting mediates family stories and feelings of nostalgia and loss, and considers how place contributes to personal narrative.
Emily Critch is a Mi'kmaw and settler artist, curator, and writer from Elmastukwek, Ktaqmkuk Territory (Bay of Islands, NL). She is based in St. John's, NL, working remotely as the Program Coordinator with the Indigenous Curatorial Collective, and the 2021-23 Adjunct Curator with the Owen's Art Gallery.
When: TBD
Where: Johnny Ruth
---
First Light – Painted Piano Concert + Pop-Up Gallery
Come out to First Light's venue for Performance and Creativity for a performance by pianist Gary Johnston, singer Rebecca Sharr, and artist Nelson White. This event is sponsored by Business & Arts NL, Cenovus, and Come Home Year.
Nelson White
Nelson White is Mi'Kmaq painter who is a member of the Flat Bay First Nation Band (No'kmaq Village) in Flat Bay, Newfoundland. His father is a respected elder who was recently awarded the Order of Canada for his lifetime of lobbying for the rights of Mi'kmaq people.
Nelson attended the Visual Arts program at the then Bay St. George Community College in Stephenville, NL and later the Nova Scotia College of Art and Design in Halifax, NS. After a brief career in advertising, Nelson had a long career in administration both in professional sports and later non-profit. During that time he continued to paint and draw while focusing on commission work and one off projects.
Over the last number of years, Nelson has become a working artist with his pieces exhibited frequently throughout Canada and the US in both group and solo shows. His work has been featured on CBC's The National. His paintings are included in public in private collections across North America, including the provincial art collection of Newfoundland and Labrador, PEI and the Smithsonian's National Museum of the American Indian. Nelson was the first Indigenous artist in residence at the Rooms, Newfoundland & Labradors Provincial Art Gallery as well as Residence with Fogo Island Arts.
Nelson currently lives in St. John's, NL with his family.
Rebecca Sharr
Rebecca Sharr is a Drummer, Fancy Shawl Dancer, and self identified Indigenous woman who is a proud
member of Eastern Owl. She was born and raised in St. John's Newfoundland and grew
up with the love and passion for singing. At 13 years old, Rebecca began attending the After School
Program at the First Light, where she was introduced to the beat of the drum. She began fancy shawl dancing, and has been dancing at the Conne River Pow Wow for over a decade. Becca is now a program facilitator at First Light, working at such programs as Community Cultural Circle, and spends her life actively involved in cultural revitalization in St. John's.
When: 2-7pm, concert at 6-6:30pm
Where: 81 Cochrane Street
---
Social Justice Co-Op

Join volunteers from the Social Justice Co-op in making zines! We will have materials for you to make a small zine (but feel free to bring your own as well!) that you can take home with you. Get to know the Co-op while creating something fun.
When: 2-5pm
Where: Anna Templeton Centre, 278 Duckworth St
---
Newfoundland Queer Research Initiative
We will be hosting an interactive feature that asks participants to put a sticker on a place on the map that is important to their own personal queer history. We will also have pamphlets and a suggestion box set up.
When: 2-8pm
Where: Water Street Pedestrian Mall
---
Association for New Canadians
The Association for New Canadians will be onsite in the Eastern Edge Parking Lot from 2-4 to engage participants in fun activities which help them identify their cultural values while learning how this impacts interpersonal relationships. Learn about the ANCs role in the community and enjoy newcomer art.
When: 2-4pm
Where: Eastern Edge Parking Lot, 72 Harbour Drive
---