Call for Submissions: Eastern Edge Members' Exhibition 2023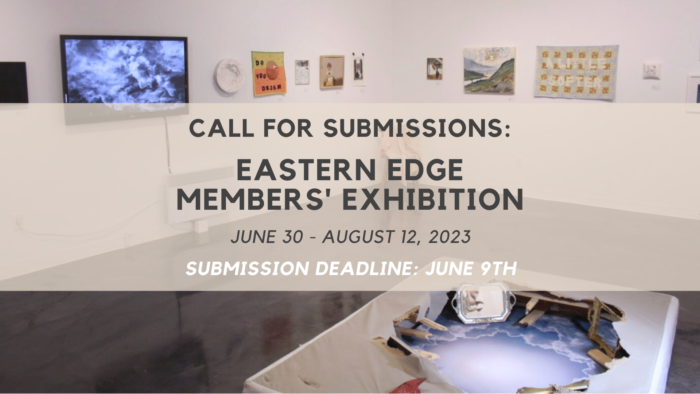 Calling all Eastern Edge Members! Our annual Members' Exhibition is coming up, and we want your submissions! This is your opportunity as a member of Eastern Edge to showcase what you have been up to this past year alongside other members of our talented community. We want to see what you have been making!
This exhibition has an open theme – all mediums are welcome! If you are considering presenting new media, video, or kinetic work and require any technical assistance, please contact the gallery in advance to see if we can help accommodate your needs.
Where this show is open to our full membership, we could be showing upwards of 40 artists' work. Therefore we cannot take extremely large pieces from every person. For works larger than 4 feet in any direction, please contact gallery staff in advance, and we will let you know if we will be able to accommodate the work.
Submission deadline: June 9th
Artwork drop-off dates: Tuesday June 13th – Saturday June 17th, 12:00 – 5:00 pm
Exhibition dates: June 30th – August 12th, 2023
Any work submitted after the submission deadline will not be accepted. If you require a drop-off time outside of these hours, please contact the gallery in advance, and we will try our best to accommodate you. Work should be delivered ready to display with all necessary hanging materials (magnets, hooks, etc.)
Submission Guidelines:
Limited to 1 work per member
Image of work (jpg or png format)
Title, medium, year, and dimensions of the artwork
Any special equipment needed (ie. plinth, shelf, etc.)
Your full name, phone number, and email address
Please email your submission to easternedgegallery@gmail.com by June 9th, 2023, with "EE Members' Exhibition 2023" in the subject line. If you have any questions in regards to your submission, please don't hesitate to ask!
If you are not an EE member already, you can sign up when you come to drop off your work at the gallery, or sign up online by clicking here!