Coco Guzman – Los Fantasmas / The Ghosts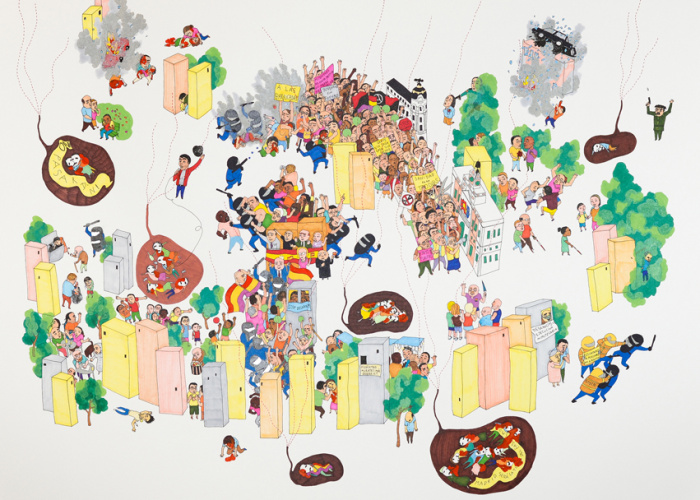 Los Fantasmas / The Ghosts is a visual exploration of the silenced contemporary history of Spain. The fight against fascism during the Spanish war and the years of Franco's fascist dictatorship now inspires hundreds of thousands of people in present-day Spain, who are fighting oppressive government policies and advocating for the recovery of their silenced history.
Highlighting the artist's intricate drawing skills, Los Fantasmas / The Ghosts comprises an illustrated narrative dealing with the laws of silence and the ways in which silenced histories emerge and survive, in spite of the powers in place that work to erase the facts and events of human history. In one sense, Los Fantasmas / The Ghosts is the story of mass graves in Spain. But it also tells the story of many other lands, and the people who are fighting to keep history/present/memory/identity alive.
Opening reception: Friday, September 4th at 7pm
Workshop with the artist: Saturday, September 5th at 1pm
About the artist:
Born in Southern Spain and based in Toronto, Coco Guzman creates work ranging from large, immersive installations to extraordinarily detailed visual narrations and queer graphic novels. Their work has been shown in contemporary art spaces in North America, Latin America, Europe and Asia. Actively engaged in public education, Coco is an experienced drawing teacher whose studio has become a hub for exhibitions, workshops and discussions. Coco's work has appeared in internationally renowned art magazines in Canada and Japan, as well as in established academic and activist publications.
About the workshop:
In this two-hour workshop, you are invited to explore the act of drawing using oral history, maps, cultural productions, and city archives. Coco will share the process of researching and creating the drawings in Los Fantasmas, and will guide you in making a drawing of your own. Combining creative writing techniques with visual storytelling tools, you will bring onto paper stories often kept invisible or secret. The group will discuss notions of memory and silence in drawing, investigate visual and archival materials, and, most importantly, work with our drawing tools to visualize the invisible.
– –
The exhibition is generously supported by the Conseil des arts de Montréal, and by the Canada Council for the Arts, which last year invested $153 million to bring the arts to Canadians throughout the country.
Nous remercions le Conseil des arts de Montréal, et le Conseil des arts du Canada de son soutien. L'an dernier, le Conseil a investi 153 millions de dollars pour mettre de l'art dans la vie des Canadiennes et des Canadiens de tout le pays.