Eastern Edge will be at Flotilla with SHEDtalks!
Eastern Edge is excited to present a series of salon style discussions  SHEDtalks, ( a play
on TEDtalks) at  the Carriage House at Beaconsfield in Charlottetown PEI.

Through a contemporary art context, these talks/roundtables  will showcase marginalised and rural voices from our province: artists, writers, poets, curators and researchers.  Bring their unique and personally-informed voices to a wider audience Atlantic and North Atlantic audience.
Jane Walker 'Untitled' 2014, 35 mm film scan
I am a Rock
Friday September 22: 1 - 3:30 PM
Location: the Carriage House at Beaconsfield

Explores the role of traditional knowledge in contemporary art and exhibition-making on an island. The panel will engage and encourage conversations around new forms of art production and knowledge based in the traditional practices of isolated regions of the North Atlantic, including the Shetland islands. Discussion will reveal experiences of contemporary artists, Meagan Musseau, Vivian Ross-Smith, and Jane Walker,  working on islands and in communities shaped by their surrounding coastlines.
Panel moderator, Hannah Morgan (Prince Edward Island)
Panelists: Meagan Musseau (Western Newfoundland), Jane Walker (Newfoundland) Vivian Ross-Smith (Edinburgh, Scotland)


Contemporary Indigenous Art Practice in Atlantic Canada
Saturday September 23, 1:00 – 3:30 PM
Location: the Carriage House at Beaconsfield


As Indigenous and Indigenous-settler artists working together in Atlantic Canada, we have connections to our ancestral territories, but aren't necessarily fixed to one place, as we draw from the lands, waters, and Traditional knowledge systems of Turtle Island.
Working in this particular era, what does it mean to be a contemporary Indigenous artist, and how does Atlantic Canada inform our multi-disciplinary practices.
Focusing on new modes of creative expression by NL, NB and NS-based Indigenous multi-disciplinary
artists, musicians, poets, and performance artists, this panel aims to create an inclusive entry point into the process of revisiting, telling and re-telling of personal and collective
histories while navigating the art world.

p'taquwa / our people up the river. photograph of reclaiming beothuk pendent, 2016, Artist Meagan Musseau

Panel Moderator- Shannon Webb Campbell (Quebec/Newfoundland, Mi'kmaq)
Panelists: Meagan Musseau (Western Newfoundland, Mi'kmaq), Joanna Barker (Newfoundland,
Mi'kmaq), Lindsay Dobbin (Nova Scotia/New Brunswick, Mohawk)
Find out about the Participating Artists below;
JOANNA BARKER is an Innu-Mi'kmaw singer, songwriter and musician from Grand Falls-Windsor, NL and a member of Qalipu Mi'kmaq First Nation. Her album, February, was nominated for two Music NL awards and shortlisted for the Atlantis Music Prize. Currently living in St John's, Joanna is the Programming Director at Girls Rock NL and the Co-Director of St. John's Women in Music (SWIM). For the past three years, Joanna has been working as a Research Assistant with Dr. Jocelyn Thorpe (University of Manitoba) on an oral history project of Newfoundland Mi'kmaw perspectives on the past.
LINDSAY DOBBIN is a mixed Indigenous (Mohawk) / Settler (Acadian / Irish) artist, musician, curator and educator who lives and works on the Bay of Fundy, Canada. Born in and belonging to the Kennebecasis River Valley in New Brunswick, Dobbin has lived throughout the Maritimes as well as the Yukon Territory. As a person of mixed Indigenous ancestry, Dobbin seeks to embody what it means to respect Indigenous understandings and engage in self-reflective processes of decolonization and reconciliation.
Dobbin's place-responsive practice includes media art, performance, sculpture, installation, social practices and writing, and is invested in and influenced by Indigenous epistemologies and cultural practices, such as drumming. Through placing listening, collaboration and improvisation at the centre of the creative process, Dobbin's practice explores the connection between the environment and the body, and engages in a sensorial intimacy with the living land.
HANNAH MORGAN (b. Charlottetown, P.E.I.) is a Master's student of Art History at Concordia.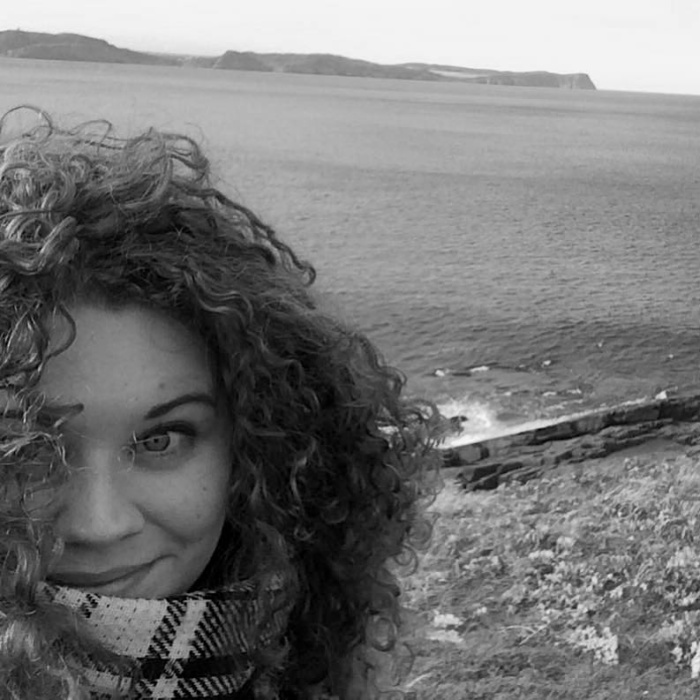 Originally from Prince Edward Island and having completed her BA at Mount Allison University, her research focuses on the curatorial practices within Atlantic collections and engaging local histories with contemporary artists. While studying in Montreal she interned at the Leonard & Bina Ellen Art Gallery and was an active member of Concordia's Art History Graduate Association along with the Indigenous Art Research Group. Over the past year, Hannah was on the Board of Directors at Eastern Edge Gallery and became the HOLD FAST Contemporary Arts Festival Director throughout the summer. Previously in St. John's she worked for the iNuit blanche Festival, and co-curated Reimagining Nanuq: The Polar Bear Postcard Project.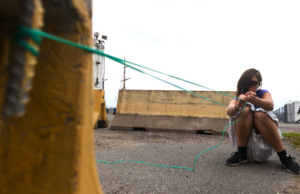 MEAGAN MUSSEAU is a Mi'kmaw visual artist from the community of Curling located in the Bay
of Islands, Ktaqamkuk (Western Newfoundland). Meagan's process is comprised of research, community involvement, and actions between herself, land, and story objects. Producing these objects using the labor intensive processes of beadwork, basket weaving, embroidery, and hand sewing seal skin and moose hide, she works to honor the historical and contemporary roles of Indigenous women as cultural producers, story-keepers, and healers. Responding to a site's existing infrastructure, Meagan's land-based installations seek to acknowledge Indigenous territory through performative action among infrastructure used to enforce boundaries and designate space.
Meagan has a BFA in Visual Art from Grenfell Memorial University of Newfoundland and Labrador and she is a member of the Indigenous Artist Collective on Lekwungen territory––Victoria, BC. Meagan received a 2016 Aboriginal Arts Development Award from the First Peoples' Cultural Council and a 2017 Inter-Arts research and creation grant from the Canada Council for the Arts.
VIVIAN ROSS-SMITH (b. Edinburgh, Scotland) is a visual artist living and working in the Shetland Islands. As a child Ross-Smith and her family relocated to Britain's most remote inhabited island, Fair Isle, a place that greatly influences her artistic practice. Ross-Smith holds a BA (Hons) in Painting from Gray's School of Art (2013), with her degree being partly awarded by Turku Arts Academy, Finland. Ross-Smith's process-based practice spans painting, textile and sculpture. With a focus on traditional skills such as preserving fish skins, net making, knitting and metal work, she embeds stories and traditions of island life into the materials and imagery of her works.
Ross-Smith has participated in exhibitions and residencies across Scotland and internationally, and has received grants and awards from Shetland Arts and Creative Scotland. She works closely with rural arts organisations such as Scottish Sculpture Workshop, and co-founded and runs Visual Artist Unit, an artist-led organisation based in Glasgow that supports emerging artists across Scotland. Ross-Smith currently lectures at University of the Highlands and Islands, Shetland College.
JANE WALKER(b. St. John's, NL) is an artist and researcher based in Bonavista, NL.  She holds a BFA in Visual Arts from Memorial University (2015) and a Masters of Research in Creative Practices from The Glasgow School of Art (2016). Within her practice, Walker investigates place-based knowledge(s) and languages. Her rug hooking work engages traditional skills, materiality, site-specificity, and emotional labour in relation to textile practices in northern island and rural regions. Her research focuses on contemporary art access and engagement in rural areas of Scotland and Newfoundland.
Walker has participated in exhibitions and lead workshops in the UK, Ireland, and Canada. Upcoming exhibitions of her work include islandness, a collaborative project that bridges Newfoundland and the Shetland Islands through dialogues about art, islandness, and contemporary rurality, September 16 – October 11 (Eastern Edge Gallery, St. John's NL) and her first solo exhibition Main Lands and Long Winters, September 24 – January 7 (The Rooms Provincial Art Gallery, St. John's NL)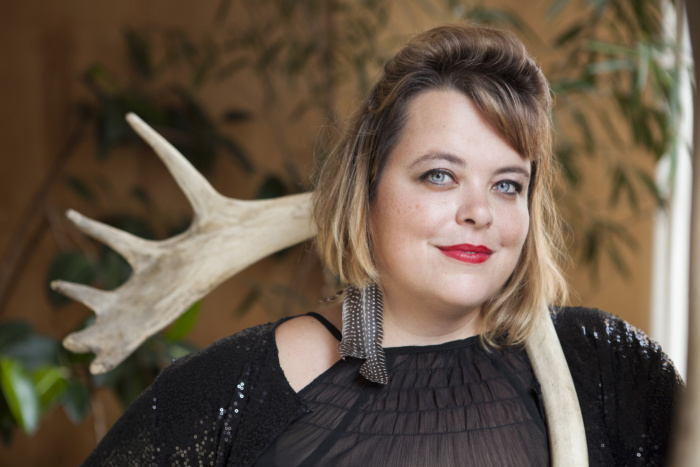 SHANNON WEBB-CAMPBELL is a mixed Indigenous (Mi'kmaq)-settler poet, writer and critic. She is the author of Still No Word (Breakwater, 2015) and Who Took My Sister? (BookThug, 2018). She was Canadian Women In Literary Arts critic-in-residence 2014, and is a board member. She holds a MFA in Creative Writing from University of British Columbia, a BA from Dalhousie University, and currently is working towards a MA in English Literature at Memorial University of Newfoundland and Labrador. Her play The Landless Band opens at LSPU Hall in St. John's, Newfoundland Spring 2018. She is a member of Qalipu Mi'kmaq First Nation, and currently lives in Montreal.
This is one of the 200 exceptional projects funded through the Canada Council for the Arts' New Chapter program. With this $35M investment, the Council supports the creation and sharing of the arts in communities across Canada.
Ce projet est l'un des 200 projets exceptionnels soutenus par le programme Nouveau chapitre du Conseil des arts du Canada. Avec cet investissement 35 M$, le Conseil des arts appuie la création et le partage des arts
Eastern Edge would like to further acknowledge the generous support provided by, Flotilla and The Averbach Foundation.