EE Studios Residency Call for Submissions (2024) – Deadline: Oct. 31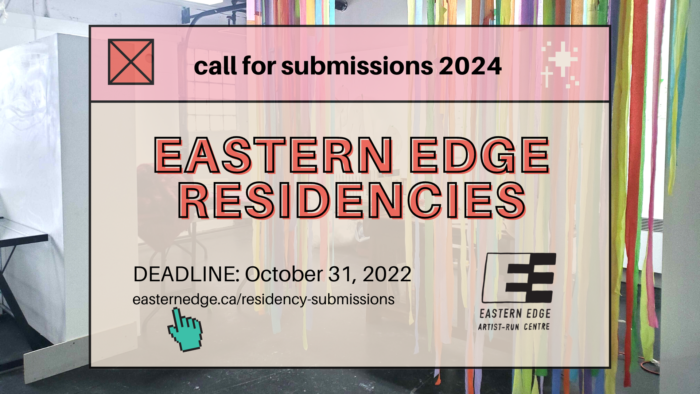 Eastern Edge is accepting proposals for self-directed residencies for 2024! We are dedicated to cultural diversity in our programming, and encourage applications from artists, art collectives, and curators of diverse communities and backgrounds. A self-directed residency in our studios is a great way to engage with the flourishing St. John's art community, hone your craft, or create a body of work–whether you're a local, provincial, national, or international artist.
This year's submission deadline is: October 31, 2022
Residencies at EE last between 4-8 weeks, depending on the artist's availability. We currently have availability for Winter, Spring, Summer, and Fall 2024. Eastern Edge provides CARFAC residency fees, a travel stipend, an opportunity to give an artist talk/workshop, and 24 hour access to an open working studio space where artists can engage with the community.
Your application must include a residency proposal, an artist statement, CV, images with an accompanying image list, and dates of availability.
To view the full call for submissions, with details on how to apply via email or google form, click HERE.
Note: Artists may apply to multiple opportunities available at Eastern Edge, each opportunity requires a separate application. There is no guarantee that your application will be selected for multiple opportunities. 
If you have questions regarding applications, email easternedgestudio@gmail.com!
View some examples of past Main Gallery exhibitions!