Eleanor King / Dustin Wilson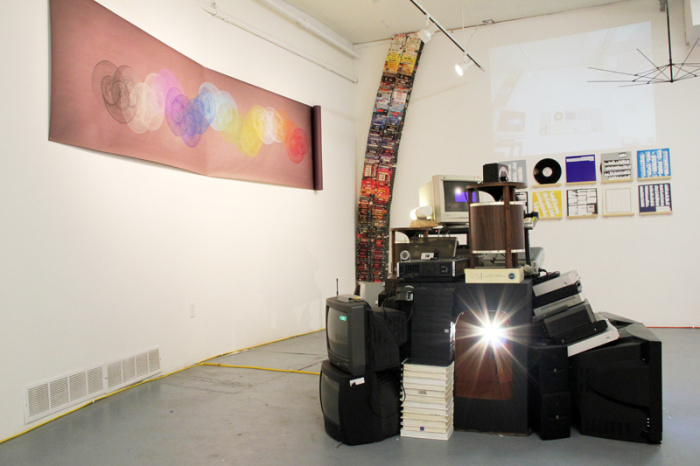 ELEANOR KING – NO SIGNAL
DUSTIN WILSON – REVERSION TO THE ORIGINAL POINT
Sept. 24 – Nov. 5
Eleanor King's sculptural installation No Signal explores disconnection through collections of obsolete technologies carefully arranged to mimic the cluttered structure of a boutique-style junk shop. Interspersed with audio and video, it is a vista of consumption indexing the media traces of an unsustainable culture.
Read the exhibition essay by John Murchie.
Through multimedia installations and performances in the character of an expert "futurologist," Dustin Wilson depicts a vision of the future marked by mundane mismanagement. In Reversion to the Original Point, Wilson deliberately uses "future anachronisms" in depicting landscapes covered in snow and populated by people subsisting by traditional means in a world of antigravity and advanced genetic engineering. It is a speculative exhibition that explores issues of cultural isolation, atavism and displacement.
Read the exhibition essay by Jerry Ropson.
Artist talks + Opening reception: September 24th, 3-5pm
About the artists:
Eleanor King is a Halifax-based, interdisciplinary artist who exhibits and participates in residency programs nationally and internationally, most notably with shows at Art Gallery of Nova Scotia, Nuit Blanche (TO), and Galleri F-15 (Norway) and residencies at The Banff Centre and the Atlantic Center for the Arts (FL). Eleanor's site-specific installations and performances are inspired by everyday life and are realized using provisional materials and improvisational methods. Her musical projects include bands House of Lancaster, The Got to Get Got and The Just Barelys. She teaches media arts at NSCAD University and is Exhibitions Coordinator of Archives, Collections and Public Art at Anna Leonowens Gallery.
Eleanor would like to thank Stephen Kelly, John Murchie, Eastern Edge Gallery, artists of Halifax, Communards of the Banff Centre, OK Quoi?! crews of 2010 and 2011, and her generous and extended family.
Dustin Wilson was born and raised in New Brunswick, and enjoyed drawing Dungeons and Dragons characters until earning a BFA at Mount Allison University. Dustin began working on the multifarious project Reversion to the Original Point in 2008 when he realized his innate talent for prescience. Drawing is essential for Dustin in producing speculative images which are filtered through physical, biological and geographic constraints; combining elements of the familiar and the unfamiliar. Dustin has received funding from the Conseil des arts et des lettres du Quebec and the Canada Council for the Arts, he is currently an MFA candidate at the University of Guelph.
Dustin would like to thank Clare Elson, the Canada Council for the Arts, and Conseil des arts et des lettres du Quèbec.