Michelle MacKinnon
January 11th – February 22nd, 2019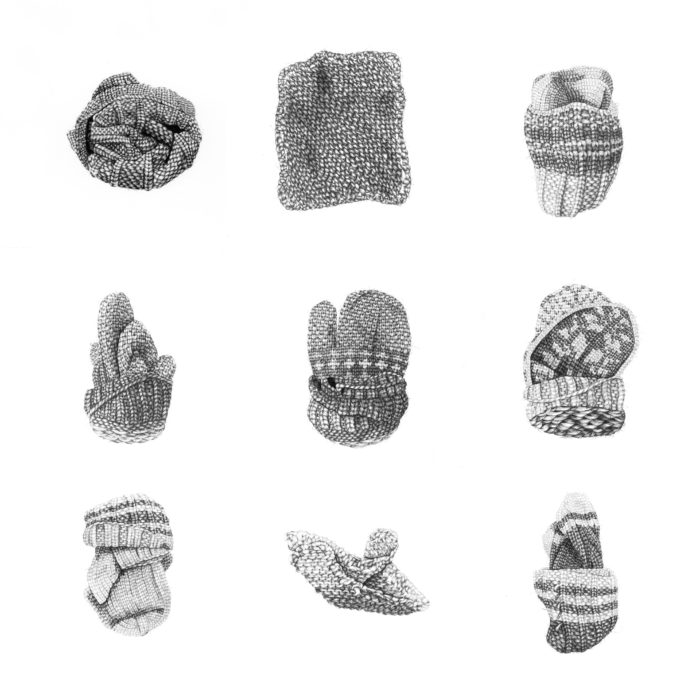 (em)brace explores how the notion of home can endure and evolve, drifting between the deconstruction and adoration of things and people. In fragmented states that exist between the real and remembered, the objects drawn are intimately preserved to create a mapping of sorts – a rendering of the once familiar. Working with textiles provides a tactile link to familial memories of home–what is remembered, imagined or convinced to be. Blankets, mittens, socks and sweaters become disconnected from their more utilitarian intent, no longer serving their purposes associated with clothing and warmth, but rather act as a narrative of time and place. Through these systematically structured textiles, I calm the desire for permanence in an attempt to (re)familiarize and fit myself into a new understanding of what was, or still could be, home.
Michelle MacKinnon is an artist and educator currently living and working in Corner Brook, Newfoundland. MacKinnon graduated with an MFA and BFA in Visual Arts from York University and has since taught at Memorial University of Newfoundland (Corner Brook, NL), York University (Toronto, ON) and Algoma University (Sault Ste. Marie, ON). She has participated in residencies and exhibitions internationally (Canada, United States and Russia), with an upcoming residency at Casa (Lethbridge, AB) and solo exhibition at the Grenfell Art Gallery (Corner Brook, NL) in 2020. MacKinnon is currently a visiting artist-in-residence at the Grenfell Art Gallery.
The rOGUE gallery presents, Inbetween | Emily Hayes
In these works, I examine my personal experiences within domestic environments and use cultivated minimalistic imagery to depict my feelings of uncertainty and uneasiness towards different spaces that I have labelled 'home'. I explore the concept of home as an environment that is unstable; considering my relationship to domestic space, the province of Newfoundland, and the greater narratives of childhood and domesticity- Emily Hayes
Emily Hayes is an interdisciplinary artist from Goulds, Newfoundland. She has a BFA in Visual Arts from Memorial University and is pursuing her Masters in Printmaking at the University of Alberta. Emily's practice is heavily based in photomechanical printmaking, sculpture and video installation. Her practice deals with notions of home, memory, and nostalgia, drawing from her experiences on the island of Newfoundland.