FARR Community Conversation: Alex Antle & Emily Critch, guided by Salome Barker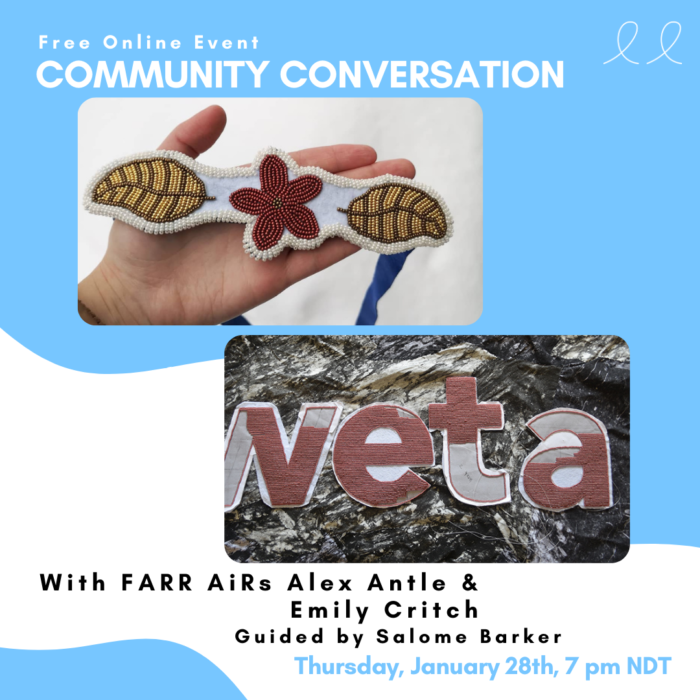 Click here to register for this free event. 
At the beginning of November, Alex Antle and Emily Critch rounded off their FARR Program residencies. They both brought us learning opportunities through beading workshops and artist talks, and genuine moments of sharing and connection.
To hear from both artists about their practices and perspectives in a conversation guided by Salome Barker, join us Thursday, January 28th, on Zoom at 7 pm NDT. No matter where you are, this is an opportunity to spend time with these three incredible people from the Newfoundland and Labrador arts community. 
This FREE event is hosted through Zoom and remotely accessible. Pre-registration required! Please click here to leave your email so that we can send you a link to the event.
Registering above does not make you obligated to attend the event, it does give us permission to send you a link to the event prior to the start time.
This event is free and open to everyone! If you have never attended an event with Eastern Edge before, we encourage you to partake and make new friends! If there are any barriers to access this event, please email us at gallery@easternedge.ca so we can help resolve the issue.
To see updates on both of their residencies including other FARR artists, click here!
To apply to our next FARR Program (Deadline: February 5th, 2021) click here.
---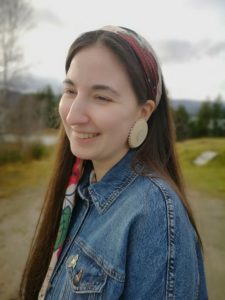 Alex Antle (she/her) is an emerging L'nu beadwork artist located in Elmastukwek, Ktaqmkuk (Bay of Islands, Newfoundland). She has been learning and practicing beadwork for 4 years with the guidance of a community of Mi'kmaq beaders. 
Alex's art often explores the relationship between tradition and modern Mi'kmaq people. She is interested in living culture and the evolution of Mi'kmaq culture as well as the importance of the land and water. Alex has exhibited her work in galleries across Newfoundland, participated in art festivals, and frequently shares her skill through beading workshops.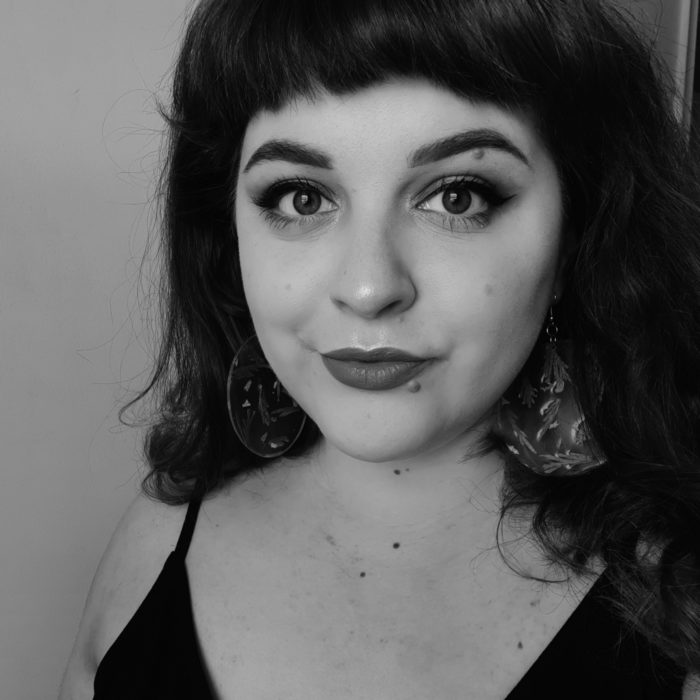 Emily Critch Emily Critch is an artist and curator of Mi'kmaq and settler ancestry from Elmastukwek, Ktaqmkuk Territory (Bay of Islands, Newfoundland). She received her BFA in Visual Arts from Memorial University of Newfoundland (2018). She has completed residencies with the Corner Brook Museum and Archives, St. Michael's Printshop, and the Inaugural MOMUS Emerging Critics Residency. Her work has been supported by Arts NL and Canada Council for the Arts. Emily has exhibited her work with Grenfell Art Gallery, Eastern Edge Gallery, The Rooms, the Hafnarfjörður Centre of Culture and Fine Art (Iceland), and she is the 2020-2021 Don Wright Scholar at St. Michael's Printshop.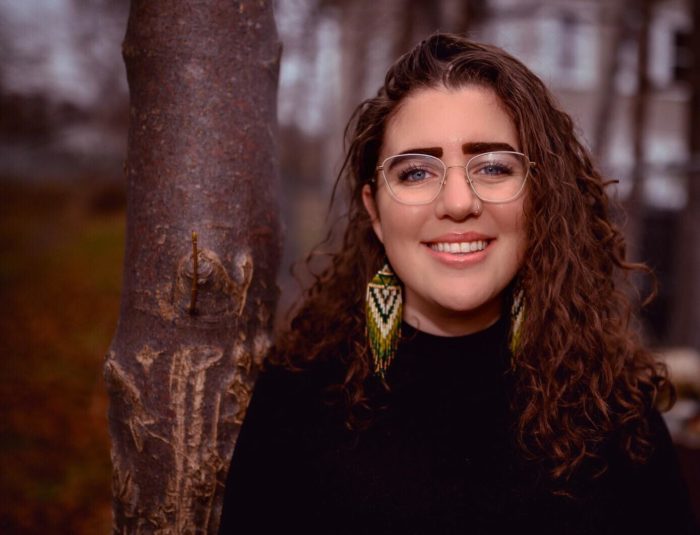 Salome Barker is an L'nu woman from Central Ktaqmkuk currently based in St. John's where she is program facilitator at First Light, a registered non-profit organization that serves the urban Indigenous and non-Indigenous community alike. Salome received a BA from St. Francis Xavier University in 2019 in Gender Studies, and was a recipient of the Pathy Foundation Fellowship. Salome spent her time as a Pathy Fellow working with Indigenous Youth in Central Ktaqmkuk where she designed programming aimed at cultural revitalization and creating safe spaces for Indigenous Youth in the region. Salome is passionate about empowering Indigenous Youth to make their voices heard.