FARR Program 2021 Art Writers

Eastern Edge is happy to announce the lineup for our New Art Writer's Program in conjunction with the FARR Program! To close off this iteration of the FARR Program, Melissa Barbeau, Rhea Rollmann, and Greywolf have written short text on each of the FARR Artists. See the links below!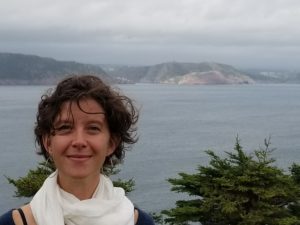 Melissa Barbeau is a Newfoundland writer and junior high school teacher, and a founding member of the Port Authority Writing Group. Her work can be found in The Newfoundland Quarterly, The Cuffer Anthology, and in the anthology Racket: New Writing Made in Newfoundland.
Melissa's debut novel The Luminous Sea was a finalist for the BMO Winterset Award, a contender for Newfoundland Reads, the winner of Georgian Bay Reads, and was longlisted for the Dublin Literary Award. It is set to be translated into German and will be released in Europe in 2022.
A long, long time ago Melissa made her live literary debut at Words in Edgewise – a monthly live arts event once hosted by Eastern Edge Gallery – and she is delighted to have been asked back. She lives in Torbay, Newfoundland where she is raising a gaggle of children with her husband. She writes in a little green shed in her backyard or at a table in Freshwater, Conception Bay that overlooks the sea.
Click here to read her piece on Nicole Travers
Rhea Rollmann is a journalist, writer and radio/podcast producer based in St. John's, NL. Rhea was a founding editor of TheIndependent.ca, and a contributing editor with PopMatters.com. Her writing has appeared in a range of popular and academic publications, including Briarpatch Magazine, CCPA Monitor, rabble.ca, Canadian Theatre Review, Journal of Gender Studies, and more. She was the recipient of an Atlantic Journalism Gold Award in 2017, and finalist for a Canadian Association of Journalism Award in 2018. Rhea also has a background in labour organizing, and queer and trans activism. She's presently Program Director at CHMR-FM, a community radio station in St. John's, NL.
Click here to read her piece on Nasim Makaremi 
Click here to read Greywolf's piece on Kevin Melanson
---
Are you interested in writing about art, but haven't been able to get your foot in the door? We would love to hear from you! Writers of non-art backgrounds, as well as emerging artists and writers, are encouraged to apply. Click here for more information!