Putting up for winter: the work of Nicole Travers | Melissa Barbeau
I am struck first by the fish leather. Taken with it. Among the images of beaded moosehide moccasins and medallions in Nicole Travers' online exhibition space, it is the leather that first draws my eye. My fingers want to know the texture, to feel the ridges on its surface. The rich tobacco colour a foil to the bright beads.
The leather is first and then the bag of cod filets. An every day, if place-specific, food item. A meal portioned out and ready to freeze, then thawed out and panfried in February.  There are zero degrees of separation between what Nicole works with to create art and with food, water, wilderness, life. It is impossible to forget that her raw material is a creature just caught. A living thing just now swimming, scales flashing in the sun.
Making leather, like preparing fish for the freezer, is a way of preserving something from spoilage or decay. And while the work of preservation, more generally, can be thought of as saving something from being lost in the dust of history (think museum exhibits and archives), what Nicole is doing is far removed from keeping a relic in a glass case. The kind of preservation she practices is putting something away for lean times, of ensuring sustenance when winter comes in.
We find ourselves – all of us, everywhere – somewhere in the depths of a lonesome winter. It is maybe the longest winter of our lifetimes. The world is closed by disease. We are housebound and isolated. It is the lean times.
What will sustain us until the ice breaks in the harbours? What will keep us fed through this long, lonely time? Nicole reminds us that the work of our hands is nourishing. She has put up words and stories in beaded Mi'kmaq ideograms; symbols from a verb-based language where the world is always in motion, always in the act of becoming. She has put away reminders of community and companionship in the form of moosehides and fish skins, gifts from her neighbours and family. She has stretched and tanned a connection to the land and to each other.
The act of preservation takes as its subject the past. But its purpose is to feed the future. The work of Nicole Travers is then, by definition, inherently hopeful. It hinges on a belief that better days are coming. That spring is on the way.
---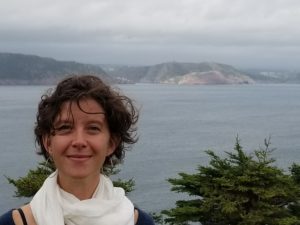 Melissa Barbeau is a Newfoundland writer and junior high school teacher, and a founding member of the Port Authority Writing Group. Her work can be found in The Newfoundland Quarterly, The Cuffer Anthology, and in the anthology Racket: New Writing Made in Newfoundland.
Melissa's debut novel The Luminous Sea was a finalist for the BMO Winterset Award, a contender for Newfoundland Reads, the winner of Georgian Bay Reads, and was longlisted for the Dublin Literary Award. It is set to be translated into German and will be released in Europe in 2022.
A long, long time ago Melissa made her live literary debut at Words in Edgewise – a monthly live arts event once hosted by Eastern Edge Gallery – and she is delighted to have been asked back. She lives in Torbay, Newfoundland where she is raising a gaggle of children with her husband. She writes in a little green shed in her backyard or at a table in Freshwater, Conception Bay that overlooks the sea.
---
Are you interested in writing about art, but haven't been able to get your foot in the door? We would love to hear from you! Writers of non-art backgrounds, as well as emerging artists and writers, are encouraged to apply. Click here for more information!