HOLD FAST 2016 Art Crawl + Artists
August 20th, 8-11:30pm
The Art Crawl transforms St. John's into a city alive with art and ideas. As HOLD FAST's premier event, featuring artist projects and Pop Up events across downtown St. John's. Join us in an art journey that brings contemporary art practice to the alleyways, coffee shops, and galleries of St. John's.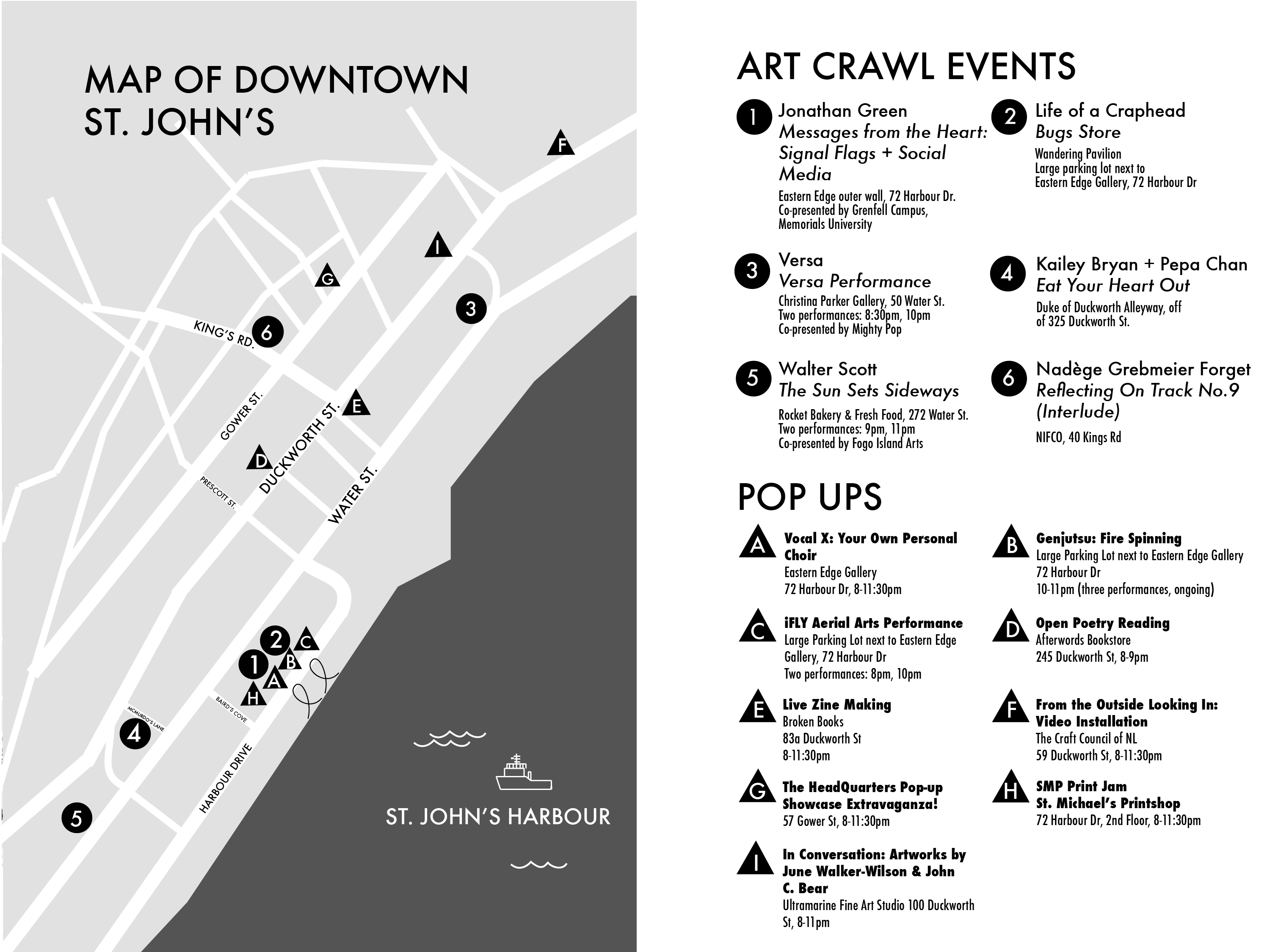 ABOUT THE ARTISTS & POP UPS
---
Life of a Craphead, Toronto

Bugs (film stills), 2015
Bugs Store
Wandering Pavilion
Large parking lot next to Eastern Edge Gallery, 72 Harbour Dr
8-11:30pm
Life of a Craphead presents a special Art Crawl "Bugs Store," based on their first feature-length film Bugs. The store, staffed by bugs, features branded merchandise and one-of-a-kind items from the Bug world.
Bugs is a satire about a bug society and its most powerful family. Following the Bug Prime Minister and his nieces, Bugs presents the struggles of two sisters within a patriarchal society obsessed with success. Produced on a shoestring with a large cast and crew of artists and comedians over the last 5 years, the film satirizes contemporary pop culture and politics in a wholly inventive way.
Life of a Craphead is the collaboration of Amy Lam and Jon McCurley since 2006. Their work spans performance art, film, and curation. They are Chinese and Vietnamese and live and work in Toronto, Canada.
---
 Jonathan Green, Edmonton/Carbonear
Foxtrot Oscar One, 2016
Messages from the Heart: Signal Flags + Social Media
Foxtrot Oscar One Mural, Eastern Edge Outer Wall, 72 Harbour Drive
8 -11:30pm
Co-presented by Grenfell Campus, Memorial University
Wanna talk like ships do? Send your own heartfelt signal flag messages at Jonathan Green's new mural on the Eastern Edge outer wall. Choose your own flag combination from the International Code of Signals (ICS) and play with its re-interpretation as romantic, melancholic, and poetic message you can hoist on Instagram, Facebook, or Twitter.  All aspiring sailors and poets on deck! PS. Bring your smart phone and/or device! #keepclosetoyouduringthenight
Foxtrot Oscar One is a new Eastern Edge exterior wall mural by Jonathan Green using the International Code of Signals (ICS). It is a combination of nautical signal flags that communicates the message: "I will keep close to you during the night." Foxtrot Oscar One speaks poetically through the language of signal flags to EE's long-running location next to the ships in the harbour, our city's nautical heritage, and our province's current economic challenges. Painted by local artist Liam Penney.
Born in Labrador City, Jonathan Green comes from Aboriginal, British, and Scottish heritage. He recently obtained an MFA from the University of Alberta. He gets homesick on foggy days.
 Co-Presented by Grenfell Campus, Memorial University
---
Versa, Toronto
Marbled monograph prints, Promo, 2016
Versa
Christina Parker Gallery, 50 Water St
Two performances, 8:30pm, 10pm
Surreal and shimmering, VERSA is catching eyes and ears with powerful instrumental music and immersive analog projections. Alex Ricci's psychedelic bass guitar leads feature in expansive and progressive soundscapes. Visually, Monika Hauck uses cymatics to illustrate physical vibrations of music. Her colourful synesthetic display is projected centre stage. In an immersive, colourful display VERSA's visuals unveil the physical properties of the sound that the audience is hearing. Monoprints are pulled from the top of the liquid bath as artifacts available for the audience to take home as a unique record of the performance.
Versa a performance collective led by process-based artist Monika Hauck and musician Alex Ricci. They have performed at major arts and music events such as Hillside Festival, Nuit Blanche, Wavelength Music Festival, Supernova Burlington, Hamilton Art Crawl, Nuit Blanche Ottawa/Gatineau, and Futurera.
Performance Co-Presented by Mighty Pop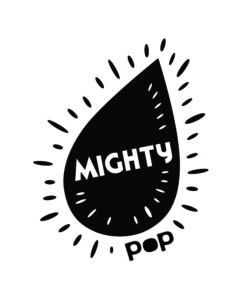 ---
Kailey Bryan and Pepa Chan, St. John's

Eat Your Heart Out (performance stills), 2016
Eat Your Heart Out
Duke of Duckworth Alleyway, near 325 Duckworth St
8-11:30pm
Soft light and the tinkling of china spill from a dark alley. Two people sit across from each other, blindfolded, at an elegantly set table. Over four hours the performers feed each other a seven course meal. Gestures and interactions range from smirking and silly to hurtful and aggressive. With each bite they contend with their impulses and suffer the emotional consequences of their actions. Attentiveness gives way to laziness; resentment builds. Silly, attentive, callous, malicious, and sorrowful, this durational performance is a quiet but spellbinding emotional ride.
Kailey Bryan & Pepa Chan's video and performance work employs surrealism and absurdism, drawing on a dark and dreamlike quality to investigate interpersonal relationships, anxiety, fear, and desire. Both artists are based in St. John's, NL.
---
Nadège Grebmeier Forget, Montreal

Reflecting On Track No.30 (Misty), 2015  © Christian Bujold
Reflecting On Track No.9 (Interlude)
NIFCO, 40 Kings Rd
8-11:30pm
Nadège Grebmeier Forget's art practice provokes a reflexion on the act of looking. Her work is characterized by a preoccupation with the gaze as a tool of re-appropriation and consumption. Her live performances explore and document how digital technologies mediate access to the body.
Reflecting On Track No.9 (Interlude) is a live  – and live-streamed – durational performance that builds her ongoing experiential research on intimacy and fiction. Using technology as a means to subvert voyeurism, the artist creates a dream-like state through a system of props, WIFI, digital screens, looping, and mirrors. Vulnerable, baroque and decadent, she serves discomfort.
Actively engaged in Montreal's visual and live art community as an interdisciplinary artist, project coordinator and curator, Nadège Grebmeier Forget is the daughter of a runner-up 1950's California Beauty Queen.
---
Walter Scott, Toronto

The Sun Set Sideways (video still), 2016
The Sun Sets Sideways
Rocket Bakery & Fresh Foods, 272 Water St
Two fifteen-minute plays: 9pm, 11pm
The Sun Set Sideways is a new performance featuring spoken word, images, and sound. It tells the story of Spike, a dog-shaped television writer from Los Angeles living in the isolated, seaside town of Sideways. Spike is visited by Octavia Chandrila Diazepene and Lick Mylegs, two non-human singer-songwriters whose natural forms represent human concepts like rationality, desire, fear, sexuality, and faith. Through heated discussion, and musing, the three characters together grapple with the soggy implications of invoking human-centric psychological metaphors onto the land and sea. The performance implicates the role of narrative in human desire to make sense of personal landscape.
Walter Scott is an interdisciplinary artist working across writing, video, performance and sculpture. He is the creator of the comic series Wendy, and has presented in places such as Montreal, Los Angeles, Yokohama, and Warsaw.
Co-Presented by Fogo Island Arts 
---
Pop Up Projects & Events
Open Poetry Reading
Afterwords Bookstore, 245 Duckworth St
8-9pm
Afterwords will be open for poetry readings. Anyone can read their own or the poetry of others. Tonight especially, a secondhand bookstore full of hidden gems.
Live Zine Making
Broken Books, 183a Duckworth St
8-11:30pm
Come to Broken Books and collaborate on a brand new zine. The zine will be made over the course of the Art Crawl and then published by Pink Eye Print Company. And don't forget to check out Broken Books' fantastic selection of prints, zines, and books!
From the Outside Looking In: Video Installation
The Craft Council of NL, 59 Duckworth St
8-11:30pm
The Craft Council of NL presents: From the Outside Looking In, a street level video installation highlighting our juried craftspeople at work. We are transforming our entryway into a one night only movie experience – come view the world of craft production!
iFLY Aerial Arts Performance
Large Parking Lot next to Eastern Edge Gallery, 72 Harbour Dr
Two performances, 8pm and 10pm
A awe-inspiring aerial performance next to the harbour. Watch as iFLY Aerial Arts Performers hover above ground with impressive aerial choreography.
The HeadQuarters Pop-up Showcase Extravaganza!
57 Gower St
8-11:30pm
Art in the heart of Jellybean row. Check out the visual art of Anne Pickard-Vaandering, Shane N Dwyer, and Gabriela Estrada at their home studios. Try your hand at printmaking in our artist-led workshops. On stage, there is live music from electronic flutist, Rozalind MacPhail, and readings of new written work by Jennifer May Newhook. Performances throughout the evening by HandyGirl, Amber Lynn-Thorne, Graham Howcroft, and more! Door prizes!
Vocal X: Your Own Personal Choir // Nautical Disaster edition

Eastern Edge Gallery, 72 Harbour Dr
8-11:30pm
Join the Vocal X Choir for one-night only rehearsals for an improvised version of The Hip's Nautical Disaster. The choir (and all of you as new choir members!) will perform the song later at the Ship Pub. A HOLD FAST sing along for the ages. Vocal X is St. John's only improvisational choir. They operate on an inclusive policy, everyone can join at any time. They celebrate the diversity of the human voice.
Genjutsu: Fire Spinning
Large Parking Lot next to Eastern Edge Gallery, 72 Harbour Dr
10-11pm (three performances, ongoing)
Genjutsu means the art of illusion.Catch three different opportunities to see an adrenaline-packed showcase of fire spinning, drum rolling, and spectacle. Masters of object manipulation complete daring feats defying the elements in this brand new show created by Danielle Knustgraichen.
In Conversation: Artworks by June Walker-Wilson & John C. Bear
Ultramarine Fine Art Studio, 100 Duckworth St
8-11pm
Join artists June Walker-Wilson and John C. Bear at Ultramarine Fine Art Studio for a closer look at their work. Learn what motivates and inspires their paintings and sculptures.  Refreshments will be served.
SMP Print Jam
St. Michael's Printshop, 72 Harbour Dr, 2nd Floor
8pm-11:30pm
Want to try your hand at printmaking? Want to rock out? Interested in exploring Newfoundland's printmaking mecca? Whatever your jam, join SMP members as they teach, demonstrate, and collaborate to some of YYT's hottest DJs.